KING DIAMOND Live In Dallas, Texas


By Wendy Jasper, Black Metal Aficionado
Monday, December 8, 2014 @ 4:29 PM


| | | |
| --- | --- | --- |
| | | His Majesty, KING DIAMOND, Fascinates Dallas At The House Of Blues |
Photos by Paul Wilkins

The spectral atmosphere was thick at the House of Blues in Dallas, Texas this past November 6th as what might have been the most magnificent show of the year manifested itself. As the strains of "The Candle" filled the room and the brilliance that is KING DIAMOND opened the show, it was obvious that time has changed nothing.

The genius of his artistry is as alive now as it was when we first heard the opening strains from Fatal Portrait. The release of his remasters, Dreams Of Horror, only made this tour that much more exciting. The catalog of his Metal Blade era tunes has been much anticipated and the stage show, which boasted the European stage sets, focused around the tunes on the release.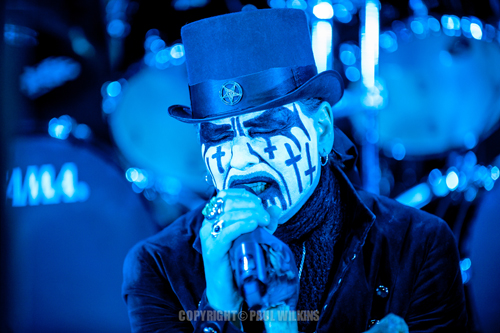 This much anticipated show, which is technically a hometown show for the King, was the largest crowd that I have ever seen at the House of Blues. The energy in the room was palpable as fan favorites like "Sleepless Nights" and "Welcome Home" roared through the theater. Andy LaRoque, the King's longtime guitarist and collaborator, was in top form as was his counterpart Mike Wead. Denton, Texas native Matt Thompson handled the drums and bassist Pontus Egberg rounds out the band.
We even got to meet Grandma on this tour. Her presence was hilarious and frightening at the same time and as we had "Tea" and began "Digging Graves" the overwhelming presence of evil in the room intensified. What was even more interesting was that we got a rare glimpse of the MERCYFUL FATE classics "Evil" and "Come To The Sabbath", which lent credence to the King's varied and long metal history.
The show's essential set list was complete with "Shapes Of Black", "At The Graves" and the rarely heard "Eye Of The Witch". His Majesty performed two encores, much to the delight of the fans that included "Cremation", "Halloween", "The Family Ghost" and "Black Horsemen".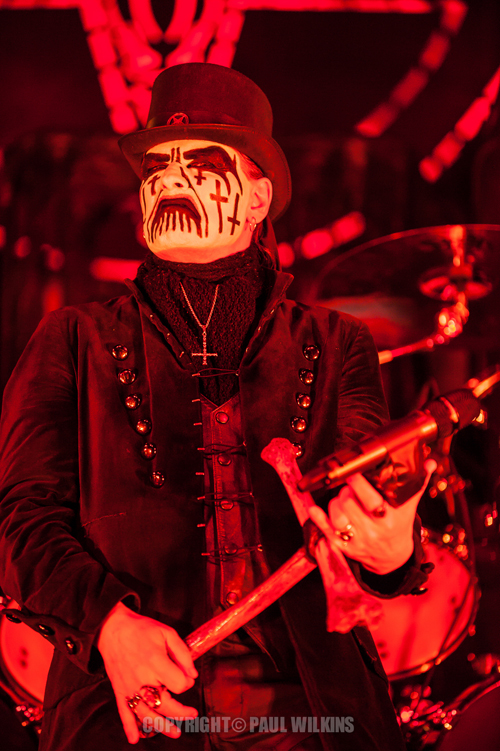 KING DIAMOND live is not only an auditory fantasyland but is quite possibly one of the strangest sights you will see on a stage. It's titillating yet horrifying; fun but macabre. It could quite possibly be the most outstanding thing you'll ever see if you are fortunate enough to witness it. My only complaint is that "Abigail" was not played live on this tour. I've viewed set lists from other cities and it appears that it was not included. It was disappointing not to hear my favorite, but not disappointing enough for me to say that it wasn't absolutely fascinating to behold.
Full Set List:
"The Candle"
"Sleepless Nights"
"Welcome Home"
"Never Ending Hill"
"Let It Be Done"
"The Puppet Master"
"Tea" / "Digging Graves" / "A Visit From The Dead"
"Evil" (MERCYFUL FATE cover)
"Come To The Sabbath" (MERCYFUL FATE cover)
"Shapes Of Black"
"At The Graves"
"Eye Of The Witch"
Encore: Encore 2:
"The Family Ghost"
"Black Horsemen"
"Insanity"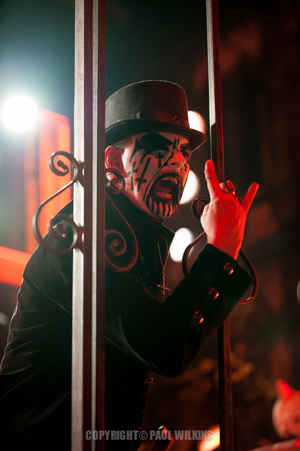 Please log in to view RANTS