GWAR Live in Cleveland, Ohio With Photos!


By Geoff Ketler, Cleveland Contributor
Monday, December 8, 2014 @ 4:41 PM


| | | |
| --- | --- | --- |
| | | The GWAR ETERNAL Tour Makes A Mess Of The House Of Blues |
It was the night before Thanksgiving and visions of turkey, sweet potatoes, and heavy gravy had filled my head as I hit the highway, heading to Cleveland once again. The only thing between me and the euphoria of an all-day orgy of food and football likely ending in a tryptophan and beer-induced coma was GWAR.

It was several months ago when I first caught wind of the forthcoming GWAR tour and with everything that had happened surrounding the death of front thing Oderus Urungus, his Viking funeral, and with the future of GWAR in the balance, I knew that this could be my one last opportunity to catch them live once and for all. I knew well ahead of time that I should expect to get messy; that penis references would be abundant, and that the song material would be pretty rudimentary, if not elementary. Everything was as expected except for the fact that I was pretty blown away with the band's playing. No joke. I have seen the live footage previously, and had assumed that the stage show was priority to the actual music performance, but with several lineup changes over the expansive career of GWAR, the material seems to keep getting better with each album which has translated to the live setting as well.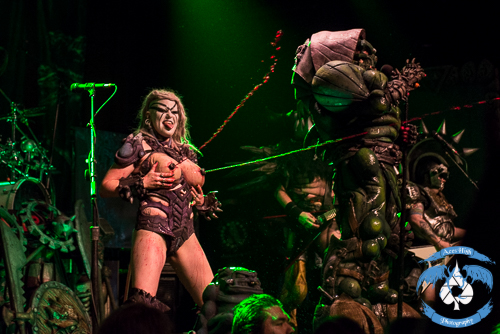 Special guests on the GWAR ETERNAL tour were AMERICAN SHARKS and CORROSION OF CONFORMITY - two very similar, groovy, bluesy, three-piece bands with a punk flare. I can't exactly comment too much further on their performances since my pending interview with GWAR vocalist Blothar had pretty much consumed both of their sets.
Since KNAC.COM had previously covered this GWAR tour thoroughly, I am going to be a little more mechanic about it and give you more of the nuts and bolts of the show instead of dipping into the history of the band and characters. Just know this – If you've never seen GWAR before, understand that there is a plot to their set. The show goes on almost like a rock opera with characters, acting, and lines-the whole nine yards. The Cliff Notes version is basically that GWAR is joined by vocalist Vulvatron from the future and vocalist Blothar from the past to help search for Oderus Urungus with the aid of a time machine. Although Oderus never shows up in person, his large, flaccid, penis, The Cuttlefish of Cthulhu makes its way through the time machine and coats the adoring audience with green semen. That's the show in a nutshell…pun intended.
Like I said before, the blood, guts, and gore were highly anticipated but it was the tightness of the band, especially the soloing duties of Pustulus Maximus that really surprised me. The elaborate costumes proved not to be a hindrance on their individual performances. Drummer Jizmak Da Gusha is the only member that was not in some sort of battle armor from head to toe. Special appearances were made by Bonesnapper and Sawborg Destructo to handle vocal duties and even bassist Beefcake The Mighty took over the microphone for a song while Blothar-played by Michael Bishop (former GWAR bassist) took over bass duties. There were plenty of fluids flying all night long. GWAR opened their set with their signature decapitation and resulting blood spray. Security allowed the photographers into the pit where we all had to dodge the barrage of blood and slime for the first three songs of their massive set. I know that the whole rock opera thing is not for everyone, but I will say that there was pretty much zero dead space during their set which helped with the complex stage arrangements and special appearances by various characters. Even the vagina-faced pizza delivery thing showed up through the time machine and was subdued and "taken-advantage-of" by the dueling vocalists, Blothar and Vulvatron without a hitch.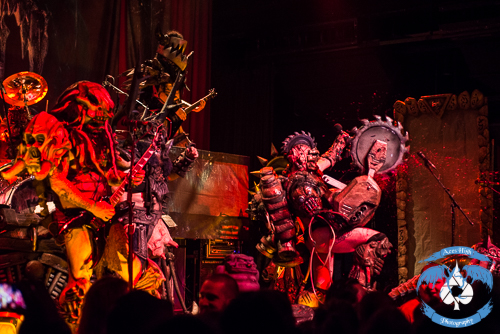 GWAR is not for everyone, but sometimes it is good to flip political correctness the bird. I came for stage show, but it was musicians' performances that left more of a lasting effect on me. Seeing GWAR was one of those things I always wanted to try at least once. After my chat with Blothar it sounds like they are not slowing down any time soon. That's good because I don't think once was enough.
Setlist:
"Fly Now"
"Madness At The Core Of Time"
"The Years Without Light"
"Hail, Genocide!"
"The Private Pain Of Sawborg Destructo"
"Tormentor"
"I, Bonesnapper"
"Black And Huge"
"Hate Lovesongs"
"Saddam A Go-Go"
"Bloodbath"
"Horror Of Yig"
"Metal Metal Land"
"Let Us Slay"
"Mr. Perfect"
"U Ain't Shit"
Encore:
"The Road Behind"
"West End Girls" (PET SHOP BOYS Cover)
"People Who Died"(THE JIM CARROLL BAND Cover)
Check out some more photos from the show!
All Photos By Geoff Ketler/Ace High Photography

Please log in to view RANTS


ROBIN MCAULEY Alive

CRADLE OF FILTH, DEVILDRIVER In Santa Ana With Photos!

KAMELOT The Awakening

ALTER BRIDGE, MAMMOTH WVH In Houston, TX With Photos!

ACID KING Beyond Vision

STEEL PANTHER On The Prowl

NIGHT DEMON Outsider

YNGWIE MALMSTEEN In Ottawa, Canada

THEORY OF A DEADMAN, SKILLET, SAINT ASONIA In Houston, TX With Photos!

OFFICER X Hell Is Coming

PERIPHERY Periphery V: Djent Is Not A Genre

INSOMNIUM Anno 1696

STEEL PANTHER, CROBOT, TRAGEDY In Houston, TX With Photos!

BABYLON A.D. Live Lightning

ROTTING CHRIST, CARACH ANGREN, UADA, GAEREA In Houston, TX With Photos!

MOTÖRHEAD Bad Magic: Seriously Bad Magic

TRAGEDY I Am Woman

ROXANNE Stereo Typical

ANTHRAX, BLACK LABEL SOCIETY, EXODUS In Houston, TX With Photos!