IMMORTAL GUARDIAN Revolution Part I EP


By Curt Miller, Editor at Large
Friday, January 2, 2015 @ 3:54 PM


| | | |
| --- | --- | --- |
| | | |
IMMORTAL GUARDIAN
Revolution Part I
Independent





Review By Curt Miller With Contributions By Mike Dean Of WORST CASE SCENARIO

There are but few bands on the scene right now that can match the sheer talent and drive that exists within IMMORTAL GUARDIAN. This band is on a quest to, in their words, "Spread the Shred," and they're doing a damned good job of it. Every track on the band's two EPs, Super Metal and Revolution Part I, respectively, delivers a full-on, progressive metal assault. IMMORTAL GUARDIAN's two lead guitarists, Gabriel Guardian and Jyro Alejo, are both endorsed musicians, Gabriel by Fender Guitars and Jyro by Jackson Guitars. As well, Gabriel is noted for his playing style whereby he very much shreds on both keyboards and guitar simultaneously.

Without question, I'm a dyed-in-the-wool progressive rock/metal fan. That said, I'm also a fan and supporter of IMMORTAL GUARDIAN and have published quite a bit to promote the band since first seeing Gabriel Guardian's Dimebag Darrel tribute video on PANTERA's Facebook news feed on December 8, 2013, the 9th anniversary of Dimebag's passing. Reviewing their latest EP is the journalistic equivalent of picking one's favorite child, nearly impossible. As such, I thought it more apropos to allow an up-and-coming artist, Mike Dean of San Antonio's WORST CASE SCENARIO, to express how IMMORTAL GUARDIAN and, in particular, Revolution Part I, have affected him as an artist.

IMMORTAL GUARDIAN: Revolution Part I - Mike Dean, lead guitarist: WORST CASE SCENARIO (written by Curt Miller)

IMMORTAL GUARDIAN is one of the hottest and craziest new bands I've ever heard. Revolution Part I is intense. With the precision of DREAM THEATER and the speed and ferocity of DRAGONFORCE, this band has defined and perfected a whole new progressive metal sound, both dynamic and powerful!

Track One: "Beyond the Skies" – Within moments, this song elicits a flood of emotions that crash down upon listeners. It delivers machine-gun-fire kick drums, perfectly matched to a syncopated bass line. Keyboard and guitar solos combined with passionate, powerful vocals themed around the individual's timeless struggle for freedom and complete liberty of thought and spirit that create a feeling of fighting alongside hundreds of warriors. It's truly an epic opener to the album.

Track Two: "Walk Alone" – The vocals at the beginning of this song are demonstrative of the anger present in its lyrics. "Why must I walk alone? Who is to blame?" These vocals are well matched to the tonality of the keyboards, which help set the mood for the entire song and further bring out the underlying anger and despair of the track. By harmonizing lead vocals and keyboards, something not typically heard in modern music, IMMORTAL GUARDIAN delivers a powerful, unique song that uses instrumentation as an effective tool to convey the spirit of its message.

Track Three: "Immortal" (featuring Roy Z) – This song is absolutely enchanting and my personal favorite. With beautiful keyboard melodies and melodic vocals, it nearly brings a tear of hope to listeners' eyes. Yet, being the progressive metal powerhouse that is this band, they've also worked into the mix some powerful, dueling lead guitars, as well. From beginning to end, this song is a work of art!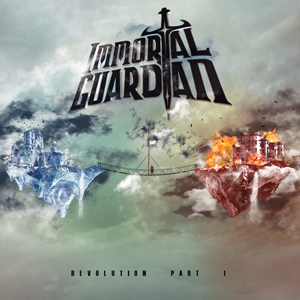 Track Four: "Between Fire And Ice" – Slowing down the pace just a bit, this track is the IMMORTAL GUARDIAN version of a "power ballad." The song combines vocal harmonies with passionate solos throughout. The bands' soul really comes through here, which is a nice change of pace for a progressive metal band. While some progressive bands never stray from their time-proven, full-on assault formula, IMMORTAL GUARDIAN shows with "Between Fire And Ice" that they're capable of breaking character and still delivering terrific material.
Track Five: "Victory Shore" - Closing out the EP is a head banger's tour de force. Harmonizing, duel guitar solos leave listeners begging for more. These are backed by lead singer, Carlos Zema's, vocals, whose range and clarity really need to be experienced first hand. This cat can growl with the best of them, then switch gears and hit the highest high notes. Straight up, badass! IMMORTAL GUARDIAN's incredible rhythm section, comprised of Thad Stevens on bass and Cody Gilliland on drums, drives every track on the release. These two combine to put speed, power, and punch behind the blazingly fast keyboard and guitar riffs heard throughout.
While there is no question I'm a big fan of Revolution Part I, every music lover or musician ought to see IMMORTAL GUARDIAN LIVE. Their performances are both as professional as artists who've been touring for decades and deeply passionate, as well. The experience is second to none. The four members of this band are, without question, the most talented musicians I've ever seen perform LIVE at any venue, yet they are the most down-to-earth people I know. Mike Dean has spent a lot of time listening to IMMORTAL GUARDIAN and knows each of the band's members personally. He's a very talented guitarist in his own right and he attributes a great deal of his musical education to the knowledge he's gleaned from the members of IMMORTAL GUARDIAN and those who taught them much of what they know. If you're a progressive metal fan looking for a band that's dedicated to "Spreading the Shred" check out IMMORTAL GUARDIAN. Both Super Metal and Revolution Part I have a lot to offer and, word is, Revolution Part II is just around the corner.
5.0 Out Of 5.0

Please log in to view RANTS