PAT TRAVERS Live At The Iridium NYC


By Geoff Ketler, Cleveland Contributor
Tuesday, January 20, 2015 @ 3:45 PM


| | | |
| --- | --- | --- |
| | | |
PAT TRAVERS
Live At The Iridium NYC
Frontiers





For more than thirty five years PAT TRAVERS BAND has been bringing gritty rock, wailing blues, and screaming solos to the masses. Over the course of those years there have been a multitude of live releases, including Live At The Bamboo Room, which was accompanied by the live DVD version and released in 2013. Most recently however, the group is set to release Pat Travers: Live At The Iridium NYC later this month.

If you are a fan of Pat, you will already know the songs, so let me delve into the performance aspect of it. First off, if you want to hear the hits, this may not be for you. Songs like "Snortin' Whiskey" and "Boom Boom (Out Go the Lights)" were curiously omitted from the rather abbreviated set. Right out of the gate things get going with "Rock And Roll Susie" and "Getting' Betta" before slowing down for the bluesy "Crash And Burn". This was pretty much the story of the performance. Rockers and Blues Songs were traded back and forth throughout the set. Included in the set was a cover of Ray Charles' "I've Got News For You" as well as "Black Betty" by Ram Jam.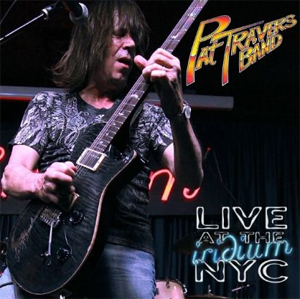 The performance itself was stellar, as usual. Keeping impeccable time behind the kit was Sandy Gennaro. Laying down bottom end was Rodney O'Quinn on bass and trading solos with Pat was Kirk McKim on guitar. Production on the record is excellent. Sandy's drums sound clean and distinct, vocals aren't too over-powering, and the bass isn't buried in the mix but, at the same time, you don't really lose the "live" feel to the record either. I have been lucky enough to catch Pat and Co. a few times over the past few years and more and more it seems like the bluesy, slow-tempo, material are becoming a staple of the band's live set and I think what they were attempting to do is highlight that aspect on this live record. Although I am more of a fan of the up-tempo, rocking tunes, I can't complain. It only makes sense to try to appeal to a wider audience and diversify the repertoire once in a while.
Although the live album doesn't include a good chunk of Pat's signature songs, it is a well produced, tight performance that captures the essence of what PAT TRAVERS BAND is all about.
3.5 Out Of 5.0
Pre-order your copy of Pat Travers: Live At The Iridium NYC in the KNAC.COM More Store right HERE.

Please log in to view RANTS