JOHN 5 & THE CREATURES - Live in Akron, Ohio With Photos!


By Geoff Ketler, Cleveland Contributor
Thursday, March 12, 2015 @ 7:48 PM


| | | |
| --- | --- | --- |
| | | Packed Crowd Is Dazzled By The Guitar Stylings Of JOHN 5 |
Quite possibly music's busiest guitarist, John Lowery - better known as JOHN 5, finally found the time to do a quick run of highly-anticipated solo dates. Despite a decade worth of instrumental material, the schedule never seemed to permit doing any live shows until now. To hear more about how the tour came to be, check out my interview with JOHN 5 HERE.

I pulled into Ripper's Rock House in Akron, Ohio about two hours before doors. The small, but clean and accessible club co-owned by Tim "Ripper" Owens showcases local talent on a regular basis and on occasion will host national touring acts. I had the pleasure of hearing sound check as I stood behind my car assembling my camera gear. I was told that the line at the front door had begun forming around 3pm. Needless to say this show was well promoted and drew a sizeable crowd.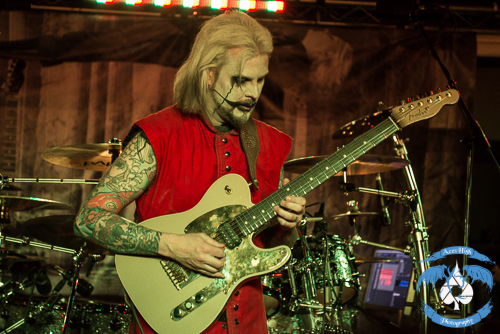 The curtain pulled at approximately 9:30pm as the intro "We Need To Have A Talk With John" rang out. Drummer Roger Carter and bassist Ian Ross had already taken their positions. John hit the stage with "Flight Of The Vulcan Kelly". I was a little hesitant at first because this was my first instrumental show and I was a little worried that the show could get a little boring or repetitive, but that would not be the case. John was full of energy and the production had to be the best the Rock House stage had ever seen; from CO2, to fog, to beacon lights, to the timing and consistency of the backing tracks, it was out of this world. John also had several wardrobe changes throughout the performance. It was a nice touch, but it didn't compare to the guitars he pulled out (see the pictures).
The band was tight as could be. Ian Ross auditioned for the position and he, as John had explained to me; "could really cut the mustard". Roger Carter, who performed on the John 5 solo albums, was fantastic as well, but enough cannot be said about John's abilities. He is again and again a brutally underrated guitar player. I think that much of that is attributed to the fact that his talents, in my humble opinion, are a little under-utilized in bands like Marilyn Manson and Rob Zombie. Let's face it; you don't really associate blazing guitar solos with Zombie, right? He would constantly change genres in the blink of an eye. He went from metal to bluegrass to dueling banjos to the Michael Jackson pop hit, "Beat It" with ease. During short bouts of down time one of the stagehands would walk out on stage wearing an old monster mask, like Frankenstein, and he would toss candy and Monster Energy lanyards and even presented a JOHN 5 wrist band to one of the youngsters down front. Not included in the setlist was a short version of the theme from The Munsters.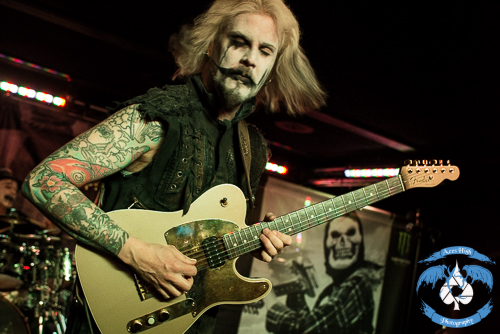 I believe people left Ripper's Rock House shocked more than anything. I heard pieces of conversations as I made my way for the door like; "well I might as well give up on guitar" or "I had no idea he was that good". I was so fortunate to have been able to witness this and I hope that John will find the time to get out and do more solo tours in the near future. It is something that fans of all genres of music can enjoy or at the least, appreciate.
Setlist:
"Flight Of The Vulcan Kelly"
"Villisca"
"This Is My Rifle"
Interlude
"Sin"
El Cucuy Interlude
"El Cucuy"
"Jiffy Jam" (Jerry Reed Cover)
Interlude
"Portrait Of Sidney Sloan"
Guitar Solo
"Six Hundred And Sixty Six Pickers In Hell Ca"
Interlude
"Mad Monster Party"
"Young Thing" (Chet Atkins Cover)
"First Victim"
"Feisty Cadavers"
"Beat It" (Michael Jackson Cover)
Covers Medley
Check out some more photos from the show!
All Photos By Geoff Ketler/Aces High Photography

Please log in to view RANTS


THE WINERY DOGS, BLACK HEART SAINTS In Houston, TX With Photos!

ROBIN MCAULEY Alive

CRADLE OF FILTH, DEVILDRIVER In Santa Ana With Photos!

KAMELOT The Awakening

ALTER BRIDGE, MAMMOTH WVH In Houston, TX With Photos!

ACID KING Beyond Vision

STEEL PANTHER On The Prowl

NIGHT DEMON Outsider

YNGWIE MALMSTEEN In Ottawa, Canada

THEORY OF A DEADMAN, SKILLET, SAINT ASONIA In Houston, TX With Photos!

OFFICER X Hell Is Coming

PERIPHERY Periphery V: Djent Is Not A Genre

INSOMNIUM Anno 1696

STEEL PANTHER, CROBOT, TRAGEDY In Houston, TX With Photos!

BABYLON A.D. Live Lightning

ROTTING CHRIST, CARACH ANGREN, UADA, GAEREA In Houston, TX With Photos!

MOTÖRHEAD Bad Magic: Seriously Bad Magic

TRAGEDY I Am Woman