MICHAEL SCHENKER's TEMPLE OF ROCK Spirit On A Mission


By Larry Petro, News Monkey
Tuesday, March 17, 2015 @ 2:20 PM


| | | |
| --- | --- | --- |
| | | |
Review By Stephen P. Bowering a.k.a. sgtB
When I first listened to the third installment from MICHAEL SCHENKER's TEMPLE OF ROCK, Spirit On A Mission, it was nothing like I expected after their sophomore release, Bridge The Gap, which was much heavier. Nonetheless, this album is a straight up Hard Rock, deeply rooted in their band's historic musical background. After the third go around, I'm definitely digging it.
TEMPLE OF ROCK features the German Guitar God, Michael Schenker (SCOPRIONS, UFO, THE MICHAEL SCHENKER GROUP, MCAULEY SCHENKER GROUP, CONTRABAND, G3, SCHENKER PATTISON SUMMIT) former Scorpions band mates Francis Buchholz on bass and Herman Rarebell on drums, longtime collaborator Wayne Findlay on 7-String Guitar and Keyboards and fronting this super-group, former RAINBOW and Yngwie Malmsteen vocalist Doogie White.
Michael starts off with a little instrumental teaser before cranking into a very MSG-ish riff with "Live And Let Live" (Check out the video right HERE. Nothing like setting the bar high right off the bat. This should be their first single and next tour's opener. Next is bluesy "Communion" which will get you grooving and head bobbing, followed by "Vigilante Man" and "Rock City", both displaying the vintage Schenker/SCORPIONS style. Moving into a more modern style of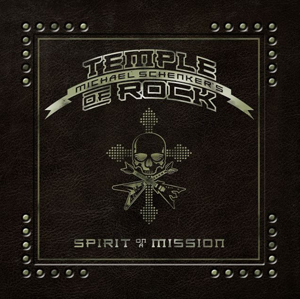 Rock is "Saviour Machine", which could find its way easily onto the "New Modern/Buzz Type" rock station. Wayne Findlay continues to show his talent with "Something Of The Night" as he and Michael Schenker duel it out in the solo. "All My Yesterdays" displays Herman Rarebell's and Francis Buchholz's worthiness to TEMPLE OF ROCK with a mind-blowing double-thumping rhythm from start to finish. After the second time of listening to this song, it popped to one of my favorites from this 12 Track CD.
Aimed to be another easy single is "Bulletproof", clearly influenced by RAINBOW/SCORPIONS/UFO and ready for your Classic Rock Stations. "Let The Devil Scream" is a RAINBOW-style riff with a pinch of BLACK SABBATH. Doogie showcase his vocal talent and ability to blend classic to modern. Going back to Schenker's UFO roots is "Good Time", a toe-tapping jam that will get you singing along with the chorus. Speeding things up is "Restless Heart", heavy drums and guitar strumming with a killer solo. Finishing up is a dirty ditty, "Wicked". Everything in this closer is HEAVY! They definitely saved the beast/best for last.
Fans of any Schenker's projects will not be disappointed. TEMPLE OF ROCK is proving they're a powerhouse of musical talent. The influences and contribution each member pours out in Spirit On A Mission shows they're not stopping anytime soon and are just getting better with each album. I personally can't wait for a U.S. tour to support this release.
4.5 Out Of 5.0 Grab your copy of Spirit On A Mission in the KNAC.COM More Store right HERE.

Please log in to view RANTS