BARREN EARTH
On Lonely Towers
Century Media




Consisting of former AMORPHIS members Olli-Pekka Laine and Kasper Mĺrtenson, along with MOONSORROW drummer Marko Tarvonen and KREATOR guitarist Sami Yli-Sirniö, BARREN EARTH formed in 2007 in Helsinki, Finland. Their goal? To form a new progressive death metal band blending the classic death sound, with an underlying 70's progressive rock and a Finnish folk base. With only three previous albums under their belt, they have gained high notoriety in the European scene and are now marching towards the American shores and going global. On Lonely Towers marks the first in what we hope will be many more releases with new vocalist Jón Aldará. His style of singing clean vocals has subtle hints of LIFE OF ANGONY's Mina Caputo and Michael Poulsen from VOLBEAT. Combining these vocals with his killer death growls and the music's doomy overtones, this is one of the most powerful albums I have heard in quite some time. The chemistry that they have is shown in the great composition of the music and the flow of the album.

Immediately drawing you in is the opening piano and acoustic intro, "From The Depths Of Spring". It's very beautiful and leaves a sense of longing and loss. Now the brutality begins. "Howl" starts off with a semi-familiar OPETH sound but with folk overtones. The death growls are astounding, and Jón's clean vocals really set this song off. The doomy guitar and vocals in the middle lead into hell unleashed with a speed death sound and a brief solo from Sami.

"Frozen Processions" starts with a great folk metal sound and turns progressive death with a lot of clean singing. Sami's guitar work on this song is absolutely amazing and wicked solo at the end closes out the part of the journey. The next three songs take a different path in that they have more of a death doom metal sound, and take on a slower, but still outrageously heavy sound.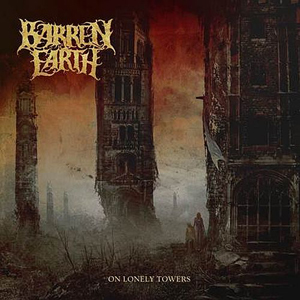 "A Shapeless Derelict" is definitely death doom. The violin intro leads into a slow churning doom guitar beat, and Jon's vocals really set mood for this song. It's amazing how much power is in this song and still keeps the roots of melodic death metal.
"Set Alight" starts off somber with piano taking the lead along with Jon's melancholy vocals until the powerful chorus with heavy death growls. The guitar work from Sami is very progressive while the song takes a heavier death style towards the middle and throws in the folk elements here and there too. This song has a strong INSOMNIUM feel to it along with the next one.
The title track "On Lonely Towers" comes in at almost 12 minutes and is one of those songs you will come back to again and again. Astounding vocals and beautifully crafted music weave an intricate adventure for die hard doom and death doom fans alike. Marko's spot on drum work really sets the tempo and combined with Sami's intricate guitar playing, this is one of my favorite songs on the album. Jon's whispering lends a sense of fantasy during the mid-sections and the talking parts lead into some of his most intense clean vocals yet. There is such power in his inflection that you can't help but to close your eyes and sing along and take a ride. Sami's beautiful solo at the end is amazing and lasts pretty much the remaining three plus minutes of the song. Fucking awesome and shows what a talented guitarist he is.
The next two tracks get back into the melodic death sound, "Chaos The Songs Within" and "Sirens Of Oblivion". Both of these songs have a strong AMON AMARTH vibe with the exception of the clean vocals here and there in each. "Sirens" has a jazzy saxophone for a solo, but it blends in well finishing out with a wicked solo from Sami. The final track of this phenomenal release is "The Vault" and is the most complex song here. Melodic death metal meets YES and EMERSON, LAKE AND PALMER. This song is fucking powerful. Jon's soft vocals come just before the death chorus that leaves you in awe. Starting about the three and a half minute mark begins a musical interlude in the likes of classic 70's progressive rock that lasts the next four minutes; thus the YES and ELP references. What a beautiful closure to this kick ass album.
Overall this release from BARREN EARTH is a great blend of various styles of death metal with the progressive rock influences apparent. On Lonely Towers is currently ranked as my Album Of The Year for 2015 and is a must for any fan of melodic death metal. I can't stress this enough: This album is fucking awesome!!! We can only hope they come to the U.S. to tour at some point.
5.0 Out Of 5.0
Grab a copy of On Lonely Towers in the KNAC.COM More Store right HERE.