SHATTERED SUN Hope Within Hatred


By Peter Atkinson, Contributor
Wednesday, April 22, 2015 @ 12:58 AM


| | | |
| --- | --- | --- |
| | | |
SHATTERED SUN
Hope Within Hatred
Victory Records




Good things sometimes do come to those who wait – either by choice or necessity. Alice, Texas, sextet SHATTERED SUN has been around since 2005, with a brief hiatus in 2010, but just now is issuing its debut album — following a series of EPs and a host of lineup changes.

But Hope Within Hatred launches with the backing of new management — from the formidable Breaking Bands, headed by TESTAMENT frontman Chuck Billy, Adrenaline PR chief Maria Ferrero and Megaforce Records founder Johnny Z — a deal with Victory Records and primo stint as the opener on the Dark Roots of Thrash II tour with TESTAMENT and EXODUS this spring, followed by a summer run on the Rockstar Energy Drink Mayhem Festival. Not a bad start, to be sure, given the decade it took SHATTERED SUN to, well, really get started.

And while old-school thrash fans on the Dark Roots tour may not be so keen on SHATTERED SUN's decidedly "modern" metal, the Mayhem Fest will likely be a much more welcoming venue. The band's sound is something of a mish-mash of the new wave of American thrash/metalcore chest-beating of KILLSWITCH ENGAGE or AS I LAY DYING, with some PANTERA-esque muscle and a pinch of BLEEDING THROUGH-style emo-core in the chirping electronics and plaintive clean vocals that punctuate Hope Within Hatred.

The emo-isms aside, Hope Within Hatred is a pretty mean-ass album loaded with big, surging riffs, bracing tempos and Marcos Leal's more-often-than-not roaring vocals — all cloaked in surprisingly inviting, soaring melodies and a minimum of breakdowns in an inversion of the typical metalcore modus operandi. Like AS I LAY DYING, SHATTERED SUN have learned a thing or two from Swedish melodic-death metal dynamics and employ with relative aplomb here, especially in Daniel Trejo and Jessie Santos' buoyant harmonized leads.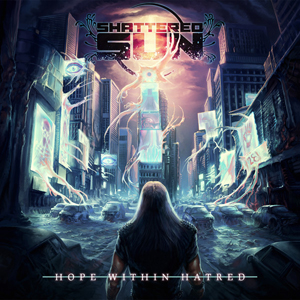 Indeed, because of the ample melodic air, the clean vocals are, for the most part, superfluous and unnecessary here. They are fine on the relatively Spartan, and quite hypnotic, ballad "281" – which recalls DEATH ANGEL's "Room With A View". But songs like the title track or "Dead Set" gain little from the "cleanliness" – indeed, if anything, it costs them a bit of their oomph – and would be fine without it.
Perhaps a couple months on the road with Chuck Billy and Steve "Zetro" Souza, both masters a tempering their growl during more melodic moments without getting all warbly, will rub off on Leal. The reverent cover of TESTAMENT's "Return To Serenity" that closes Hope Within Hatred shows that influence already is taking hold, even if the inclusion of the track seems like something of a cheap fan-boy ploy.
Still, that said, the performance and composition on Hope Within Hatred are mature and undeniably powerful. SHATTERED SUN has had the relative "luxury" of honing its chops for nearly 10 years, and it shows. The songs are tight, well-crafted and purposeful and the band plays them with an energy and aggression that gives the album a live-sounding punch and heft - the brash production Robert Beltran helps in that regard as well. And with the seasoning that will come with more extensive touring opportunities, SHATTERED SUN should be all the better for it next time around.
3.0 out of 5.0
Grab a copy of Hope Within Hatred in the KNAC.COM More Store right HERE.

Please log in to view RANTS