ENTRAILS Obliteration


By Peter Atkinson, Contributor
Monday, May 25, 2015 @ 1:52 PM


| | | |
| --- | --- | --- |
| | | Metal Blade Records |
ENTRAILS
Obliteration
Metal Blade Records




Sweden's ENTRAILS has an unusual history, to say the least. The old-school death metal quartet from back in the day never actually got around to releasing anything, well, back in the day - when what they were doing was actually new school.

Formed during the glorious early '90s rise of buzz-sawing Swedish death metal – and the likes of ENTOMBED, DISMEMBER, GRAVE and UNLEASHED – ENTRAILS was unable to follow in their wake as its lineup splintered and eventually dissolved altogether in 1998 without issuing so much as a demo. A decade later, though, guitarist Jimmy Lundqvist stumbled upon some old recordings and decided to give the band another go.

The material was re-recorded, yielding the fittingly titled "Reborn" and "Human Decay" demos, which earned the "band" – at the time just Lundquist and vocalist/bassist Jocke Svensson – a label deal. The songs were then re-recorded yet again, with most of ending up on the band's debut album, Tales From The Morgue, in 2010.

ENTRAILS' second full-length, The Tomb Awaits, followed in 2011 and featured the rest of the updated demo material, reprises of some other older tracks and, finally, a few new tunes. It wasn't until 2013's Raging Death album that the band offered something completely, in a manner of speaking, "fresh."

While the songs on Raging Death were new, the sound and vibe were as decidedly old school as the previous material – which actually came from way back when. ENTRAILS did little to update the vintage d-beat-powered corrosive clamor, but played it with such raw power that what the album lacked in modern nuance it more than made up for with its zeal and sheer abrasiveness.

The same, however, cannot be said about Obliteration, the band's latest release. Oh, it delivers the textbook early '90s Sunlight Studio-style death metal grit and grind in abundance. But after now four straight servings of pretty much the same thing over four years – last year saw the release of the Resurrected From The Grave reissue, a collection of the original Reborn and Human Decay demos - the fifth helping not only sounds predictable, but pedestrian, especially since the band dials back some of the vigor that made Raging Death, well, rage.

Obliteration gets off to a promising, if familiar start, on the bruising "No Cross Left Unturned", with Lundqvist and Pontus Samuelsson's guitars sounding like dueling Husqvarnas over Adde Mitroulis' galloping drums and Svensson's scabrous vocals. But things settle into a rut soon thereafter.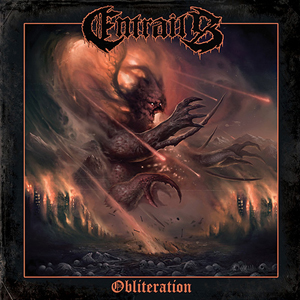 The pace slows to something approaching mid-tempo with "Epitome Of Death" and keeps rolling on cruise control from there with not much variation - other than sporadic d-beat or double-bass bursts. With the guitars set to a steady, crusty grind and Svensson snarling, spitting and spewing like agitated wolverine throughout, things gets tedious pretty quickly. A good chunk of the album's midsection is barely distinguishable one track to the next.
And that's a shame, because there are moments, especially over the back half of Obliteration, that boast the sort of spunk and fire that made Raging Death so vibrant and vicious. The quick-cut groove on "Obliterate", the soaring, almost black metally riffing that punctuates "Midnight Coffin" and the propulsive chug of "Bonestorm" break up some of the monotony, but only in fits and starts. It isn't until the last two tracks, "Abyss Of Corpses" and "Re-Animation Of The Dead" that ENTRAILS shake off the doldrums for good and bring the album to calamitous end that echoes the feisty start of "No Cross Left Unturned".
It would seem that ENTRAILS may just be guilty of trying to do too much too soon here in order to make up for lost time. More time to write new material while not having to revisit the older stuff over and over may have yielded more vital and enticing results. But one must strike while the iron is hot, I suppose – especially after nearly 20 years of nothing to show for one's efforts – and with Obliteration, ENTRAILS takes a bit of a burn because of it.
2.5 Out Of 5.0
Grab a copy of Obliteration in the KNAC.COM More Store right HERE

Please log in to view RANTS