IRON SAVIOR Live At The Final Frontier


By Alex Yarborough, Orlando Contributor
Friday, June 12, 2015 @ 3:55 PM


| | | |
| --- | --- | --- |
| | | |
IRON SAVIOR
Live At The Final Frontier 2015 AFM Records




Even though IRON SAVIOR released some live songs on Interlude (from their 1998 Wacken appearance), the band has shown little interest in the past in a full-length live release. It seems that they changed their mind, and the correct decision has definitely been made; this album is testament to the ability of the band to perform a riveting live show. Live At The Final Frontier was recorded in the band's hometown of Hamburg, Germany in January 2015, and has been released as their first live album, available in DVD and 2-Disc CD format. The title was inspired by artist Felipe Macado Franco's fantastic cover artwork.

I'm proud to say I've been a fan of IRON SAVIOR since day one, having purchased the eponymous debut album in 1997 and each subsequent album and EP when it was released. If you aren't familiar with IRON SAVIOR, they are a German power metal band lead by singer/guitarist/songwriter/producer Piet Sielck, a man who knows how to write a great heavy metal anthem. Inspired mainly by JUDAS PRIEST, IRON SAVIOR has released album after album of classic fist pumping up-tempo heavy metal with a sci-fi storyline for over 18 years.

The only original remaining member is Piet, but the current lineup of Piet, bassist Jan S. Eckert, guitarist Joachim Kustner and drummer Thomas Nack has been in place since 2011's The Landing. There have been a few noteworthy guest members in IRON SAVIOR over the years, including Kai Hansen (GAMMA RAY), Dan Zimmerman (ex-GAMMA RAY) and Thomen Stauch (ex-BLIND GUARDIAN). A few years ago, Piet decided he was done with side projects like SAVAGE CIRCUS and wanted to focus mainly on IRON SAVIOR.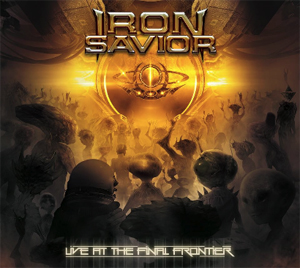 There are 17 songs, which focus heavily on IRON SAVIOR's last two studio albums, (The Landing and Rise Of The Hero), but all eight of IRON SAVIOR's albums are represented by songs here (except for 2007's Megatropolis).
So, what makes a good live album? Is it crowd participation, a rawness of the songs, maybe a certain level of improvisation? Or some kind of combination? The crowd is definitely involved in this show, and is very enthusiastic. They respond to every song and react to every word from Piet. The band sounds great, not too studio-sounding, and not too raw. Piet's banter with the crowd between songs is almost entirely in German, so I don't know exactly what is being said, but I can get the gist of it, such as when he exhorts the crowd to shout the chorus during "Break The Curse", or leads them through the song "Heavy Metal Never Dies". Some other favorites here include "Revenge Of The Bride", "R U Ready" and the "Iron Watcher" medley. The final song is their killer cover of JUDAS PRIEST's "Breaking The Law".
Overall, this is a very strong live album, and a good representation of IRON SAVIOR's career so far. Any IRON SAVIOR and heavy metal fan should proudly add this live album or DVD to their collection.
4.5 Out Of 5.0
Pre-Order your copy of Live At The Final Frontier in the KNAC.COM More Store right HERE.

Please log in to view RANTS