CORROSION OF CONFORMITY Live In Dublin, Ireland


By Larry Petro, News Monkey
Monday, June 15, 2015 @ 5:18 PM


| | | |
| --- | --- | --- |
| | | At Academy |
Review and photos by JUSTIN RYAN
Appearing at this year's Download Festival at Castle Donington in England presented CORROSION OF CONFORMITY(COC) with a golden opportunity to reconnect with their Irish fans who haven't seen the Deliverance lineup perform live in Dublin since the 9th of October, 1996. On that occasion, COC were guests to METALLICA at The Point Theater(previous capacity 8,500 people, renovated capacity 15,000 people) who were promoting their Load album on their, "Poor Touring Me" European Tour. COC had made their Irish debut a year earlier with the Deliverance album tour shows at Dublin's S.F.X. Center on the 9th and 10th of March 1995, when they were special guests on MEGADETH's Youthanasia, "Youth In Europe Tour".
Although completing two recent studio albums(the self titled Corrosion of Conformity in 2012 and IX in 2014) without Pepper Keenan, his recent return to the band hasn't surprised many among COC's fan base. The line up of Keenan (vocals, guitar), Woody Weatherman (guitar), Reed Mullin (drums) and Mike Dean (bass) is for many the most recognizable and familiar COC lineup since its formation in 1982; Weatherman, Dean and Mullin being original members with Keenan joining in 1989. An important figure in heavy music over the last twenty five years, Keenan's arrival and contribution to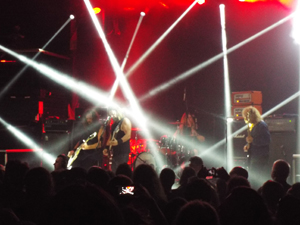 1991's critically acclaimed Blind record helped in no small measure to propel the band into the heavy metal big league; main support slots on the aforementioned tours for metal giants MEGADETH and METALLICA in successive years in the mid nineties introduced COC's growing impressive catalog to large numbers of metal fans who may not have been familiar with the band before then. However, with Keenan also a key member of the supergroup DOWN, COC studio records in the nine year period following 1996's Wiseblood have been limited to two works; the year 2000's solid America's Volume Dealer and the impressive In The Arms Of God (2005). A four year hiatus that began in 2006 was not due to COC being unfocused or lazy; it was simply to facilitate Keenan's continued participation in DOWN.
With the second part of the new DOWN EP, Down IV having been completed and released in May of 2014, it was announced a short time later by COC drummer Reed Mullin that the Deliverance era line up was to reform to record a new album and tour it live. Although no new material has surfaced to date, the band are currently touring Europe, including a slot at last Friday's (12th of June, 2015) ginormous Download Festival.
Surveying the size of the crowd in the venue tonight before show time, the Academy venue on Dublin's Middle Abbey Street is at sell out (1,000 capacity) levels. Support on the night was provided by Irish metal band, TWO TALES OF WOE. A band who could compete with MEGADETH on a voluminous numerical past members basis, they delivered a tight forty five minute set of BLACK SABBATH, DOWN, MASTODON-influenced material. A follow up album to their 2009 debut album, A Conversation With Death is planned, which should have plenty of people on the look out for it judging by the positive reaction they received from the crowd tonight.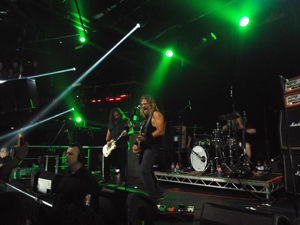 At 9pm, the house lights were cut for the Raleigh, North Carolina quartet headliners. As well known fans of THIN LIZZY (COC's back catalog containing many moments of Lizzyesque guitar work), "The Boys Are Back In Town" played through the house PA system welcoming the band onto the stage. The number selected to open the show was "These Shrouded Temples", an instrumental song that was also the perfect opener to their Blind record. The song's eerie tone being the ideal introduction to that record's overtly biting social and political commentary, it also sets the vibe at a COC live show perfectly. The relentless,pounding riff and stunning guitar work of "Broken Man" turned the clock at the venue back to 1994 and brought the atmosphere to boiling point. "You know how I know how much these songs mean to you, Dublin? I can see it in your eyes,that's how I know", was guitarist and vocalist Pepper Keenan's response to the audience's ear splitting vocal participation in the second tune of the night. "You seem to be in pretty good shape for a Sunday night. We've got a shit load of songs to play for you tonight!", he added before the music resumed. Three of the next four tracks were culled from 1996's Wiseblood album. "King Of The Rotten" and "Heaven's Not Overflowing" (the latter from 1994's Deliverance) stepped the tempo up considerably, the breaks then being reapplied quickly with the mid tempo bluesy strains of "Long Whip/Big America" and "Wiseblood". Addressing the audience again, Keenan quipped, "I hit the streets of Dublin last night. I'm from New Orleans so I thought I was good at that kind of thing. I'll tell you one thing,I got my ass kicked by Dublin last night!". The haunting "Seven Days" followed, one of a total number of six tunes played from the still fresh sounding, brilliant Deliverance album. "Paranoid Opioid", along with the DOWN style grooves of "Stonebreaker" were chosen to represent material off their In The Arms Of God record. An album containing a considerable amount of quality, there were no Irish shows included in that album's touring in 2005/06, so excellent songs such as "It Is That Way", "Never Turns To More" and "So Much Left Behind" will have to wait for future visits.
Before the classic "Albatross" was played (with BLACK SABBATH's "Black Sabbath" tagged to its ending), Keenan asked the crowd if anybody could remember the last time COC had played live in Dublin? "1996 with METALLICA" was shouted from the front row to which Keenan replied, "1996? That's nearly twenty years. Might as well have been 1906!". Preceded by Keenan's spoken hankering for a pint of cider, the tempo shifting, immensely heavy "My Grain" was delivered with a bang. The extra dimension that soulful vocals can give a heavy band was perfectly exemplified by Keenan's singing on "Goodbye Windows". This tone of vocals allows COC's varying range of sounds to be complimented aptly;many heavy bands would kill for this aspect of COC's arsenal. To his visible satisfaction, "Goodbye Windows" also saw the arrival of Keenan's desired fermented apple beverage. The crowd's vocal participation in its soaring chorus was one of many highlights on the night.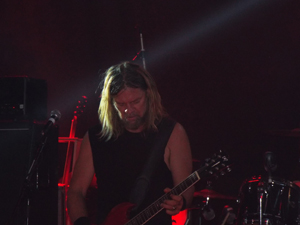 The concert's three song encore consisted of "Vote With A Bullet", "Who's Got The Fire" and "Clean My Wounds". The night's final tune included an additional guitar part not featured in its original recording. "You know Dublin, we just decided to see if we could get our shit together again as COC and we got a response here tonight like the one you've given us. Thank you so much, Dublin. We couldn't do this without your support. We'll be back here again soon, guaranteed", were Keenan's closing words at the venue to the memorable sixteen song, ninety minute concert. To complete a great night for all concerned, Pepper and Woody then joined fans for drinks at Gypsy Rose Rock and Blues Bar which is located five minutes walk from the Academy venue on Aston Quay.
Setlist:
"These Shrouded Temples"
"Broken Man"
"King Of The Rotten"
"Heaven's Not Overflowing"
"Long Whip/Big America"
"Wiseblood"
"Seven Days"
"Paranoid Opioid"
"13 Angels"
"Albatross"(with BLACK SABBATH "Black Sabbath"
ending)
"My Grain"
"Stone Breaker"
"Goodbye Windows"
"Vote With A Bullet"
"Who's Got The Fire"
"Clean My Wounds"

Please log in to view RANTS