FULL DEVIL JACKET Valley Of Bones


By Larry Petro, News Monkey
Tuesday, June 16, 2015 @ 12:24 AM


| | | |
| --- | --- | --- |
| | | |
FULL DEVIL JACKET
Valley Of Bones
eOne Music




Tennessee metal act FULL DEVIL JACKET has returned with a brand new studio album, Valley Of Bones, the band's first release of new material in about 15 years and their first release since the band was reassembled a few years ago. Released through eOne Music back at the end of March, the big question on the minds of the fans would be how this material would stand up to FULL DEVIL JACKET's last, self-titled album, which was a solid success on its way to earning Gold status back in 2000. Also, could the band recapture the momentum they had lost when vocalist Josh Brown nearly died of a drug overdose when FDJ was out on tour with CREED, ultimately resulting in his departure? With the release of Valley Of Bones the answer is a resounding YES!

Valley Of Bones opens with a trio of heavy tracks that will get your blood and fists pumping in unison: "Killers", title track and first single/video (check out the video HERE) "Valley Of Bones" and "7X Down". Take your pick from any of these and you'll see that FDJ is truly back and they mean business. "7X Down" in particular has a great backbeat. Anchored by Keith Foster's skin-bashing and Keith "Moose" Douglass' pounding bass, this track has a distinct DISTURBED vibe to it, along the lines of Down With The Sickness".

Things mellow out just a bit for the next track, "The Moment", a song that has a nice ALICE IN CHAINS feel to it, allowing Josh Brown's true vocal ability to shine through. The powerful yet emotional feel of the spirituality Brown discovered after his overdose is on full display here. A softer side of the band or not, this song is yet more proof that the band still has miles left and much more to prove.

Things pick right back up with "We Got The Love", an uptempo track that's probably the most radio-friendly sounding on the whole wlbum, complete with a catchy chorus and steady bass line courtesy of the "Moose", one that will also have you nodding your head without even realizing it. Even still, there's room for a patented Brown growl or two towards the end and the wailing solo from guitarist Paul Varnick's instrument is just another added element to a great song.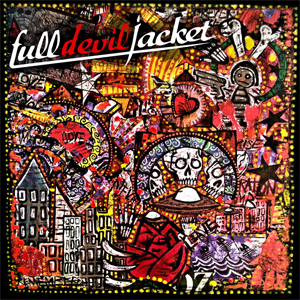 "What If I Say" follows and, though it's another softer tune, it's still powerful in its message and emotion. Ballad-like in nature, this is one that will have live audiences raising their lighters up high. The complete arrangement of the song is grandoise, with the inclusion of an orchestral string section playing in the background giving the song an very nice, epic appeal.
The FULL DEVIL JACKET heaviness returns in the way of the next two tracks, "Blood Of The Innocent" and "Picturebox Voodoo", the former starting off with more Josh Brown growling screams before kicking into a very melodic chorus.
The CD finishes off with two more softer songs, "Paper Crown" and "August", both of which once again puts Brown's vocals front and center, with the piano-driven "August" putting the final period to the band's 2015 musical statement.
I would also be remiss if I didn't mention that longtime EVERY MOTHER'S NIGHTMARE guitarist Jeff Caughron, who has on several occasions been the touring 2nd axeslinger for FDJ, is also featured on this album, contributing guitar work on several tracks. What's apparent throughout Valley Of Bones is that the band still has plenty left in the tank and with a rejuvenated, re-inspired and refocused Brown (hell, even the album's cover art was created by him) at the helm, things are looking up once again. And if you're keeping score at home, this CD has also made my Top 10 releases for 2015. So what are you waiting for? Go check it out now!
5.0 Out Of 5.0
Grab your own copy of Valley Of Bones right now in the KNAC.COM More Store right HERE.

Please log in to view RANTS