AC/DC Live In Dublin, Ireland With Photos!


By Larry Petro, News Monkey
Sunday, July 12, 2015 @ 9:35 AM


| | | |
| --- | --- | --- |
| | | At Aviva Stadium, July 1st |
Review And Photos By Justin Ryan.

For reasons best known to the promoter, AC/DC's previous visit to Ireland in June 2009 on their Black Ice World Tour was staged at Punchestown Racecourse, which is a bottle neck entrance horse racing track site, twenty two miles from Dublin city. The large scale traffic delays both before and after that concert may have been one of the reasons that tonight's (Wednesday, 1st of July, 2015) concert was thankfully held at the more centrally located, new (opened 2010) 410 million euro/$455 million Aviva Stadium, Dublin. Located two miles from Dublin city center and serviced by the onsite train station of Lansdowne Road, sixty five thousand fans had made this event a complete sell out within twenty minutes of it going on sale last December.

Now in their forty second year as a professional group, few bands have been around as long as, or have been anywhere near as successful(in terms of both album and ticket sales, at least) as the predominantly Scottish expats quintet. However, recent times brought two unexpected changes to the bands structure. Due to the on set of dementia, founding member, songwriter, rhythm guitarist and backing vocalist Malcolm Young was forced to retire permanently in September, 2014. Unlike Malcolm, the circumstances surrounding drummer Phil Rudd's recent exit were not so tragic; his departure from the group was a result of eyebrow raising, self inflicted legal difficulties.

In support of their new hit and miss studio record, Rock Or Bust, fifty-five live shows have been booked across the globe on the current Rock Or Bust World Tour. Tonight's show is event number nineteen of a total of twenty-eight gigs scheduled on the European leg of the tour which began at the GelreDome, Arnhem, The Netherlands on the 5th of May, 2015. For longtime fans, the sight of former AC/DC skinsman Chris Slade (born Christopher Rees) back on the drum stool is not as strange as the sight of the band onstage without Malcolm Young. Slade, who had previously drummed with them for five years from 1989 to 1994, has changed little in appearance in the intervening years; his completely bald head is as striking and noticeable as it was twenty-six years ago. Malcom's replacement on rhythm guitar is his nephew Stevie Young, who is also a nephew of Angus, George and Alex Young by virtue of being a son of the their eldest brother, Stephen.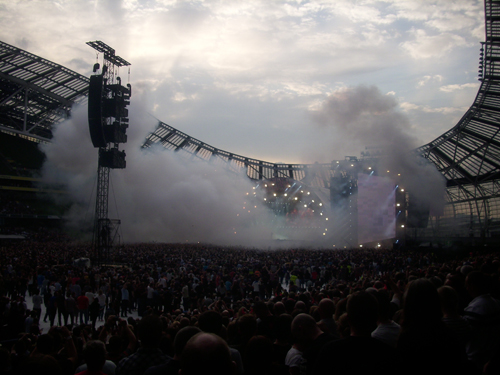 To comply with local curfew and planning permission laws that are associated with an outdoor event of this scale, advance notice had been given via full page concert advice newspaper adverts that AC/DC would be onstage at 8:30pm sharp. At exactly that time, the stage side giant screens lit up with a two minutes (approx.) roll of fictional moon landing themed footage which was personalized AC/DC style by the astronauts involved encountering an AC/DC branded comet heading straight for planet earth. Its destructive impact on the third rock from the sun coincided with a massive on stage explosion of smoke, which engulfed the whole stadium, pitch to rafters, taking five minutes to clear the venue. As a result, the band only became clearly visible to all in the packed stadium at the start of the night's second song, "Shoot To Thrill", which followed the opener, "Rock Or Bust". That is not to say that the gig's smoky beginning dampened the vibe in the venue; if anything the introductory bang on the night increased the simmering atmosphere a notch, its use to grab the attention of sixty-five thousand people worked spectacularly well.
Angus Young, who looks out of place without his school boy uniform on, dressed with the location in mind by sporting a green schoolboy cap and matching color tie. His satisfied grins, steely fret board focus and rhythm induced steps and body contortions, reflects a man (who turned sixty years of age on the 31st of March this year) as someone who is still a teenage rock n' roller at heart. To ensure as many people in the venue got as close a view as is possible in a venue that size, he worked the full area of the boards throughout the performance, including playing at the extreme sides of the semi circular shaped stage. While "Back In Black" impressed as always and got the biggest cheer of the first five songs of the night, the concert really slotted into gear with the growling, menacing riff of "Dirty Deeds Done Dirt Cheap". The crowd's reaction to its chorus raised the atmosphere to a new level, one that was incredibly surpassed immediately with the delivery of the always stunning, genuinely classic "Thunderstruck". This tune brought forty-five thousand people in the seated sections to their feet, a mid song crowd roar greeted under stage camera work footage of Angus's Chuck Berry duck walk. The casual music fan may regard the songs "Back In Black" or i<>"Highway To Hell" as AC/DC's signature tunes but on tonight's evidence, "Thunderstruck" brings an AC/DC crowd to its feet like no other.
For a band who's career is chock full of spine-tingling massive hits (some appearing on otherwise patchy albums), there were no real surprises on tonight's set list. The inclusion of nine tracks from the late Bon Scott era was both a fitting tribute to his invaluable contribution to the band and gave a nice eye opener to their early sound to anybody in the crowd who may think AC/DC only really began with the album Highway To Hell. The phenomenal "Sin City", from Keith Richard's (THE ROLLING STONES) and many other's favorite AC/DC album, was both a strong contender for song of the night and a glorious reminder of the rock n' roll swagger contained on Powerage. It isn't difficult to imagine that the song that went before it on the night, "You Shook Me All Night Long", would be something that Bon Scott would have considered as a left behind casualty of his trip to Las Vegas rather than the soundtrack to his journey and arrival there, as "Sin City" is.
Surprisingly, the relentless momentum of the rock n' roll train that had hit full speed ahead earlier with "Thunderstruck" and which had only been dropped one gear setting in eleven tunes to accommodate the mid tempo "Hells Bells" screeched and slowed tediously during "Let There Be Rock". An extra long guitar solo during the song by Angus which included positioning himself on a raised hydraulic platform way above those fans on the pitch standing section, may have delighted any Fender benders (or Gibson SG benders in this case) in the crowd, but for a band whose songs just wouldn't have made the same impact if they had been six minutes in length, it just didn't fit with what had gone before on the night. Does anybody need Angus to prove how accomplished a guitarist he is it? Surely the time spent during this fret exhibition could have been better used to include another couple of full songs in the set, particularly from albums that weren't represented at all on the night, such as Ballbreaker and Stiff Upper Lip.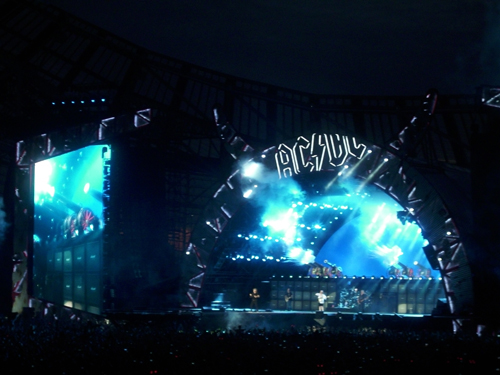 The event concluded with a two song encore of "Highway To Hell" and "For Those About To Rock(We Salute You)". The crowd's ear splitting vocals in the former may possibly have been heard in the city center, whereas the cannon fire from the six cannons positioned on top of their wall of Marshall amps (which would have made SPINAL TAP blush), must have been. All in all, a great show from one of rock's great rock bands, even if ticket prices, which averaged out at 90 euro/$100 each, were quite high.
Setlist:
"Rock Or Bust"
"Shoot To Thrill"
"Hell Aint A Bad Place To Be"
"Back In Black"
"Play Ball"
"Dirty Deeds Done Dirt Cheap"
"Thunderstruck"
"High Voltage"
"Rock N Roll Train"
"Hells Bells"
"Baptism By Fire"
"You Shook Me All Night Long"
"Sin City"
"Shot Down In Flames"
"Have A Drink On Me"
"T.N.T."
"Whole Lotta Rosie"
"Let There Be Rock"
"Highway To Hell"
"For Those About To Rock (We Salute You)"
Check out some more photos from the show!
All Photos By Justin Ryan
| | | | | |
| --- | --- | --- | --- | --- |
| | | | | |
| | | | | |