MISS MAY I Deathless


By Peter Atkinson, Contributor
Saturday, August 8, 2015 @ 11:53 AM


| | | |
| --- | --- | --- |
| | | |
MISS MAY I
Deathless
Rise Records




With Ohio's MISS MAY I, it's pretty cut and dried. If you like metalcore, the band should be right up your alley. If not, it won't, because for meat and potatoes metalcore, it doesn't come much more, well, meaty or potatoey than it does on the fifth album from this lot.

Deathless, not to be confused with last year's album of the same name by tech-deathsters REVOCATION, offers the power and dexterity of KILLSWITCH ENGAGE or AS I LAY DYING, the belligerence and crunch of HATEBREED or EMMURE and the melodic sensibilities, for better or for worse, of ASKING ALEXANDRIA or THE DEVIL WEARS PRADA in roughly equal measure.

You want stinging metallic riffs and surging, thrashy tempos? Check. You want chest-beating breakdowns and soccer match rallying cries? Done. You want turgid hollering and "I hate everything" sentiments contrasted by emo-ish, clean sung, soaring choruses? Ditto. It's all there in abundance.

Indeed, it's painstakingly constructed so you get a heaping helping of it all in every song. MISS MAY I work the bracing metal verses and bridges/crooning choruses song structure to absolute perfection on Deathless – to the point where the arrangement and dynamics of damn near every song is virtually identical. You won't find many surprises here. But then again, that's not really one of the hallmarks of metalcore, is it?

One thing that can be said about Deathless, though, is that is it is pretty friggin' heavy. The band bring the bombast here with B.J. Stead and Justin Aufdemkampe offering genuinely thunderous riffs and hooks throughout. And there certainly is no shortage of aggression as the band get downright melodic death metally on "I.H.E" - the "I hate everything" referenced above – or "Psychotic Romance", ala ARCH ENEMY or old IN FLAMES. There's even a hint of tremolo-y black metal twang on the finale "Born For Nothing" that contrasts the chugging main riff.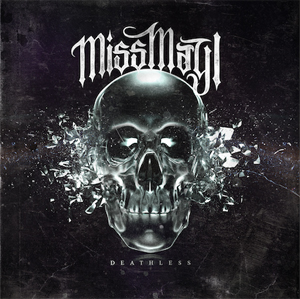 Joey Sturgis, who helmed the band's first two albums, does MISS MAY I a solid in this regard with nicely beefy production work here, accenting its heavier inclinations to give them some real heft. On the flipside, though, that same treatment of the lurching breakdowns on the title track or "Arise" only makes them sound all the more heavy-handed.
The FEAR FACTORY-like industrialized swagger of "Turn Back The Time" is really about the only time Deathless strays from its rather rigid sonic template. But even here, it's built around the same basic "metalcore" structure as everything else, just executed with a bit more pizazz.
Indeed, this is as calculating an album as it gets, with an abundance of money-shot grooves and anthemics to keep heads bobbing and fists pumping, but a marked lack of imagination anywhere else. Deathless is a stirring effort, to be sure, thanks to its heaviosity – to quote Woody Allen. But, ultimately, it becomes rather tedious without something to break up the assembly line songwriting and presentation.
But again, if that's your thing, Deathless will more than satisfy - like a big, loud Happy Meal or some such. Anyone looking for something that transcends the usual metalcore histrionics and offers some variety and spice, however, will have to keep on searching. Best of luck.
2.5 Out Of 5.0
Grab your copy of Deathless in the KNAC.COM More Store right HERE.

Please log in to view RANTS