THE DEAD DAISIES Live In Houston, TX With Photos!


By Larry Petro, News Monkey
Wednesday, August 19, 2015 @ 1:14 PM


| | | |
| --- | --- | --- |
| | | August 14th At The Concert Pub North |
Review By Jeff Savelle
Live Photos By Larry Petro/Petrofyed Photography
So here we are Houston, Texas! August 14th at the Concert Pub North in the hottest part of the year. With record high breaking temperatures and a tyrant driven drought, take refuge my friends, the one thing you can count on is THE DEAD DAISIES.
If you haven't heard of the THE DEAD DAISIES by now you must be living under ummmm, an Anti Rock. Anytime you walk into a venue and see five vocal microphones with four on the floor and an old school metallic silver and black double bass drum kit gracing the stage, that only heightens the anticipation. With THE DEAD DAISIES currently on tour opening for WHITESNAKE, they took the exit ramp to headline their first show at the Concert Pub North in support of their new record, Revolucion.
As a first time goer at the Concert Pub North, I sit at the bar with my chicken ceaser salad, cucumber water and note pad thinking to myself, "This show should have been billed as an intimate evening with THE DEAD DAISIES. Before I could process that thought to paper, the lights went out like a tropical storm that had just pulled the plug on the venue (yes it was deliberate), leaving us all in the dark for just a moment with the crowd noise escalating. The electric power surge kicked back in and bang, THE DEAD DAISIES were gracing the stage in a down pour of multi colored lighting. John Corabi on lead vocals, Richard Fortus and Damon Johnson shredding guitars, Marco Mendoza on bass, Dizzy Reed tickling the ivories and Brian Tichy killing the drums. Wait! what? Yea, You heard me!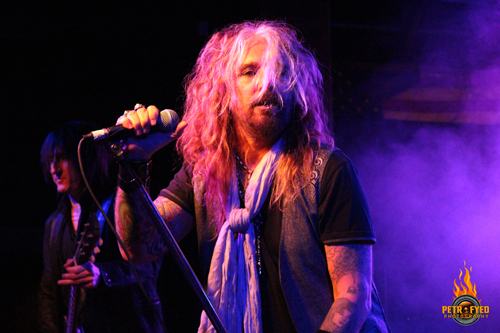 With the intro to "Whole Lotta' Love" spliced with "War Pigs", decibel force like winds blew my note pad right off the bar. Bye, bye notes. The intimate evening quickly turned into a psychedelic assault wearing smiles on their faces. The band was the perfect storm, if you will, launching into "Midnight Moses" across the venue. As I jump to my feet, Marco Mendoza was literately coming over the barricade from the stage. One foot on the stage and one on the rail! Buckle up my friends, we're in for one hell of a ride! I've never been hit so hard with such charismatic energy painted in an array of color that could have easily filled a 70,000 seat arena. THE DEAD DAISIES aren't even through 10 seconds of the first song and have already redefined the term "Stage Presence". As I make my way closer to the stage, TDD slide into their new single "Mexico" followed by "Evil". At this point the band takes a moment to introduce themselves and show their appreciation for us with the same impact as if the sky was parting and a light from a higher source was coming down upon us. Corabi is holding his mic, looking over his right shoulder through his color-stained, what seemed like 2 feet of hair possibly styled by someone name Katrina (as in the hurricane). John introduced the next song, "Get Up, Get Ready" and "This next song is the brain child of Richard." (my personal favorite track). This song tighten the crowd up like a high wire with both fists pumping in the air. Yes DD, we are here for a party and we're feeling alive. Thank You very much! Without a doubt that was the consensus.
Next up to my surprise was a version of DEEP PURPLE's "Hush" that put the crowd into a spinning frenzy faster than a roulette wheel in a strip club. This was followed up with Make The Best Of It", "Looking For The One" and "Something I Said".
At 8 songs in the lights dimmed and Corabi & Dizzy did an intimate rendition of "Sleep" that was nothing but eye-opening to the versatility of this group of seasoned musicians and songwriting.
Next up on tTHE DEAD DAISIES' playlist was "Lock 'N Load", "All Right Now" (FREE), "With You And I", "Angel In Your Eyes", "Devil Out Of Time" and a version of "Helter Skelter" that confirmed Rock is far from dead and just needed a little resuscitation and a shot of adrenaline.
So there you have it. After 15 songs THE DEAD DAISIES are done, say good night and walk off the stage. Not quite, my friends, after the relentless chant of "Daisies, Daisies, Daisies", the six pack of energy shots were back on stage kicking into "Face I Love" and before they could barely finish the last note of that song THE DEAD DAISIES planted their mark in Texas by rocking out "Just Got Paid", a rendition that would have made ZZ TOP proud, if not to the point of envious. So once again THE DEAD DAISIES take a gracious bow with hand over heart, expressing their appreciation to the fans in support. The feeling is mutual my friends. So finally, 70 minutes later I scamper to the men's room and the buzz words flying around among the Daisy Pushers (die hard fans) were, "Finally! Rock is Back", "Holy F'n $h!t", "This is what America has been missing!", "THE DEAD DAISIES the real deal!", etc. You get the picture? Well, it's not over. All I can hear is the chants once again, then walks out Corabi, promising the band will do one more only if we, the crowd, do a sing-a-long. Really? Really? Hell Yea! Let's Go! That deal was sealed by a fist pumping, cell phone wielding crowd in the blink of a heartbeat. "Rock N Roll Hoochie Koo" couldn't have been more appropriate. And yes, everyone was singing. We did it! Yes! we did.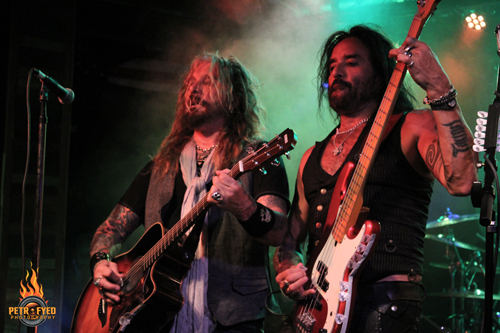 "Good Night, Houston, We Love you."
With everything going on in the political world today and the feeling of a world coming undone nothing is certain. However there is one thing that is certain there is a REVOLUCION going on. THE DEAD DAISIES are a beautiful thing and far from Dead!
So in the end, ask yourself this, "When was the last time you saw a six pack of eccentric world class musicians, that took four parts of vocal harmonies, two gritty guitars, a pounding of bass & drums, added in some acoustic piano/electric keys, put it in the blender of life and poured it down your face into your heart?" The answer? Probably never.
Setlist:
"Midnight Moses"
"Mexico"
"Evil"
"Get Up & Get Ready"
"Hush"
"Make The Best Of It"
"Looking For The One"
"Something I Said"
"Sleep" (John & Dizzy)
"Lock 'N Load"
"All Right Now"
"With You And I"
"Angel In Your Eyes"
"Devil Out Of Time"
"Helter Skelter"
Encore 1:
"Face I Love"
"Just Got Paid"
Encore 2:
"Rock N Roll Hoochie Koo"
Check out some more photos from the show!
All Photos By Larry Petro/Petrofyed Photography

Please log in to view RANTS