SLIPKNOT, LAMB OF GOD, BULLET FOR MY VALENTINE, MOTIONLESS IN WHITE Live In Pittsburgh, PA With Photos!


By Geoff Ketler, Cleveland Contributor
Friday, August 21, 2015 @ 5:32 PM


| | | |
| --- | --- | --- |
| | | The Must-See Touring Event Of The Summer Lands At First Niagara Pavilion |
Photos By Geoff Ketler/Aces High Photography
Amid waning ticket sales for popular annual touring events, such as the now defunct Mayhem Festival, the Summer's Last Stand Tour without a doubt, was able to pack the outdoor pavilion just outside of Pittsburgh, PA. Was it market saturation that caused the demise of our beloved Mayhem fest? Was it because ticket prices continue to soar and people are left to make a choice as to which show(s) they will attend? We can speculate all day long, but one thing is clear – this was the must-see tour of the summer.
With a deep bill and an early start time, the parking lot of the First Niagara Pavilion was alive with the typical tailgating activities; cornhole, grilling, and of course, ingesting fluids. I saw license plates from three different states. I don't mean to be too sentimental, but I just get a warm, fuzzy feeling when I see my fellow metal heads making the trek in masses to support our music scene. I made my way through the VIP entrance, was given my credentials, and was escorted to the pit. Although they are from the other side of the state, Pennsylvania natives MOTIONLESS IN WHITE considered this a "hometown" show. They were first up and got the pit stirring in a hurry. Wherever I am, I seem to run into these guys; which isn't really a bad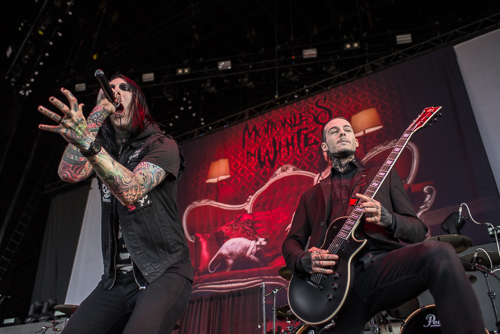 thing. After catching a show in Akron, OH a while back, I saw them perform at the Alternative Press Music Awards a month ago. They are a very visual band, with ghoulish makeup and tattered clothing. Bassist Devin "Ghost" Sola is especially animated. The brief set featured tracks from all three of their releases, including the crowd favorite, <>"Abigail".
Setlist:
"Break The Cycle"
"Devil's Night"
"Abigail"
"If It's Dead, We'll Kill It"
"Generation Lost"
"Unstoppable"
"Reincarnate"
From across the pond, up next was BULLET FOR MY VALENTINE. I will be honest, I have seen them live before, but the majority of my experience with this band comes from Guitar Hero. The set staple, "Scream Aim Fire", took me back to my friend's basement, where we were under the delusion that we were rock stars because we had mastered the video game. Although it wasn't that long ago, that song has a very nostalgic feel to me. I said I wasn't going to get too sentimental, right? – At any rate, as the sun sunk lower in the sky, it drenched the stage and made photography even more difficult. My apologies if my photos aren't everything you had hoped for. On the heels of the release of the band's fifth studio album, Venom, BULLET FOR MY VALENTINE ripped into the single "No Way Out" to get things started. Guitarist Michael Paget is seriously impressive on the fretboard. Also off of the new record, "Raising Hell" was incorporated into the set. It really looked as though the Welshmen were having a ton of fun on stage. Their set concluded with the hit "Waking The Demon".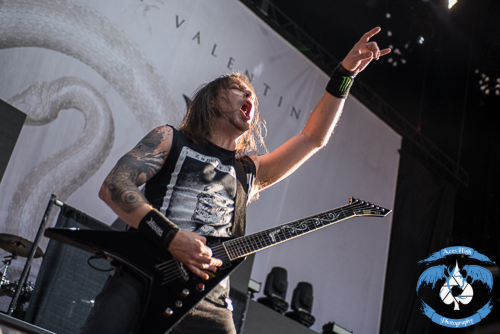 Setlist:
"No Way Out"
"Your Betrayal"
"Raising Hell"
"Scream Aim Fire"
"Army Of Noise"
"Tears Don't Fall"
"Waking The Demon"
I will not lie to you. I am a fan of all of the bands on this set, but the one band that really clinched the deal for me was LAMB OF GOD. Despite all of their past tours, somehow they managed to always elude me…until now. Saying the last few years have been busy for the Richmond, Virginia-based group is an understatement. We all know the story about vocalist Randy Blythe's imprisonment abroad and then there is this new record they just dropped, VII: Sturm und Drang, which has been tearing up the charts. Randy Blythe poured a bottle of water over his head as LAMB OF GOD opened with the haunting "Walk With Me In Hell". Randy was a man-possessed, never ceasing to move, as he strutted around stage reaching down and bearing his soul to us with his guttural screams. Drummer Chris Adler was like a metronome, never losing the beat despite the difficult fills, tempo changes, and complex beats. "Now You've Got Something To Die For" was dedicated to the troops and was just one of the "oldies but goodies" that laced the set highlighted by the epic "Ruin". New tracks "512" and "Still Echoes" were played to perfection. For me, LAMB OF GOD embodies everything I want in a metal band; epic drums, an unpredictably and animated frontman, speed, grooves, and skilled soloing. They did not disappoint.
Setlist:
"Walk With Me In Hell"
"Now You've Got Something To Die For"
"Ghost Walking"
"512"
"Still Echoes"
"Ruin"
"Hourglass"
"Vigil"
"Laid To Rest"
"Redneck"
The main course of this touring feast of metal came in the way of SLIPKNOT. A large curtain covered the stage as the crew worked to prep. As it was pulled back, a large devilish, horned, goat head-looking thing in all of its snarling glory was situated in the center of the backdrop and flanked by banners with the album cover from .5: The Gray Chapter. It is no secret that SLIPKNOT has set the standard for live shows and intensity as of late, only a band like IRON MAIDEN can rival the kind of production and raw energy that SLIPKNOT gives off. The show was full of pyro, stunning lights, and completed by the scissor lifts on the auxiliary drums, Sid's DJ stand and Craig's samples.

SLIPKNOT has been around long enough now to have those certain songs that they could never get away without playing; songs like "Wait And Bleed", "Duality", "Spit It Out" and "People=Shit" to name a few. Highlight of the set, for me anyways, was "The Heretic Anthem". It's the kind of song that really can make the crowd just explode and it was filled with pyro. Bassist Alessandro Venturella was still absent from the stage as he recovered from being hospitalized for dehydration the week before. Drummer Jay Weinberg, the other new member, held his own behind the kit. I did notice that the bass drums were a little sluggish during "Sulfur", but who can blame him? It is a very demanding song in particular, amongst a list of songs that are physically demanding on any drummer of any caliber.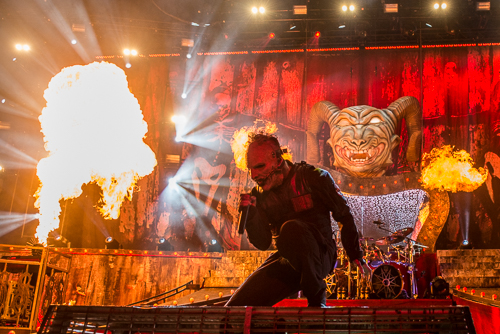 SLIPKNOT capped the night with the anthem, "Surfacing", just like any other night. It was a fantastic lineup of bands bringing the metal to the masses in the countryside of rural Pennsylvania. With the fall of Mayhem Fest, can we expect more killer shows like this to hit the road during the summer next year and into the future? I sure as hell hope so.
Setlist:
"Sarcastrophe"
"The Heretic Anthem"
"Psychosocial"
"The Devil In I"
"AOV"
"Vermilion"
"Wait And Bleed"
"Killpop"
"Before I Forget"
"Sulfur"
"Duality"
"Disasterpiece"
"Spit It Out"
"Custer"
Encore:
"(sic)"
"People = Shit"
"Surfacing"
Check out some more photos from the show!
All Photos By Geoff Ketler/Aces High Photography

Please log in to view RANTS


WISHING WELL Sin And Shame

OTTTO Life Is A Game

SAXON More Inspirations

THE WINERY DOGS, BLACK HEART SAINTS In Houston, TX With Photos!

ROBIN MCAULEY Alive

CRADLE OF FILTH, DEVILDRIVER In Santa Ana With Photos!

KAMELOT The Awakening

ALTER BRIDGE, MAMMOTH WVH In Houston, TX With Photos!

ACID KING Beyond Vision

STEEL PANTHER On The Prowl

NIGHT DEMON Outsider

YNGWIE MALMSTEEN In Ottawa, Canada

THEORY OF A DEADMAN, SKILLET, SAINT ASONIA In Houston, TX With Photos!

OFFICER X Hell Is Coming

PERIPHERY Periphery V: Djent Is Not A Genre

INSOMNIUM Anno 1696

STEEL PANTHER, CROBOT, TRAGEDY In Houston, TX With Photos!

BABYLON A.D. Live Lightning

ROTTING CHRIST, CARACH ANGREN, UADA, GAEREA In Houston, TX With Photos!

MOTÖRHEAD Bad Magic: Seriously Bad Magic

TRAGEDY I Am Woman