STRATOVARIUS Eternal


By Alex Yarborough, Orlando Contributor
Thursday, September 3, 2015 @ 4:27 PM


| | | |
| --- | --- | --- |
| | | |
STRATOVARIUS
Eternal
2015 earMusic




STRATOVARIUS, the godfathers of neo-classical Finnish power metal, will release their fifteenth studio album Eternal in September 2015.

STRATOVARIUS has been on a roll since guitarist Timo Tolkki left in 2008. The band has released four solid albums in the seven years since then, Eternal being the best of them in my opinion. I like a lot of STRATOVARIUS' older albums, but I felt sometimes the band got bogged down in ballads and mid-tempo tracks that did not make for great albums.

The steady lineup of Timo Kotipelto (vocals), Matias Kupianen (guitar), Jens Johansson (keys), Lauri Porra (bass) and Rolf Pilve (drums) clearly has a magical ability to create great symphonic power metal songs. (The only lineup difference being Pilve who replaced Jorg Michael on the last album Nemesis (2013). Pilve's work on Eternal is fantastic. His precision drumming is a great fit for STRATOVARIUS and I enjoy his style. The production (again by Kupianen) of Eternal also sounds better than previous releases; in fact, this is one of the best sounding albums I've heard this year. The songs leap from the speakers and grab you.

The album blasts out of the gates with "My Eternal Dream", a song announced and accented by Johansson's symphonic keyboards. Kupianen's riffing and Pilve's double bass drumming emphasize the near speed metal tempo. Kotipelto's soaring chorus finds him sounding better than ever. Next track, "Shine In The Dark" became one of my favorites, a song that sounds mid-tempo at first, then builds to a glorious pre-chorus and chorus. The words speak of regret and loss, but with a positive outlook on the future. It was also released as the first single from the album. "Rise Above It" features some great riffing and solos from Kupianen and Johansson.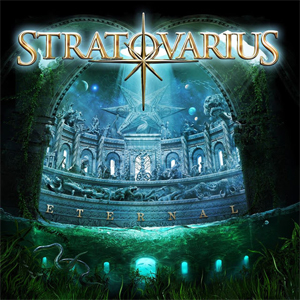 Next track "Lost Without A Trace", is slower, but not quite a ballad. Still, an enjoyable song. "Feeding The Fire" returns to a faster tempo and features some cool riffs and a huge chorus; this is one of the best songs on the album. I love the symphonic accents Johansson adds to the song. "In My Line of Work" became another favorite song of mine. This song includes my favorite riff on the entire album. It sticks in your head for a while. "Man In The Mirror" follows, an enjoyable anthemic track with a catchy chorus. "Few Are Those" begins with Johansson's piano riff and builds to another rocking track.
Ballad "Fire In Your Eyes" offers a nice change of tempo featuring a tasteful solo by Kupianen. The album ends with the epic (nearly 12-minutes) track "The Lost Saga". It has many memorable sections (including the intro, huge chorus and extended solos) that make it possibly the best song on the album.
Eternal has 10 songs and is around 55 minutes. The cover artwork is intricate, and includes references to the last few album covers. There is no doubt that after 26 years, STRATOVARIUS is still kicking ass. Honestly, the band has never sounded better. Timo Kotipelto sounds very strong and he still has one of the trademark voices in metal. With Eternal, STRATOVARIUS is firing on all cylinders!
4.8 Out Of 5.0
Pre-order your copy of Eternal in the KNAC.COM More Store right HERE.

Please log in to view RANTS