SOILWORK The Ride Majestic


By Peter Atkinson, Contributor
Thursday, September 3, 2015 @ 4:29 PM


| | | |
| --- | --- | --- |
| | | |
SOILWORK
The Ride Majestic
Nuclear Blast Records




Sweden's SOILWORK has been a veritable melodic death metal machine for two decades now. Despite myriad line-up changes – recently to key members, notably founding guitarist/main songwriter Peter Wichers, who left twice, and guitarist Ola Frenning, who actually was Wichers' uncle! – the band keeps rolling right along, churning out remarkably consistent albums.

While that may mean only the occasional genuine surprise, like 2013's ambitious 24-track double album The Living Infinite, there also have been few real disappointments, i.e. 2007's Sworn To The Great Divide. The Ride Majestic, SOILWORK's 10th studio album, marks the last release for bassist Ola Flink, the longest-serving member aside from founding vocalist Björn "Speed" Strid. It also finds the band maintaining the creative spirit of Infinite, but concentrating its efforts on a more finely honed single album. And it even has a few surprises up its sleeve.

Majestic features some of the most aggressive, assertive material the band has done, contrasted by the usual towering melodies and keen sense of catchiness that is scattered liberally throughout. The title track gets things off to a rousing start fueled by drummer Dirk Verbeuren's flailing pace and then kicks on the afterburners for "Alight In The Aftermath" which churns under Sylvain Coudret and David Andersson's furious riffs.

The title track reprises later as "The Ride Majestic (Aspire Angelic)" and is no less ferocious, indeed perhaps moreso with its crunching hooks. "Shining Lights" offers another surge toward the end of the album after a stretch of more moderate tempo fare.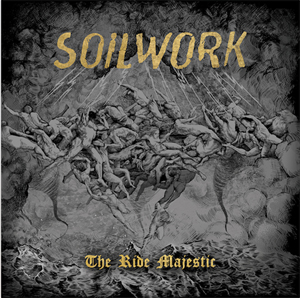 "The Phantom" actually boasts a black metally hue, with its tremolo guitar harmonies and Verbeuren's blast-beat battery echoing, incredibly, CRADLE OF FILTH, even with its anthemic choruses. "Death In General" hints at this several songs earlier in the frantic guitaring that follows an initially somber, somewhat bluesy opening. The black metal flourishes are actually quite effective – and, smartly, used sparingly – with Coudret and Andersson's fleet picking in lock-step and bearing a buoyant, epic tone instead of the typical shrill.
As with "Death In General", much of the more melodically inclined songs on Majestic are punctuated by jarring fits of crushing heaviness or wild swings of velocity, giving the album a restless, agitated vibe that is actually nice to hear from a veteran band like SOILWORK – which very easily could have gone the completely opposite route and softened things al a Sworn in pursuit of greater commercial appeal. If anything, it seems as if SOILWORK went out of its way to avoid making that material too overtly catchy here, while at the same time ensuring that the brutality was tempered by just enough melody and tact so as to engage instead of repel.
The album's real strength is its natural ebb and flow, and the smart songwriting that allows the band to weave everything together into something that is not only coherent, but powerful and compelling. Instead of sounding like a sliced and spliced collection of parts micro-surgically connected in the studio, Majestic is a rollercoaster ride where you can feel the hairpin turns in your gut and the wind from the speed in your face. And Strid remains one of metal's most athletic and versatile vocalists, able to slingshot from commanding growls and shouts to soaring cleans at any time, and often when you might not quite expect it.
If anything, the adversity and turmoil of the past few years has made SOILWORK a better, more complete band. Infinite and Majestic have showcased some of the band's finest work. And with its extra muscle and adrenaline, The Ride Majestic is a thrilling ride indeed.
4.0 Out Of 5.0
Grab your copy of The Ride Majestic in the KNAC.COM More Store right HERE.

Please log in to view RANTS