World Painted Blood – certainly as far as the band is concerned.

To recap: there was bassist/vocalist Tom Araya's spinal surgery in 2010; the departure - again - of drummer Dave Lombardo in February 2013; the death of guitarist Jeff Hanneman in May 2013, two years after he contracted necrotizing fasciitis from a spider bite on his arm; and the split early this year with long-time guru/label head Rick Rubin who helped the band morph from mere miscreant thrashers to "FUCKIN' SLAYER!" with 1986's Reign In Blood.

Hanneman's death, of course, was the cruelest blow, and led many to question not only the band's decision to forge ahead – with on-again, off-again drummer Paul Bostaph on once again and EXODUS guitarist Gary Holt handling live dates, as he had since Hanneman's initial injury - but the legitimacy of the SLAYER name now that both he and Lombardo were gone.

Yet here we are, after all that has come before, with Repentless, an album that isn't so much a testimony to the band's resilience as it is a declaration of remaining original members Araya and, especially, guitarist Kerry King's stubbornness and refusal to bow to "conventional wisdom" - or apologize for either. I guess that's what the album's title is supposed to connote, even if it isn't an actual word. But a mashup of "unrepentant" and "remorseless" - showing no regret – certainly suffices.

Given that the material here has been kicking around for quite some time – the Hanneman-penned "Piano Wire" and King's "Atrocity Vendor" date back to World Painted Blood, indeed "Atrocity" was one of its bonus tracks, and the rest King began putting together with Lombardo prior to Hanneman's death, then went through the process all over again with Bostaph – this seems an album made more by sheer force of will than anything else. Once work got started, goddamn it, it was gonna get finished.

And so we have Repentless, the band's 11th studio album - though whether it will indeed be the last remains to be seen. It is a respectable effort that falls somewhere near the middle of the SLAYER pantheon – right around God Hates Us All or Divine Intervention. As a "grand" finale – should this indeed be it – perhaps, not so much.

Repentless is not about taking chances or making grand creative gestures. It's about holding serve and showing that the band can still be "FUCKIN' SLAYER!" and maintain one of the proudest, longest legacies in metal, despite being two men down from the classic lineup. And, as such, it does the job.

At its best, Repentless proves SLAYER still has gas left in the tank and energy to burn. And, despite his seeming initial reluctance to carry on after Hanneman's death, Araya's singing has rarely been this full-throated or assertive. At its worst, ala' 2006's Christ Illusion, it suffers from hot-and-cold songwriting and recycles prior riff patterns, song structures and lyrical phrasing with some regularity, making the album's resolutely familiar sound a bit too much so.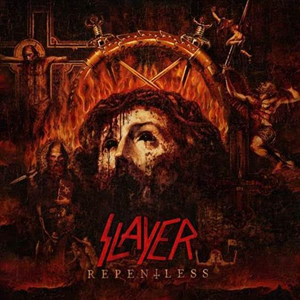 Repentless re-creates the "Darkness Of Christ"/"Disciple" lead off to God Hates Us All with the instrumental prelude "Delusion Of Saviour" blasting off into the fittingly relentless title track, with its sawing "Psychopathy Red"-like riffs, breathless cadence and defiant "Playing this shit is all that keeps me alive" sentiment. "Take Control" takes the frantically picked jangle of "Skeleton Christ" or "Public Display Of Dismemberment" for yet another spin around the block, though it is one of the more cleverly arranged tracks here with its stop-start roil.
"Atrocity Vendor" is a "Not Of This God"/"Payback" retread that, after a sluggish start, gets revved up in a hurry, eventually gaining an emphatic "closing track" feel to it. Yet, curiously, it does not conclude Repentless. The honor, instead, goes to the trudging "Pride In Prejudice", that - along with the aimless "Piano Wire" and dreary "When The Stillness Comes", which finally shakes out of its doldrums in a final minute sprint - is among the album's weakest tracks.
A more fitting choice would have been the bracing "You Against You" with its groove and grind dynamics, King and Holt's dogfight solos and "this hell is just for you" note of finality. Or perhaps "Implode", which seemed pretty "meh" when it was first made available more than a year ago, but is vibrant and vicious here, finishing in a fury as Araya barks: "No resurrection of divine/Extermination of mankind."
Though he may be looking like someone's hippie granddad these days, and now boasts a metal plate in his neck, Araya's voice has lost little, if any, of the force or carry he had back in the whirling dervish days of Seasons In The Abyss, etc. Whether he's spitting out lyrics like .50-caliber shells on the title track or "Atrocity Vendor", or doing one of his patented elongated hollers – "Let's get hhhiiiiiiiigggghhh!" on "Vices" or "There is no fucking easy way oooouuuuutttttt!!!" on the Hanneman-inspired "Chasing Death", where he basically yells all the way through – his presence and command remain some of SLAYER's greatest strengths. For his part, Holt is probably the perfect replacement/fill-in for Hanneman. The squalling leadwork he's showcased with EXODUS for 30-some years was never that far a cry from the snarling, tangled soloing that has been SLAYER's hallmark for just as long. And after playing Hanneman's parts for five years now, he fits seamlessly into the tandem with King here, bringing a certain fluidity while retaining an idiosyncratic flare.
As has been the case during his previous stints, Bostaph's drumming tends to be more rigid and martial than Lombardo's looser, almost jazz-like swing. But he carries the surging rhythms of "Vices" and "Cast The First Stone" with a confident swagger, easily navigates the numerous time changes throughout and steers the ample up-tempo material with rivet-gun precision. And since King's songwriting tends to have a "blunt object" mentality, as opposed to Hanneman's dodging and parrying, Bostaph's style is more fitting and effective here than it was earlier.
While Repentless might not boast the array of memorable material of SLAYER's first decade of aggression – or even World Painted Blood for that matter – it is hardly the utter failure many nay-sayers were envisioning, perhaps even desiring. The album offers more than enough genuinely satisfying moments – and even a few great ones in "You Against You", "Chasing Death" and "Take Control" - to not only make it worth the effort of creating, but consuming. And if it will give the band a reason to keep on touring, all the better, because that's where it is, and always will be, FUCKIN' SLAYER!
3.0 Out Of 5.0
Pre-Order your copy of Repentless in the KNAC.COM More Store right HERE.