PIG DESTROYER Prowler In The Yard (Reissue)


By Peter Atkinson, Contributor
Monday, September 14, 2015 @ 5:07 PM


| | | |
| --- | --- | --- |
| | | |
PIG DESTROYER
Prowler In The Yard (Reissue)
Relapse Records




With 2001's Prowler In The Yard, Virginia's PIG DESTROYER set a standard for grindcore/death-grind/extreme metal that few bands have been able to match since. Despite being recorded in then-drummer Bryan Harvey's basement, the album's microbursts of jarring, ragged riffs, pummeling tempos and the cryptic, unhinged lyrics and Charles Manson-esque caterwaul of frontman JR Hayes, Prowler not only was remarkable for its sheer brute force, its genuinely malevolent air was downright frightening.

Now, to curiously mark the recent 14th anniversary of the album – actually, I guess it's more to celebrate Relapse Records' 25th year, which makes more sense - PIG DESTROYER is making Prowler all the more punishing with this deluxe reissue, remixed/remastered by guitarist Scott Hull. Its 23 mostly minute-long rocket-propelled grenades – all of the album's original tunes, save for the 16 second "Evacuation Grey", plus an unreleased bonus track, oddly enough titled "Unreleased Bonus Track" - now are just that much bigger, bolder and louder.

Not that there was anything necessarily wrong with the initial version. Its raw brutality was part of its savage allure. In the end, the thicker sound of the remix that gives the guitars additional heft and the drums more of a nose-busting pop kinda seems like piling on, given how merciless things were in the first place. But fuck it, that's what extreme metal's all about, right?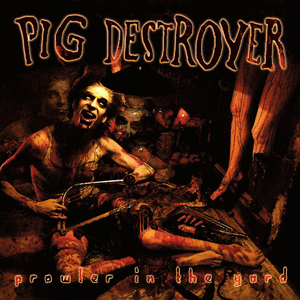 If you really want to compare and contrast, the double CD contains a bonus disc featuring the album's original mix. There's also newly written liner notes, photos and Decibel magazine's "Hall of Fame" article on the album included in the physical product's updated packaging – to go along with tattoo artist Paul Booth's splatter-ific original cover painting. So getting the MP3 version sort of misses the point.
As far as "Unreleased Bonus Track" goes, it's a 51-second instrumental tacked on to the end, after the creepy electronic and voice box outro "Jennifer 2", which stands as a separate track here instead of as part of "Piss Angel" as it did on the original. But given PIG DESTROYER's past penchant for split singles, EPs and bonus discs a la 2012's Book Burner, it's amazing there was even a scrap like this left over.
For anyone who already has the original version of Prowler In The Yard, the reissue is hardly an essential purchase. But for anyone just dipping their toes into grindcore/metal, this is required listening. And if you can handle the histrionics, Prowler is the perfect gateway into the world of extreme music.
Despite its cataclysmic sound and Hayes' demented "trauma is sexy" poetry and feral delivery, Prowler bristles with caginess and purpose and is a far cry from the mere exercise in noise this sort of can often degenerate into. There are bruising hooks galore from Hull, and even at its most brutal there remains a certain fiendish songiness to much of the material here.
Fourteen years after its original release, Prowler is as compelling and vital ever - and leaves that much bigger a bruise thanks to the remix. It was awe-inspiring then, and is that much more so now.
5.0 Out Of 5.0

Please log in to view RANTS