W.A.S.P.
Golgotha
Napalm Records




Review By Halo

W.A.S.P. is back!

Golgotha, the band's 15th studio album, is due for release in the U.S. on October 2nd and though it's been 6 years since the last album by the former shock rockers, song-wise it picks up right where 2009's Babylon left off.

Golgotha is simply a high energy rock album. Blackie Lawless's lyrics on this album quite definitely reflect the transition he made to the Christian faith. Golgotha translates in Hebrew to "the place of skulls" and was the hill Christ was crucified on.

This album is a far cry from the live album, Live In the Raw, which made W.A.S.P. a common target by the PRMC in the mid to late 80's. Blackie's religious beliefs are strong enough now that certain previous W.A.S.P. tracks like "Animal (F**k Like A Beast)" are no longer a part of the band's set. He says his music needs to represent the Highest God and he will have to answer to him one day. Songs on Golgotha like "Eyes Of My Maker" and "Fallen Under" are his own testaments. Even the title track "Golgotha", written from the perspective of one of the thieves who was crucified alongside Christ, is a powerful dedication to his God and asking for help, then in return thanking him.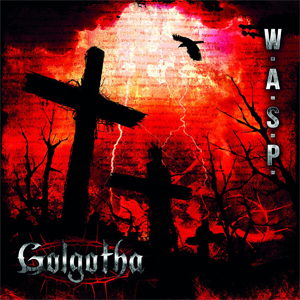 Religious topics and themes of the corruption of the current world by global elites aside, the 9 songs on Golgotha combine to form a powerful rock album. W.A.S.P. fans will want this album and will anxiously await to see them live. The current lineup of Blackie Lawless, Doug Blair and Mike Duda collaborated and produced a fantastic album.
The band is set to start their UK tour in November and thus far, US dates have yet to be released. This is one tour and live show you won't want to miss. The band's 33rd anniversary was Sept 21st and though the focus of the songs has changed, W.A.S.P. rocks just as hard 33 years later!
5.0 Out Of 5.0
Pre-order your copy of Golgotha in the KNAC.COM More Store right HERE.