Sonny Vincent
The Good, The Bad, The Ugly


By David Tarlow, Contributor
Friday, January 24, 2003 @ 12:49 AM


| | | |
| --- | --- | --- |
| | | (Acetate Records) |
Former Testors axe slinger Sonny Vincent returns with his best album to date and one filled with a lot of surprises. Who are the Testors, you ask? Who is Sonny Vincent? Well, allow me…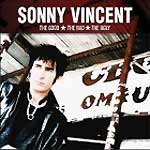 The Testors were a late-'70s New York punk band that was most famous for opening up for the Dead Boys first U.S. tour (if you have to ask who the Dead Boys are, stop reading now). Sonny went on to form a bunch of bands over the years, teaming up with everyone from Bob Stinson of The Replacements, Ron and Scott Asheton from the Stooges, and Dead Boy Cheetahs Chrome. For the last decade he's been steadily cranking out solo records and achieving Johnny Thunders-like cult status in Europe. Here in the States he's still fairly unknown, but The Good, The Bad, The Ugly could change all that.
The hook to this record is that there's a guitar army of famous six-stringers and every one of 'em gets to shred on a different tune. You get OG punks like Wayne Kramer (MC5), Brian James (Damned), the Asheton Bros., Walter Lure of the Heartbreakers, Television's Richard Lloyd, Richard Hell and the Voidoids' Robert Quine, playing alongside member of the '80s art rock and hardcore set such as Thurston Moore and Jim O'Rourke from Sonic Youth, Black Flag's Greg Ginn and the True Believers' Javier Escovedo. In addition there's reps from the recent generation of garage punks, including the Offspring's Dexter Holland and Noodles, Dave James of the Superbees, Tony Fate of the Bellrays, and KNAC.COM's own Frank Meyer of The Streetwalkin' Cheetahs. Each one delivers a fine solo.
Mainly though, this is Sonny's show and it's his terrific songs that really stand out here. Fast, hard, and simple is the formula. Punk rock but with better lyrics than most. "Trans-Love" recalls the rise of the late '60s Detroit rock scene that spawned his heroes the mighty Stooges and MC5. It's the kinda song one wish that Wayne Kramer was writing these days instead of that artsy fartsy techno shit he's been dabbling in. "Crazy Ride" is ripper too, with it's balls out riffing and canonball drum beat. "My Guitar" is another winner, with it's blistering solo and trainwreck pacing.
So with a tour opening for and backed by Rocket From Crypt, Sonny seems well on his way to finally breaking through in the States and solidifying his rep as a punk godfather. It's about damn time.
* * * *

Please log in to view RANTS