QUEENSRYCHE
Condition Human
2015 Century Media




It has been over three years now since Geoff Tate's ousting from QUEENSRYCHE due to his acute case of lead singer's disease. The rehabilitation of the QUEENSRYCHE brand has taken another giant leap forward with Condition Hüman, the second album with singer Todd La Torre. Coincidentally, this album is once again being released around the same time as Geoff Tate's band OPERATION: MINDCRIME is releasing their new album The Key. Time will tell which band is more successful, but based on what I've heard, my money is on QUEENSRYCHE.

I felt like the self-titled 2013 release from QUEENSRYCHE was definitely a step in the right direction, and featured some very good songs. I admit the album was not as good as I'd hoped, but showed a lot of promise as the band learned to flourish without Tate. For Condition Hüman, QUEENSRYCHE have returned with more new material, and the band dusted off some older songs as well that were shelved in the past by Tate in favor of his own songs for albums like American Soldier (2009) and Dedicated To Chaos (2011).

As the band enters its 33rd year in existence, QUEENSRYCHE definitely sounds reinvigorated! There are songs on Condition Hüman that are the best material I've heard from the band in a very long time, possibly dating back to the early days.

Opening song (also the first single released) "Arrow Of Time" is a driving power metal track, introduced by signature harmony guitars, and featuring dueling leads and harmonies. Bassist Eddie Jackson lays down a bouncing groove and Scott Rockenfield plays some sweet drum fills (even breaking out the double bass at times). Todd La Torre hits stratospheric notes to announce the album with this powerful, eye-opening track.

The second song "Guardian" is a monster! Aggressive and dark from the beginning, the song finds La Torre hitting note after note in classic QUEENSRYCHE style. The song features a massive shout-along chorus of "It's time to rise up, united we stand, divided we fall" that just gets your fist pumping and demands full volume from your stereo. The song sounds like it could have come from the Rage For Order era. The first video from the album was made for this song (Video HERE). The next song "Hellfire" is also great. It starts slowly and builds up to grinding rocker. There are some huge vocals in this track. The guitar solo is a winner. I like this song a lot.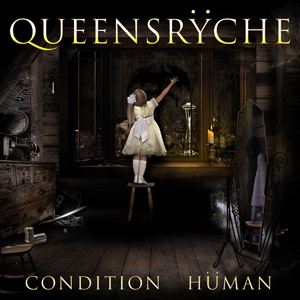 "Toxic Remedy" is more of a mid-tempo track with lots of melody and a solid chorus. "Selfish Lives" gets into the style that did not do much for me on past Tate-era albums. Not one of my favorites on the album, but a decent track. "Eye9" is another mid-tempo rocker introduced and pushed along by an Eddie Jackson bass riff. Ballad "Bulletproof" follows, a track that is quite good with an engaging, emotional chorus. It took me a few listens to appreciate the genius of this song. I can see this song being played live actually. "Hourglass" is a mid-tempo track and is pretty catchy.
"Just Us" follows, a track that features some acoustic guitar and uplifting lyrics. "All There Was" shows moments of greatness, including Rockenfield's drumming and the guitar solo. "The Aftermath" sets up the final track on the album, the title track "Condition Hüman". I believe this is the band's attempt at a song similar to "Roads To Madness" from The Warning (1984). There are several tempo changes and at nearly eight minutes, is the album's longest track. There are some really cool parts in this track and it is one of the best songs on the album in my opinion.
While the self-titled Queensr˙che album (2013) suffered from a lackluster production, Condition Hüman sounds much better. La Torre's voice is high in the mix and the rhythm section of Jackson and Rockenfield are given a boost; Scott Rockenfield in particular plays like a beast on Condition Hüman, and it's fun to hear his powerful drumming once again. Lungren and Wilton's playing is also spectacular. What's most surprising is the way La Torre is able to sound exactly like Geoff Tate in his prime here. It really is uncanny and at times, you'll think you are hearing Tate. But you are not, you are hearing La Torre, who is really nailing the vocals. His enthusiasm is giving the band the much-needed boost it sorely needed.
There are 12 songs, clocking in around 54 minutes. Very cool that they put umlauts in the album title, but the album cover (while well executed) doesn't work for me. A little girl in a yellow dress doesn't exactly scream "metal". (Maybe DREAM THEATER can pull this off but I don't care for it.) Still, a bold step forward for QUEENSRYCHE. A very good album!
4.5 Out Of 5.0
Grab your copy of Condition Human from the KNAC.COM More Store right HERE.