SLASH Feat. MYLES KENNEDY & THE CONSPIRATORS Live In Northfield, OH With Photos!


By Geoff Ketler, Cleveland Contributor
Sunday, October 4, 2015 @ 10:38 AM


| | | |
| --- | --- | --- |
| | | Rocksino On Fire |
All Photos By Geoff Ketler/Aces High Photography
Touring in support of 2015's critically acclaimed World On Fire, SLASH Feat. MYLES KENNEDY & THE CONSPIRATORS made a tour stop at the Hardrock Rocksino in Northfield, OH. Since the venue is so accessible and close to home, I found myself up there early, listening to sound check from right outside the backstage doors. Still basking in the glory of the SCORPIONS concert earlier in the week, I decided to wear one of the tour shirts I purchased that night. When sound check was over I ended up chatting with vocalist Myles Kennedy and drummer Brent Fitz for a bit. Apparently my shirt caught their eyes, because all we could talk about was the SCORPIONS. I guess when it comes to good musicians, it takes one to know one.
Direct support on this North American run of dates comes in the form of THE LAST INTERNATIONALE. Hailing from New York City, bassist/vocalist Delila Paz and guitairist Edgey Pires provided a very groove-oriented, almost 70's vibe to the stage. Delila performed with a very intense, strong voice and Edgey was extremely animated. It was a solid set and I wouldn't mind checking them out again in the future.
https://www.facebook.com/thelastinternationale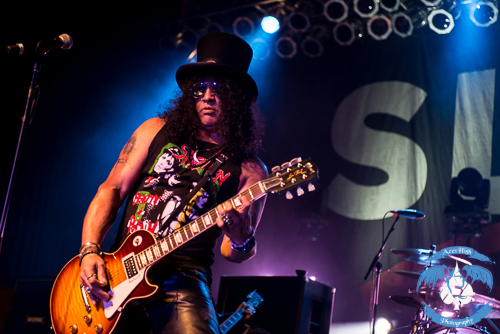 After the brief set change, I was down front, cameras in hand, poised and ready to be blown away. Armed with one of the greatest catalogues in recent rock history, Slash took the stage to "You're A Lie". His custom Marshall cabinets fill the back line of stage-left. Sitting atop the amplifiers were toys and bobble heads, most of them related to the Universal monsters, but a few others like dinosaurs from Jurrassic Park, were mixed in. Slash would spend the vast majority of the evening somewhere between the center vocal mic and the far edge of stage-left. Although he never missed a step with his playing, he seemed a little less energetic than what I remember from last year's show, but who am I to talk? After all, he did reach the big 5-0 this year and he still plays a 2+ hour-long set.
Too often an artist will ignore or intentionally remove material from their performance that was written with their former band, whether it is bad memories, legalities, etc., you never know, but luckily this is not the case with Slash. All aspects of his career (save SLASH'S SNAKEPIT) were represented. The set was heavily weighted towards the new material from the CONSPIRATORS era as well as the GUNS N' ROSES classics. Vocalist Myles Kennedy was in usual form, easily morphing his voice from his own to Axl Rose to Scott Weiland and back again. Bassist Todd Kerns was all over the place, thrashing that mop of dense black hair of his everywhere. I will also note that it was Todd that took over lead vocal duties for "Doctor Alibi" and "Welcome To The Jungle". His voice and his skills are so versatile. Todd really is an asset to be able to strut him out on stage night after night and do his thing.
The extended guitar solo; there were several, but the main guitar solo was in the middle of "Rocket Queen". I would really like to know how precise this is from night to night, or maybe Slash just adlibs for 20 minutes or so, I can't really tell you. All I know is that it is like watching a guitar solo clinic. Slash teased the intro to "Welcome To The Jungle" enticing the packed house to shriek and scream. A few of the many highlights of the set were "Anastasia", "Slither" and "Wicked Stone". "Civil War" was also quite the show-stopper. The audience whistled the melody and got their lighters and cell phones in the air during the GUNS N' ROSES classic ballad. It was a total onslaught of Slash's career; a 2-hour-long beat down. Don't miss it when SLASH Feat. MYLES KENNEDY & THE CONSPIRATORS comes to your city.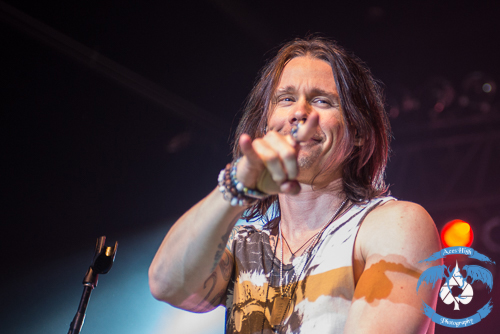 I will also apologize to those of you who look forward to seeing my photos from each of these shows I review. All photographs had to be approved by management and the four that appear here are the lone four that were approved.
Setlist:
"You're A Lie"
"Nightrain" (GUNS N' ROSES Cover)
"Avalon"
"Halo"
"Back From Cali"
"Wicked Stone"
"30 Years To Life"
"You Could Be Mine" (GUNS N' ROSES Cover)
"Doctor Alibi"
"Welcome To The Jungle" (GUNS N' ROSES Cover)
"Beneath The Savage Sun"
"Civil War" (GUNS N' ROSES Cover)
"The Dissident"
"Rocket Queen" (GUNS N' ROSES Cover)
"Bent To Fly"
"World On Fire"
"Anastasia"
"Sweet Child O' Mine" (GUNS N' ROSES Cover)
"Slither" (VELVET REVOLVER Cover)
Encore:
"Paradise City" (GUNS N' ROSES Cover)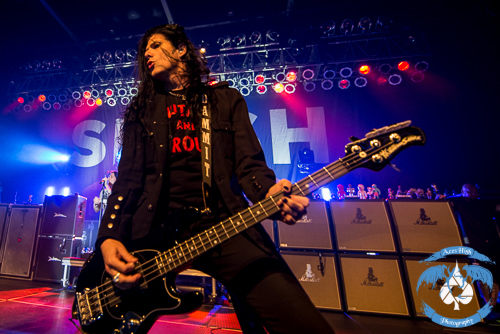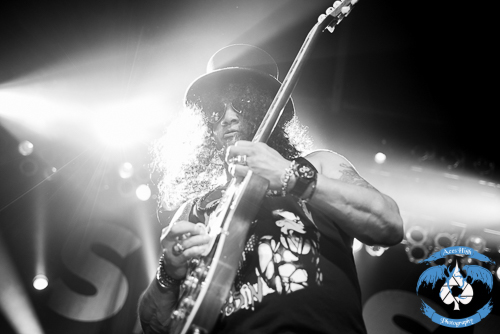 Please log in to view RANTS