REVOCATION Empire Of The Obscene


By Peter Atkinson, Contributor
Thursday, December 10, 2015 @ 12:51 AM


| | | |
| --- | --- | --- |
| | | |
REVOCATION
Empire of the Obscene
Metal Blade Records




Despite an initial pressing of just a thousand copies in 2008, the independent release of the debut full-length from Boston tech/death/thrashers REVOCATION did exactly what the band probably hoped it would – get the then-trio noticed. A year later, the band's second album, Existence Is Futile, got a proper release through Relapse.

Two albums and many tours after that, REVOCATION landed at its current label home, Metal Blade which issued Deathless in 2014, and has climbed a good part of the way up the underground metal ladder – even though guitarist/vocalist David Davidson is the lone member of the now-quartet who has hung around for the entire journey. So to tide its growing audience over until a sixth album is ready, or merely to satiate the curious, the band has re-issued Empire Of The Obscene with revamped cover art, remixed and remastered songs overseen by long-time co-producer Peter Rutcho and the Summon The Spawn demo – the first material REVOCATION recorded in 2006 after changing its name from CRYPTIC WARNING – tacked on as a bonus.

Spawn boasts earlier versions of three tracks that ended up on Obscene – album opener "Unattained", "Summon The Spawn", with its funky-ass bass licks, and "Suffer These Wounds" - all of which feature a slightly cruder, deathlier presentation in their original form, when compared to the more polished and emphatic re-recordings that are made even more so by the recent retooling. Yet even with the remix/remaster treatment, Obscene sounds like a band trying to figure itself out.

The album is a mish-mash of full-tilt, hooky and often epic thrash with splashes of tech-death instrumental wizardry and occasional, and largely unwelcome, death metal gurgle vocals, as in the CANNIBAL CORPSE-ish moments on "Unattained", "Summon The Spawn" or "Fields Of Predation". Over time, as REVOCATION developed and honed its tech-death chops, it ditched most of the traditional death metal trappings and gave less prominence to the thrash elements, using them for accents or to bring some catchiness to the tumult – making the band a more distinct and challenging unit in the process.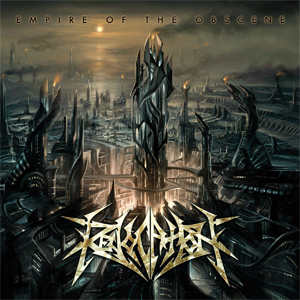 Obscene recalls Rust In Peace-era MEGADETH with its songs stuffed full of busy riffing, careening tempos, money shot hooks, myriad time changes and tangents and some pretty spectacular lead pyrotechnics from Davidson. Indeed, though the material is surprisingly well crafted – given that it was the band's debut – with plenty of moshability and swing, it often is so bloated that it ends up feeling indulgent and overlong.
At 55 minutes, Obscene is almost 10 minutes longer than any of the band's subsequent albums and easily could have done without those 10 superfluous minutes, especially on tracks like the rambling "Exhumed Identity" or "None Shall Be Spared (All Shall Be Speared)". Despite ratcheting up the technicality on future releases, the band managed to streamline its songwriting, giving it more impact and heft while retaining the razzle dazzle. Here, the band just throws it all out there.
Still, the performances by Davidson, bassist Anthony Buda and drummer Phil Dubois-Coyne on Obscene are magnificent, brimming with youthful exuberance and energy while at the same time confident and cocksure. REVOCATION obviously was up to the challenge of the material as musicians – Davidson being a Berklee School of Music alum. He makes the tangled riffs, slashing hooks and incendiary leads seem effortless. And the limber bass lines from Buda and the rapid-fire fusillades from Dubois-Coyne bring a welcome rhythmic fluidity to the album, seamlessly connecting the dots of the various and numerous parts.
As an introduction and/or attention-getter, Obscene definitely does impress – much more so than a lot of underground metal debuts - even if it seems like REVOCATION is trying too hard to do just that. But its excesses can largely be explained away by the band's enormous talent, and no doubt more than a little studio naiveté. REVOCATION's more ferocious and mature future releases certainly would bear that out.
3.0. Out Of 5.0
Grab your copy of Empire Of The Obscene in the KNAC.COM More Store right HERE.

Please log in to view RANTS