FATES WARNING
A Pleasant Shade Of Gray
Metal Blade Records - 2015
http://www.fateswarning.com/




The three disc and 1 DVD reissue of the classic FATES WARNING album A Pleasant Shade Of Gray is jam packed with a ton of material for hardcore fans of the band to enjoy. While new listeners might find this album (actually 1 single song divided into 12 parts) a bit hard to get into as their first taste of the band, the challenging prog metal material is simply amazing.

And if you had any idea how hard that would've been for me to say when it was first released in 1997, you'd really appreciate how I've come to love this album. I say that because when I first hear the album, I hated it. I can't rightly explain why but the studio album release left me cold and dead to the music. It wasn't until I heard the song performed live on the band's live CD Still Life that I found myself really digging what I was hearing. I ended up going back to listen to the studio album after that and the newfound love continued there.

The first disc on this reissued edition is the original recording. There's so much here besides simply prog metal as the band mixes in a variety of musical influences and has everything coming out to make one hellacious entertaining musical statement. The music and lyrics were written entirely by guitarist Jim Matheos, but with musicians like drummer Mark Zonder and unparalled vocalist Ray Alder it is definitely a BAND performance in all respects.

The second disc is the album performed live. I was a little perturbed to discover that this seems to actually be the first disc from the Still Life double live album release from 1998. None of the press material seemed to make mention of that, but when you look at the liner notes both discs in question mention that the live show was recorded in Europe between April 16 - 26, 1998. There's nothing wrong with the live performance as I've mentioned above, but it was a little bit annoying that the Still Life CD was never mentioned. There's also a soundcheck recording of the song "We Only Say Goodbye" from a show in Switzerland during that 1998 European time period. Also included on the disc is the rough edit (with in studio conversation during recording) cover of the the SCORPIONS song "In Trance".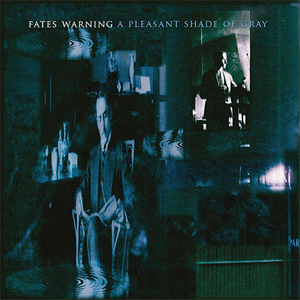 The third disc contains a number of demos from the A Pleasant Shade Of Gray recording sessions from 1995 and 1996 including a pre-production demo. There's also the instrumental writing demos and a remix of part 2 of APSOG as well. The instrumental demos proved very interesting to me because I managed to pick up some new little nuggets that I don't recall having heard from the full release with the vocals in place.
As for the DVD, it has two separate concert recordings of A Pleasant Shade Of Gray. The first show is a recut edition of the band's 1998 VHS release Live In Europe, while the 2nd show is from a 1999 show in California.
The deluxe treatment reissue for this album is certainly jam packed with material for any FATES WARNING fan to enjoy. While having essentially 5 different versions of the same set of material might seem like a bit much, the new version of the release will likely also help give new life to the album with newer fans. I do think that most devoted fans of the band will have the majority of this stuff already but I think having it all in one convenient package makes life a lot easier for everyone and the chance to see how the album sprung to life from the early beginnings to finished product is a really great musical education.
4.0 Out Of 5.0
Pick up a copy of A Pleasant Shade Of Gray in the KNAC.COM More Store right HERE.