LA GUNS, FASTER PUSSYCAT Live In Los Angeles With Photos!


By CrpnDeth, Staff Photographer/Writer
Saturday, January 9, 2016 @ 10:56 PM


| | | |
| --- | --- | --- |
| | | Sleazy Come, Sleazy Go at the Whisky |
All Photos by Lisa Legz Photography LLC
The perfect way to end the year and start new - road trip to Southern California, and hitting the world famous Whisky a Go Go in Hollywood. The Lost Hollywood Weekend has begun! It's been a long time since these were the regular weekend stomping grounds.
Sunset Strip and 80's legends LA GUNS and FASTER PUSSYCAT hit the stage to a sold out crowd. The place is packed and ready to rock as the venue slowly transforms back in to the 80s.
Hitting the stage first was FASTER PUSSYCAT. While the band launched the set, Tamie Downe stood atop the stairs until his cue to grab the mic (in true Taime style, he was the only one in the venue smoking cigs). The band launched in to their classics: "Slip Of The Tongue", "Cathouse", "Poison Ivy", "Don't Change That Song", "House Of Pain", "Nonstop To Nowhere", their version of "You're So Vain", as well as a tribute to Lemmy with their cover of "Killed By Death" (complete with a MOTORHEAD banner over the amps). The entire venue was deafening as everyone in attendance sang along with the chorus. Even the 6 foot 6 British dude next to me who thought we'd suddenly become best buds.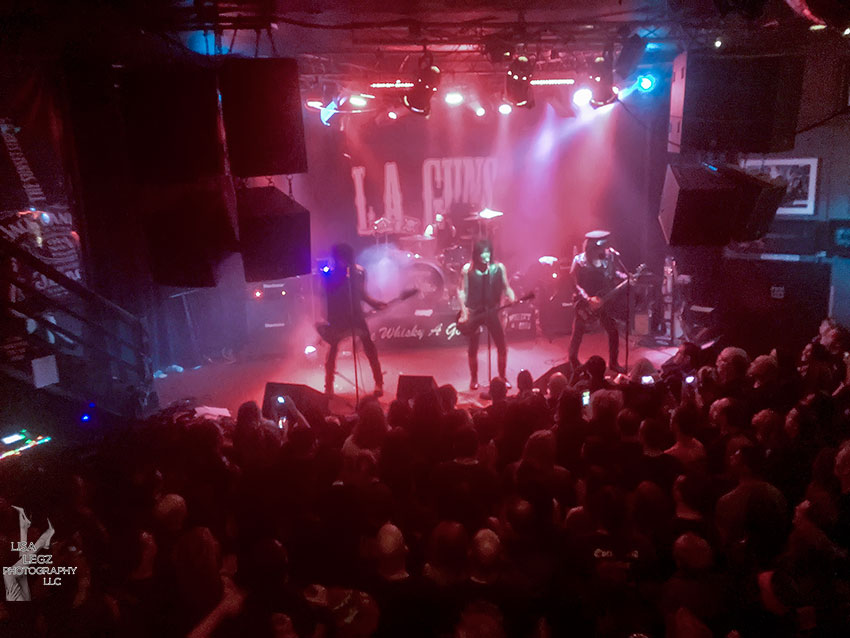 LA GUNS hit the stage next with "Show No Mercy", and they never did. High energy and high octane, the band roared through the 15 song setlist which included "Showdown (Riot On Sunset)", "Sex Action", "Never Enough", "One More Reason", "Over The Edge", "Electric Gypsy", "Rip And Tear", and "The Ballad Of Jayne". Phil's voice has not waivered since the day he recorded these songs. The band was tight as ever, and between the two tonight – it was a definite return to the 80's without the stale taste.
And what's Hollywood without its share of rumors? The obvious one was whether or not we'd be seeing anyone from the Crüe show up tonight. Seems how they held their final show of the Final tour last night in LA, they started at the Whisky – it seemed kind of thin. But…tonight was the only sold out night of the weekend at the Whisky (until Saturday when the BULLETBOYS tweeted it sold out for their show, leaving Sunday as the only non-sold out show). There is of course a little bit of the Crüe running through the weekend, whether it be musicians they played with or bands they were in. A rumor is all that it was, as no one showed up. But, Jan. 17th makes you wonder…
Check out a few photos from the show!
All Photos by Lisa Legz Photography LLC

Please log in to view RANTS