CHRIS CAFFERY Your Heaven Is Real


By Cary Gordon, Metal Geek
Tuesday, January 12, 2016 @ 2:47 PM


| | | |
| --- | --- | --- |
| | | |
CHRIS CAFFERY
Your Heaven Is Real
Metalville




Longtime SAVATAGE/TRANS-SIBERIAN ORCHESTRA guitar player Chris Caffery returns with his 5th solo album, Your Heaven Is Real. As with the previous albums, Caffery handles most of the instruments on the album including guitars, bass and keys while letting OZZY OSBOURNE drummer Brian Tichy handle the drum work. On paper, this seems like something I would immensely enjoy, being a long time fan of SAVATAGE, but most of this album falls flat to these ears. Not to say that there aren't some great tracks, in fact, there are some really memorable moments on the album, but it is not kept up through the entirety.

I am not a fan of bands repeating the same part over and over and over, unless you are OPETH, and the opening track, "Your Heaven Is Real" utilizes this towards the end of the track. Otherwise, it is an enjoyable track.

Chris Caffery really tries to embody the writing style of SAVATAGE and one of the best songwriters in the world, Jon Oliva on tracks such as "Arm And A Leg" and "Why" with the theatricality and harsh gargly vocals that sound really close to Jon Oliva, and I am alright with that! This is the closest we are going to get to SAVATAGE now, well, at least for now. Moving on to "Just Fine", is Chris's tribute to straight up Rock n' Roll ala AEROSMITH, and it does a just fine job. Some of the instrumentals on this album including "Hot Wheelz" are when Chris really lets loose and lets his guitar do all the talking. I am always down for a blazing instrumental song. Some problematic areas you say? Well, if I must, I couldn't get into the track "I Never Knew", which is trying too hard to be a ballad. There are some nice squeaky guitars on this one, but it never grabbed me.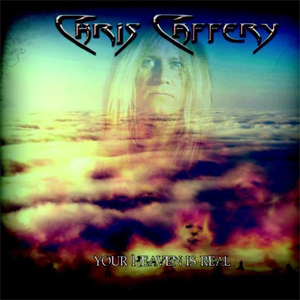 There is also something missing about the production, as it seems just a bit flat. It lacks that big oomph that needs to accompany an album such as this. I really do appreciate where Chris is going with this album, and he definitely tries to make it eclectic with many different styles of Rock and Metal, and therein lies the biggest problem. It lacks some kind of cohesiveness, and just feels like a slew of songs thrown together.
I really want to enjoy this album more than I do. I really tried to do so, but it always fell short. Although, there are worthwhile tracks, it just seems a lot of it is not fleshed out enough. If you are a fan of SAVATAGE, then you will most definitely find enjoyable parts herein, but it is not as good as some of his previous outings. Don't get your hopes up too high and you will be just fine!
3.5 Out Of 5.0
Grab a copy of Your Heaven Is Real in the KNAC.COM More Store right HERE.

Please log in to view RANTS