STRIKER Stand In The Fire


By Peter Atkinson, Contributor
Monday, February 22, 2016 @ 6:51 AM


| | | |
| --- | --- | --- |
| | | |
STRIKER
Stand In The Fire
Record Breaking Records




While flying largely under the radar screen – at least in the states - for the past decade, Edmonton, Alberta, Canada's, STRIKER has become one of the more notable of the seemingly endless wave of throwback thrash bands. Despite turmoil in its ranks – especially of late - that has left vocalist Dan Cleary as the lone original member, fronting a seemingly still fluid lineup, the band has developed a sound that builds on the rudiments of vintage thrash by adding ample power metal, traditional metal and melodic death metal overtones.

All this makes for something far more grand, brash and modern than standard-issue "rethrash" - and far less "mimicy" – by taking the "full speed or no speed" mantra of STRIKER's 2010 debut Eyes Of The Night and giving it substance and heft. Released on the band's own Record Breaking Records after a two-album stint with Napalm Records, Stand In The Fire, its fourth full-length, picks up where 2014's rather brilliant City Of Gold left off.

Gold found STRIKER really cementing its sound as guitarist Tim Brown, who now shares songwriting duties with Cleary, joined the band and all of the sonic elements came together with the guile to match its gusto. Stand In The Fire takes that foundation and gives it a bigger, bolder presentation.

The music is more anthemic here, with a bit of velocity being sacrificed in favor of abundant fist-pumping riffs and rousing, shout-along choruses and harmonies that play off the Cleary's sterling Mark Osegueda-esque vocals. And it's all bolstered by a thunderous production job by the band and mix from Fredrik (ARCH ENEMY, AT THE GATES, DIMMU BORGIR) Nordstrom. For a club-circuit act, STRIKER packs an arena-sized punch.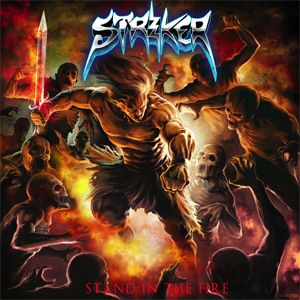 The opener "Phoenix Lights", "The Iron Never Lies", "Outlaw" and "Locked In" still offer speed metal thrills in fits and starts, and the instrumental "Escape From Shred City" is as over the top in its dogfighting lead guitars as its title would lead you to believe – indeed, the guitar work throughout is quite spectacular, and there's even some pretty cool sax wails on "Out For Blood". But Fire is more about hooks than anything else, and STRIKER brings 'em by the truckload here.
Even the thrashier tracks teem with catchy, chugging riffs to maximize their moshability. More mid-tempo fare, like "United", "Better Times" or "Too Late" takes that up a notch, delivering the sort of martial, Teutonic crunch of ACCEPT at its beefiest. With its "too late for love" sentiment, "Too Late" borders on power balladry, while the closing track "One Life" up and steps over that line - though it does conclude with a METALLICA-like flourish a la "Fade To Black". My only real complaint here is that since many of the songs boast a similar construction to accentuate the money-shot choruses and throw haymakers like a heavyweight boxer, they sorta blend together by the end. But that's really a "too much of a good thing" kind of problem, which isn't the worst problem to have.
And nit-picking aside, Stand In Fire is very much a fun, freewheeling effort by a band with no shortage of balls – especially since STRIKER is essentially self-releasing the album - that will make any thrash fan's day, be they old school, new school or whatever.
4.0 Out Of 5.0
Grab a copy of Stand In The Fire in the KNAC.COM More Store right HERE.

Please log in to view RANTS