ANTHRAX For All Kings


By Peter Atkinson, Contributor
Monday, February 22, 2016 @ 7:04 AM


| | | |
| --- | --- | --- |
| | | |
ANTHRAX
For All Kings
Megaforce Records




While it still took five years for ANTHRAX to follow up 2011's Worship Music, the time probably felt like it flew by for the band given all of the toil, drama and turmoil it endured in trying to deliver Worship. That took eight years, during which ANTHRAX initially recorded the album with new vocalist Dan Nelson, only to acrimoniously and rather embarrassingly part ways with him in 2009 before it could be released, then attempted to move forward with former vocalist John Bush only to have him walk away before rehiring Joey Belladonna for a third stint and re-doing the album with his vocals.

Yet ANTHRAX, ultimately, was able to turn that tumult into triumph. Worship ended up being a resounding success, both commercially and artistically, arguably the band's best effort since 1993's Sound Of White Noise. It certainly was the best received since that time, as an understandably skeptical audience was won over by the band's "return to form" after a series of rather disjointed outings.

So For All Kings arrives without any of Worship's baggage – save for a seemingly seamless change at lead guitar with SHADOWS FALLS' Jon Donais taking over for the departed Rob Caggiano - but with greater expectations. And, for the most part, it not only lives up to but surpasses them.

Kings certainly benefits from the relative stability ANTHRAX has enjoyed since Belladonna rejoined, with main songwriters guitarist Scott Ian and drummer Charlie Benante able to focus the material on a familiar voice and not have to adapt to someone new, like Nelson – or rework what they had ready to fit Belladonna's style and range, as was the case with Worship. And though Worship came out somehow sounding not only invigorated but natural, Kings seems looser, livelier and more confident.

After the death march intro "Impaled", Kings gets the thrash ball rolling with the mighty "You Gotta Believe" fueled by its bracing tempo, gnashing riffs and rousing chorus. A serene mid-section that really doesn't add much puts the brakes on things for a stretch, but the song ends with the same fury it began with and ultimately makes for a potent start. Further along, "Evil Twin", "Defend Avenge" and the frenetic closer "Zero Tolerance" maintain their manic pace and tenacity from the get-go and make for some of the more vicious songs the band has done. With its swaggering bottom end and rallying cry chorus, "Defend Avenge" is an absolute beast.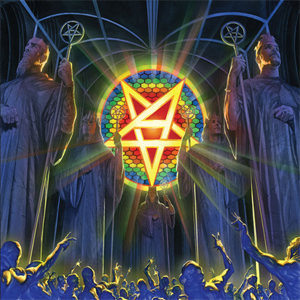 "All Of Them Thieves", "This Battle Chose Us", "Monsters In The End" and the title track – which boasts a sweet solo from Donais, whose understated but crafty lead work here fits the band to a T - take a more mid-tempo turn, though Benante keeps things moving right along with his feisty, limber back beats and fills. Despite recent battles with carpal tunnel syndrome, his drumming here is both inspired and athletic and rarely lets things drag.
"Breathing Lightning" and "Suzerain" boast the kind of deliberate chug and ever-building epic flair that typified the Bush years. Yet they lose none of their bite or crunch with Belladonna's less husky vocals. Indeed, as on Worship, Belladonna sounds great, his clear, resonant voice blending well with whatever he has to contend with, from the venom of "Evil Twin" and "Zero Tolerance" - "whatta ya got to say to that motherfuckers!?!?" - to the anthemic soulfulness of the title track and the majesty of "Blood Eagle Wings", which at 8 minutes is the longest and most monumental song the band's ever done but comes away a winner.
Top to bottom, Kings is the most consistent ANTHRAX album since, again, White Noise. It razor-sharp and rather effective mix of speed, finesse, aggression and catchiness is matched by the relative quality of the material. There are no obvious duds or throwaways here, as even the end of the bench tracks "This Battle Chose Us" or "Monsters In The End" deserve their share of playing time.
With the band's lost decade and half from Stomp 442 to Worship Music now seemingly behind it, ANTHRAX is slowly but surely building the sort of momentum that marked its early years in the late '80s - yet showing that it still deserves to be considered among The Big Four for something other than nostalgia.
4.5 Out Of 5.0
Pre-order your copy of For All Kings in he KNAC.COM More Store right HERE.

Please log in to view RANTS