AMON AMARTH Jomsviking


By Peter Atkinson, Contributor
Wednesday, March 23, 2016 @ 5:11 AM


| | | |
| --- | --- | --- |
| | | |
AMON AMARTH
Jomsviking
Metal Blade Records




Even if there wasn't a common narrative thread running through them, it could be argued that all of AMON AMARTH's discography is essentially a collection of "concept" albums given that each has been steeped almost exclusively in Viking/Norse mythology – and the pillage, plunder, vanquishing of thine enemies, wrath of thy gods, etc., that that entails.

But for its 10th studio full-length, the Swedish melodic death metal horde – now down to a fearsome foursome for the time being following the departure last year of drummer Fredrik Andersson – actually has gone the full concept route and crafted an album along a story line involving love, murder, exile and revenge set in the world of the mercenary Jomsvikings – essentially a Viking army for hire. And along with its anthemic and typically thunderous soundtrack, the band has inserted cinematic devices like spoken-word passages, clean female vocals (by Doro Pesch, no less, good get there) and the odd rousing battle horn to set the stage, build some drama and carry the story forward.

Unfortunately, all this also allows the element of cheesiness that always lurked beneath the surface of AMON AMARTH's music — but which the band usually was able to quash through sheer brute force — to fight its way to the surface at times. That's not to say Jomsviking won't still snap your sternum and pull out your lungs, but there's an occasionally campy quality to it that makes it seem less threatening and even jovial – most notably on the folk metally sing-along "Raise Your Horns".

But things certainly get off to a cold-blooded start with "First Kill", which opens with frontman Johan Hegg's blunt first-person account of the murder that sets the tale into motion. "The first man I killed was the earl's right hand man, when he came to take her away. I ran his own sword straight through his throat and then I stood there watching him die," he growls as the song opens and his bandmates leap into action powered by session drummer Tobias Gustafsson's determined gallop. The fist-pumping "I! Am an outcast!" chorus just gets everyone more riled up. From there, the album follows the wanderings of the "outlaw murderer on the run" as he chases his destiny. And it's a messy one, which "our hero" realizes and readily accepts. "I am haunted by dreams of blood, visions of death and gore. It is the future that I see and if this is truly my fate, then so be it," Hegg offers in the spoken word lead in to "On A Sea Of Blood".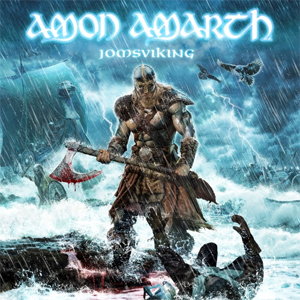 The music effectively follows the ebb and flow of the narrative, as AMON AMARTH move from the bracing pummel of "First Kill", "Vengeance Is My Name" or "One Against All" to the riffy, contemplative chug of "Wanderer", the mournful drone of "One Thousand Burning Arrows", the epic grandeur of "The Way Of Vikings" and the monumental finale "Back On Northern Shores" with relative ease. The band plays to all of its considerable strengths here and mixes and matches them with veteran guile, rarely trying to do too much or wander off into left field.
And when it does, that's where Jomsviking stumbles. The Hegg/Doro duet on "A Dream That Cannot Be" - where our hero reunites with his lost love, only to be turned away, so no happy ending here – seems rather awkward, especially given the beefy, jagged riffing underneath. It's more "tenderizing" than "tender." The IRON MAIDEN-like "At Dawn's First Light" with its overdone tandem soloing and the aforementioned "Raise Your Horns" seem like odd ducks here as well.
But AMON AMARTH pretty much painted itself into a bit of a corner – albeit a remarkably and increasingly successful one - with its militantly consistent sound and aesthetic over its 20-plus-year career. So just about any variations on that theme are going to take some getting used to. And none of the "outlier" tracks detract all that much from Jomsviking when it is taken as a whole, nor does the hokeyness of some of the theatrical elements.
Jomsviking may be AMON AMARTH's most adventurous album, but it's still very much an AMON AMARTH album. And that means plenty of bludgeon, bombast and mayhem, no matter how you slice it.
3.5 Out Of 5.0
Pre-order your copy of Jomsviking in the KNAC.COM More Store right HERE.

Please log in to view RANTS