All Photos By Travis Failey/Rocket Sports And Entertainment
It's been thirty years since a siren from across the pond turned the metal community on its ear. Doro Pesch and WARLOCK took the stage at the 1986 Castle Donnington Festival and a new female face in music was born. That summer WARLOCK would then go on to open for JUDAS PRIEST and with the help of MTV and the 1987 release Triumph And Agony, metal in America had a Queen.
While success in the United States has been a roller coaster ride due to the ever changing musical environment, Doro has been a staple in the community and hasn't wavered in her musical convictions.
While continuing to record and tour, the fans have always come out and supported her as she has supported them. With the release of the Raise Your Fist 30 Year Anniversary Edition (2014), Doro and her band started their U.S. Tour at the Orpheum in Ybor City.
The show was filled with hits from her career with WARLOCK including the title track from the Burning The Witches debut release and the show opener and fan favorite "I Rule The Ruins".
Throughout the set, Doro provides the fans the opportunity to sing with her by putting the microphone out in the crowd. She does this more than any other vocalist that I have seen. Her energy level never wanes and is nonstop as is the rest of the group.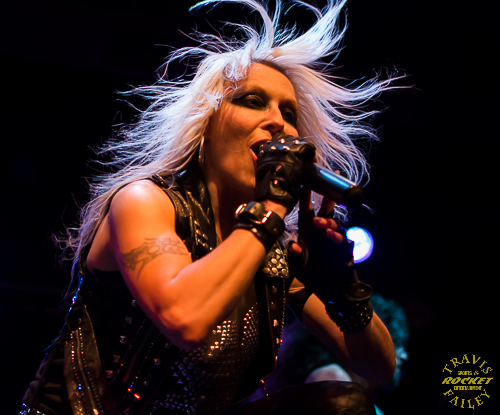 Her bandmates have changed numerous times since 1986 but bassist Nick Douglas and drummer Johnny Dee have been with her since the early 90s. These two along with guitarists Bas Maas and Luca Princiotta provide their own entertainment value by also engaging with each other and with the crowd.
A special moment during the show was when Doro performed "Without You" as a dedication to Lemmy. Doro and Lemmy wrote numerous songs together and he made a huge impact on her up until his recent passing.
Closing out the set with "All We Are" the small crowd sang the chorus louder than the speakers were putting out and confirmed why Doro comes back to the States with every release. She loves the fans because of the support that we have shown her throughout the years and she pays them back with every performance.
Prior to the show, Doro and I sat and talked at length about several topics. Among those were her early beginnings and breaking through in the U.S., her collaborations and the one she still hopes to do, martial arts, her tattoos, American Football and surviving grunge. If you're a fan of Doro, give it a listen HERE. Her appreciation for the music, her fans and especially her voice are only a couple reasons why she will always be the "Metal Queen."
For more info and tour dates: http://www.doromusic.de/index2_en.php
Check out some more photos from the show!
All Photos By Travis Failey/Rocket Sports And Entertainment