Supersuckers
Motherfuckers Be Trippin'


By David Tarlow, Contributor
Thursday, April 24, 2003 @ 12:28 AM


| | | |
| --- | --- | --- |
| | | (Mid-Fi Recordings) |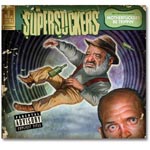 The mighty Supersuckers return with, all guns blazin', with Motherfuckers Be Trippin', their first full-length studio album since 1999's Evil Powers of Rock n' Roll. Eddie Spaghetti and the boys drop the country twang and go straight for the throat with this hard drivin', hard drinkin', hard rockin' affair. This Seattle-by-way-of-Tucson outfit has always been known for their punky Motorhead meets Willie Nelson sound and Motherfuckers Be Trippin' carries on this tradition proudly.
Opening with the manic "Rock n' Roll Records (Ain't Sellin' This Year)," the band rip right out of the gate with this tongue-in-cheek rant against the music biz before putting their arena rock caps on for "Rock Your Ass," where Eddie proudly proclaims, "I'm Eddie Spaghetti and I'll rock your ass steady! "Pretty Fucked Up" and "Bubblegum and Beer" the catchy-as-hell radio smashes that will likely be ignored by radio and join the ranks of their other shoulda-been hits ("Born With Tail," "Creepy Jackalope Eye," "Dirt Roads and Dust," etc).
As always, the shredding, monster leads of Rontrose Heathman are a welcome sound in this Korn-y, Disturbed era and I'll take Dancin' Eagle's crashing rhythmic wallop over a drum machine any day! They put the pedal to the metal with super-charged barnburners such as "Damn My Soul," "Someday I Will Kill You," (nice screams from Dan Bolton!) and "A Good Night For My Drinkin'," reminding us why the Suckers have fit so comfortably as an opener for such bands as the Ramones and Motorhead, while the riffing "Bruises To Prove It" and the dark "Sleepy Vampire" prove their indie cred is still in tact.
The only real misstep here is "The Fight Song," a Manowar-ian slab of fist-pumping metal that is funny and plenty rockin' but too repetitive and slightly annoying after about two listens. However, the rest of the record more than makes up for it and the last tune, "Goodbye," is a soon-to-be-classic set-closer that will surely be a concert fave. So it's all good.
All in all, a damn good slab o' wax from this always ass-kickin' band. It's only rock n' roll and I like… I just wish the folks at Radio and MTV would like it too! Fuckers…
* * * *

Please log in to view RANTS