AFTERSHOK
Detonate
2016 Auburn Records




Brothers and sisters, do you believe in the power of music? If you need an inspiration to get up in the morning and start kicking ass, let AFTERSHOK be that inspiration. The explosion on the album cover serves as a warning—stand back, it's about to Detonate!

AFTERSHOK is the Pittsburgh, PA-based heavy metal band once fronted by former SHOK PARIS singer Vic Hix. They released their debut album Unfinished Business in 2002 and their sophomore album Burning Chrome in 2004. Since Burning Chrome was released, AFTERSHOK went through a hiatus that saw Hix returning to the reformed SHOK PARIS, and bassist Nick Gryszka moving on. The burden of keeping AFTERSHOK going fell to guitarist George Mihalovich and drummer George Borden. They would prove to be quite capable of this task.

The first step was writing new songs for what would eventually become Detonate; the 13 songs here were almost completely composed by George Mihalovich. The next step was finding the right singer to replace Hix and do these songs justice. After an extensive search, the gifted Mr. Gord Sheffroth was discovered, a Canadian talent just waiting to be unleashed on the world. His performance here is nothing short of legendary.

Detonate opens with "Prelude To Fear", an instrumental segue to a fantastic guitar-driven hymn "Enter The Dark". The riffs of this track set the tone of the album immediately and Sheffroth's "Come on!" invites you in. Next is "Hang 'Em High", one of my favorite songs and a track that shows you exactly why Sheffroth was hired. His lead and backing vocals are phenomenal here. Borden shows off his precision drumming again on "The World United", a heavy metal anthem that will have you raising your fist and singing along. It is one of my favorite tracks for sure. The next song "Forever In Metal" is another great heavy metal anthem. "When The Shadows Fall" is easily one of the strongest songs on the disc, delivering a groove and guitar crunch that is guaranteed to get your head banging. I love Borden's cymbal work, Sheffroth's backing vocals and Mihalovich's stellar guitar solo. "Friend Or Foe" was one of the first songs released from the album, and it's a great track. "In The Eye Of The Storm" is another classic metal song that once again showcases Sheffroth's melodic skills.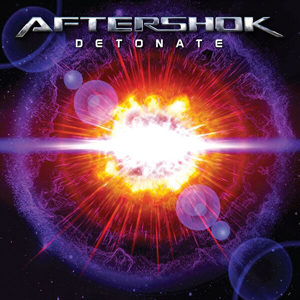 The only time you're given a chance to catch your breath is on "The Hunger", a mid-tempo track that addresses a strained relationship. "Ready To Rock" kicks things back into high gear! This song is another of my favorites on the album and makes me shout along at a high volume. Borden's double bass drumming permeates "Under The Gun", one of the faster tracks on the disc. There is some fantastic riffing here from Mihalovich as well. A JUDAS PRIEST-style guitar harmony introduces "Rise" which borrows inspiration from the '80s school of metal. The album concludes with the excellent "Cities On Fire", a song with a George Lynch-style riff that is simply sublime. Sheffroth shows off his vocal range here as well.
The engineering (by Jim Dofka) and mastering (by Maor Appelbaum) of this CD is simply outstanding. This is one of the best sounding albums I have heard in years. It is solid, powerful and doesn't sound compressed like many albums do these days. It sounds great no matter how loud you crank the volume – and believe me, you will be cranking this CD to the heavens!
This album sounds fresh while at the same time reminding you of the glory days of '80s proto-power metal like JUDAS PRIEST, DIO, MALICE and DOKKEN. George Mihalovich is a great guitarist, bassist (he also handled the low end on this album)and songwriter that knows how to write a classic heavy metal anthem. George Borden has become one of my favorite drummers. His double bass drumming, fills and cymbal work are stylish and unique. Gord Sheffroth is a worthy successor to former vocalist Vic Hix. He will win you over, I guarantee it. His passion, grit and melodic skills are a breath of fresh air in this world of sound-alike singers.
Detonate features 13 songs, at just over an hour. When I want real heavy metal – I'm going to pull this CD out. These songs are classy, uplifting and will stand the test of time as real heavy metal written, performed, and produced by real musicians with true metal hearts. I love this album. It is one of my favorites this year!
5.0 Out Of 5.0
Grab your copy of Detonate in the KNAC.COM More Store right HERE.