SANTA CRUZ In Pittsburgh, PA With Photos!


By Curt Miller, Editor at Large
Wednesday, June 8, 2016 @ 2:14 PM


| | | |
| --- | --- | --- |
| | | Opening For SEBASTIAN BACH At Altar Bar |
All Photos By Curt Miller
From the moment SANTA CRUZ arrived at Altar Bar in Pittsburgh, PA at about 4:00pm on May 22nd, it was all rock n' roll. Their tour bus pulled in front of the venue and fans were already lined up to meet them. When I climbed aboard the tour bus for my interview, Archie Cruz was wearing nothing but boxer shorts and hadn't a care in the world that a complete stranger with camera equipment just showed up. The bus looked like the party had just ended with the venetian blinds on its windows hanging from strings. Once the interview began, though, it was immediately apparent that, while definitely fun loving, this band is all business when it comes to music, interacting with fans and putting on killer live shows.
After I'd finished my interview, the guys in the band had dinner at the McDonald's next door with a fan from a local band, called DOCTOR SCARY, who'd been waiting there since long before I'd arrived. He had another engagement that evening and couldn't even stay for their show, but drove several hours on the outside chance that he'd meet them. It was great to see them spend so much time with him.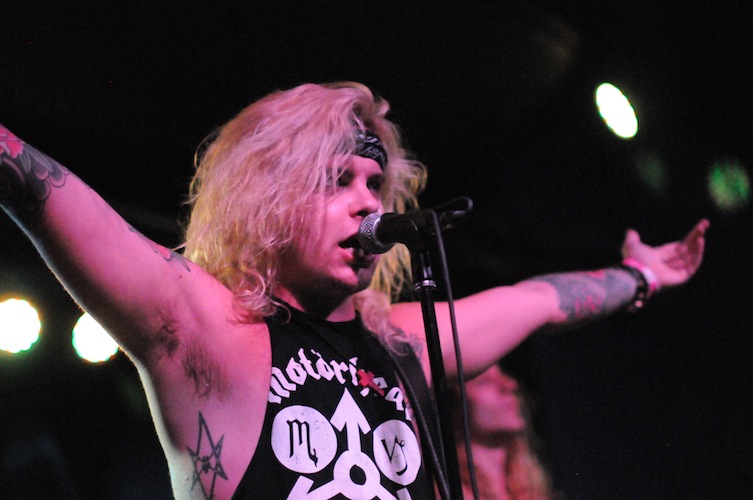 A few local bands played as the crowd made their way into the venue, which had a great turnout particularly in light of the fact that STEEL PANTHER was playing just a few miles away. SANTA CRUZ hit the stage at 9:00pm and the place lit up. This band has made a habit out of blowing up PAs and did so within the first few bars of "Bonafide Heroes", its opening song. The energy was great. Archie leapt in the air between riffs and stepped over the photo pit onto the gate during several guitar solos. In the middle of "My Remedy" Archie jumped into the photo pit directly on top of me, ran over to the bar at stage left, climbed on top and then played a solo.
All the while, Johnny, Middy and Taz (Cruz) were doing some serious head banging. Johnny's laid down some blazingly fast guitar solos and the punch from Middy and Taz backing things up on bass and drums, respectively, felt like a kick to the chest. Mid-set, SANTA CRUZ played "Skydiving Without A Parachute", a song released only four days prior and one that's a bit slower than those in the rest in their set.
By the time they closed out their show with "Aiming High" the crowd was all in. Diehard fans and those seeing SANTA CRUZ for the first time had their hands in the air and were headbanging right along with the band. As the song finished, Archie climbed the blown PA into the Altar Bar's old pulpit and then all the way up into its organ loft. It was quite a sight to behold and well matched to the song's theme.
After the show, the members of SANTA CRUZ took time to chat and take photos with every fan waiting at the back of the venue, something that took quite a while. These guys had been in constant motion since arriving in the middle of the afternoon, but still made sure every fan got personal treatment. One fan, in particular, drove five hours just to see them after having been in an automobile crash days before. All of the members of the band spent a good bit of time talking with her, signing autographs and taking photos. It was a vivid depiction of how much their fans mean to them.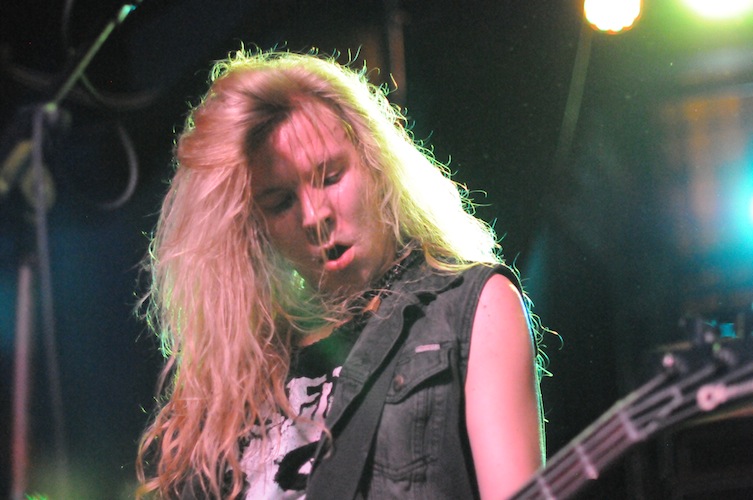 SANTA CRUZ is touring in support of Sebastian Bach. He and his band headlined the show performing a mix of his solo material and classic SKID ROW songs. As expected, his vocals remain as strong as ever. Fans were especially excited to hear him singing songs such as "18 And Life", "I Remember You", "Slave To The Grind", "Big Guns," "Piece Of Me", "Monkey Business" and "Youth Gone Wild". He thanked everyone for coming to the show especially given that STEEL PANTHER was right across town, and laughingly said that he would make some dick jokes if people liked.
Brent Woods' guitar work was right on point as was the playing of the whole band. Sebastian Bach headbanged throughout the performance and had an ever-present smile on his face. He was having a blast, which made it all the more enjoyable for the fans. Bottom line: it was a great show.
Setlist:
"Bonafide Heroes"
"Velvet Rope"
"My Remedy"
"Let Them Burn"
"Bye Bye Babylon"
"Skydiving Without A Parachute"
"We Are The Ones To Fall"
"Wasted & Wounded"
"Aiming High"
Check out some more photos from the show!
All Photos By Curt Miller

Please log in to view RANTS