BINARY CODE Moonsblood


By Peter Atkinson, Contributor
Friday, June 10, 2016 @ 1:35 PM


| | | |
| --- | --- | --- |
| | | |
BINARY CODE
Moonsblood
Self-Released

Since a brief stretch of relative productivity and stability in 2009-10 that saw the band release its debut full-length Suspension Of Belief and the EP Priest, New Jersey's BINARY CODE has spent the bulk of its time since in rebuilding mode. Founding guitarist Jesse Zuretti is the lone holdover, and over the past three years he essentially started fresh, compiling an new roster beginning with vocalist Oded Weinstock, who came on board in 2013 – even the band's logo has been revamped.

With more recent additions guitarist PJ Spillette, bassist Connor Appleton and Sean Vizcaino having subsequently signed on, the band has finally been able to put together a full-length follow up to Belief, which it is self-releasing. After all this time, Moonsblood may seem a bit chintzy, at just 32-some minutes, but since quality trumps quantity any day that's a minor complaint - and a welcome change from the bloat one often has to wade through in the tech/prog metal field on which BINARY CODE plays.

Indeed, Moonsblood is militantly tight and efficient, delivering its nine songs in tidy but hard-hitting 3- and 4-minute bursts. It offers a lot of the usual turbulence and bombast, but without the indulgence that is unfortunately so typical. Most folks probably won't miss that anyway.

Echoing PERIPHERY, TESSERACT, TEXTURES, MONUMENTS and even OPETH with its djent and death metal overtones, BINARY CODE concocts a heady brew of concussive riffs, nimble rhythms, understated melody, electronic hues and occasionally jarring ferocity. The band shows its elasticity from the get-go, with "Immersion" getting off to a genteel start capped by Weinstock's serene cleans before the big, shuddering riffs descend and his vocals take an uglier, more feral tone. Its companion piece, or so it would seem, "Trees 100ft Underwater", takes a similar approach as does the title track, which has a FEAR FACTORY-like feel to it in its grand anthemic chorus.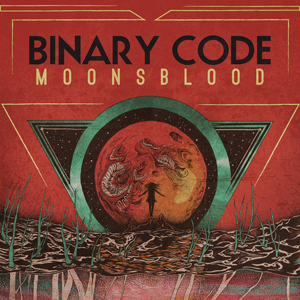 "Dark Meditations", "Knell" and "Push" forgo much of the ample melodic flourishes of the aforementioned tracks for more brutality – although "Knell" does conclude with a piano outro and "Push" boasts some curious Gregorian-like chanting. A thick, gnashing wall of guitar and herky jerk gallop of drums dominate here, with Weinstock's vocals maintaining a mostly menacing growl.
The quaking "Cetacean" proves to be the djentiest track with its methodical MESHUGGAH-like groove, but at 1:58 it seems almost like a segue to "707" and "Unexist", which close the album out, ironically, with its most involved and dramatic arrangements. Here, the contrast between the band's muscular and melodic sides is at its most extreme, approaching death-core territory, especially on "Unexist", but thankfully stopping just short.
And it's this sense of restraint that is one of BINARY CODE's big strengths. Despite the technical flair and progressive inclinations of much of the material, there is a noticeable dearth of showy solos, over-reaching complexity or sheer audacity. Moonsblood is more about impact and atmosphere than flash, and it hits pretty damn hard, even if it doesn't hit for all that long.
3.5 Out Of 5.0

Please log in to view RANTS