All Photos By Travis Failey/Rocket Sports & Entertainment
It's been one year since the epic Summer's Last Stand Tour came to Tampa. The bill was headlined by SLIPKNOT, with support from a recently released and recharged Randy Blythe and LAMB OF GOD, and two of the hotter bands on the scene, BULLET FOR MY VALENTINE and MOTIONLESS IN WHITE. If you are a fan of hard rock, you can't find a lineup that provides more bang for your buck. And I can tell you first hand: this was an amazing show, with top notch performances by all the artists.
If you were at last year's SLIPKNOT show, you know that this year's SLIPKNOT tour had large shoes to fill. Apparently SLIPKNOT knew that, because this year they brought an old reliable crowd favorite, MARILYN MANSON, and California's OF MICE & MEN.
Once again, Florida's summer heat would be a factor at the Mid Florida Credit Union, as the "feels like" temperature was 105 degrees. MFCUA is an outdoor amphitheater with a reserved covered seated section, and an uncovered lawn area with max capacity reaching 26,000.
When OF MICE & MEN took the stage at 6:30, there were plenty of empty seats as a slight rain fell. But the heat and the rain didn't deter the massive partying that was going on in the parking lot. Handles of booze lined tailgates and clouds of smoke filled the air without any resistance from Tampa's finest.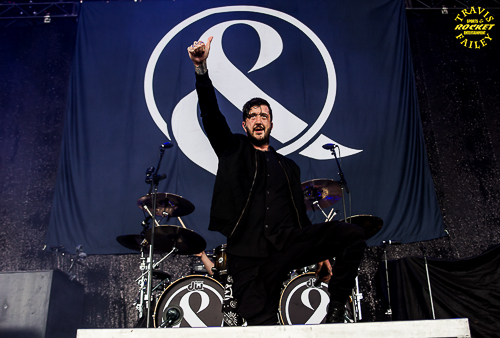 OF MICE & MEN opened up with "Public Service Announcement", and it set the tone for their 8 song set. Vocalist Austin Carlisle mixed guttural screams with clean vocals, and engaged with fans at the rail throughout the set. The metalcore quintet did their best to prep the crowd for the evening's festivities, but other than the people who were familiar with their material, the majority of attendants seemed uninterested.
OF MICE & MEN is made up of quality guitarist players, Alan Ashby and Phil Manansala, and colorful drummer, Valentino Arteaga. But OF MICE & MEN is in a tough spot: opening for two established, but equally different bands. This also was the case when OF MICE & MEN opened up for LINKIN PARK and RISE AGAINST a few years back. I get that they are trying to expand their audience base, but I'm not sure that this tour will accomplish that.
After a quick stage changeover, MARILYN MANSON strolled out onto the stage, grabbed his shotgun microphone, and commenced their ten song set with "Angel With Scabbed Wings". Manson then transitioned from the shotgun microphone, to a brass knuckle type knife microphone. Manson used this microphone to open a bag of red dust that he dumped on the photographers at the end of their first song.
The red dust found Manson's intended mark, as it covered several photographers and their gear in the photo pit, as well as some fans in the front row. While the fans didn't seem to mind, the photographers were pissed. Manson added insult to injury when he made comments directed at the "pro photographers racing out, trying to protect and clean" their equipment. After the red dust settled, the rest of MARILYN MANSON's set was a collection of his greatest hits, combined with the predictable stage theatrics that Manson has used in previous performances over the years.
Manson got a huge reaction from the fans during the cover of the EURYTHMICS' "Sweet Dreams", not only due to the popularity of the song, but also because he performed the song while standing on huge metal stilts. After "Sweet Dreams", Manson selected the Westboro Baptist Church's favorite song of his, "AntiChrist Superstar". He stood upon his papal-like podium and allegedly burned Bibles as they performed. Many who haven't seen Manson perform before were definitely entertained, but throughout his set, it was obvious to many that Manson's vocals were subpar and he often looked like he was just going through the motions. MARILYN MANSON finished their set with their biggest hit, "The Beautiful People". Not long after, the chants for SLIPKNOT began.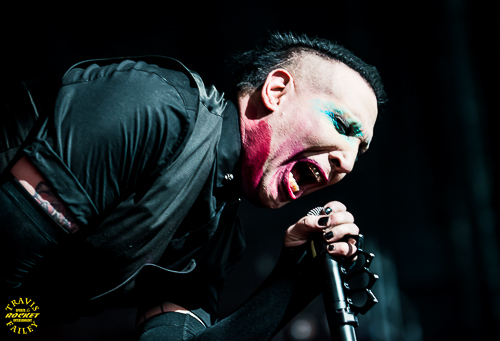 After Corey Taylor's recent neck surgery and subsequent fall at the end of the show two nights prior in Atlanta, I wondered how these events would effect his performance. But as The Great Freddie Mercury once said, "The Show Must Go On" and Taylor joined his fellow musicians on stage sporting a black neck brace as the red curtain dropped from the ceiling. SLIPKNOT started their set with their biggest hit from the 2015 release .5: The Gray Chapter with "The Negative One" which got huge spins thanks to Sirius/XM's Octane. The next two songs would take the SLIPKNOT fans back to their early days with "Disasterpiece" from 2001, and the song that put them on the map in 1999, "Eyeless".
Taylor's voice was top notch as usual as was the band with their tri-percussion attack led by drummer Jay Weinberg. Shawn Crahan and Chris Fehn manned their own drums attached to the sizzorjack lifts as the three of them are the backbone of SLIPKNOT's bombastic sound.
As SLIPKNOT performed their 17 song set, there were a few things that stood out. One was the lack of pyrotechnics which SLIPKNOT has used in spades on previous tours. In lieu of pyrotechnics, SLIPKNOT utilized enormous video screens that showed hypnotic and somewhat disturbing images but those are par for the course at their shows.
The other was Corey Taylor's performance. Corey is an amazing frontman in any capacity, but he was limited in his movements due to the neck surgery and his recent fall.
The fans didn't seem to care and the mosh pits were frequent and at times violent especially during their hits the "The Devil In I" and "Wait And Bleed". There were also multiple pits that formed into one enormous pit in the reserved seating area while other pits appeared in the lawn area, which is rare at the amphitheater.
As the set progressed, the members of SLIPKNOT came to the front of the stage, including Alessandro Venturella, who played his bass that had illuminated frets. This is the second time that I've seen guitarists use this technology. Jason Hook also started using illuminated frets while playing with FIVE FINGER DEATH PUNCH.
This year's SLIPKNOT tour was a bit more reserved than last year for obvious reasons, but as the tour rolls on and Taylor recovers, you can expect everything that you are accustomed to from a SLIPKNOT performance. If you're going to see SLIPKNOT for the first time, you'll still be treated to an amazing performance by a band that didn't create the genre, but expanded it to a much greater level.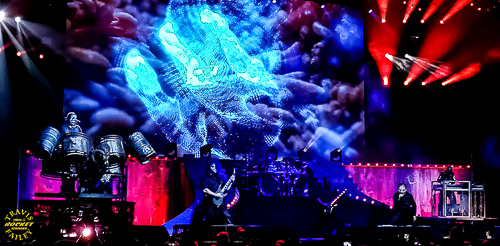 For future dates:
http://www.slipknot1.com/events
Setlist:
"Fashion" (DAVID BOWIE song played from tape)
"Be Prepared For Hell" (played from tape)
"The Negative One"
"Disasterpiece"
"Eyeless"
"Skeptic"
"Before I Forget"
"Killpop"
"Dead Memories"
"Everything Ends"
"Psychosocial"
"Pulse Of The Maggots"
"Left Behind"
"The Devil In I"
"Wait And Bleed"
"(sic)"
Encore: