HOLLYWOOD VAMPIRES In Kettering, OH W/Photos!


By Geoff Ketler, Cleveland Contributor
Sunday, July 17, 2016 @ 7:40 AM


| | | |
| --- | --- | --- |
| | | Band Returns For Their First Show Without Guitarist Joe Perry |
All Photos By Geoff Ketler/Aces High Photography
News of legendary AEROSMITH guitarist Joe Perry's collapse on-stage during the group's Coney Island concert spread fast. Once it was declared that Joe was in fact recovering and doing well the next question on everyone's mind was – will they continue the tour? Given all of the commitments that the individuals of this supergroup have on the table, it makes one wonder if this was a "now or never" situation. Within 24 hours it was declared that Alice Cooper, ohnny Depp, Matt Sorum and Co. would, in fact, make the trip to southwest Ohio for the next date of the HOLLYWOOD VAMPIRES tour.
Formed by actor/musician Johnny Depp and Alice Cooper, the band derives its name from an early 1970s drinking club founded, in part, by Alice Cooper. In the upstairs bar of the Rainbow Bar & Grill on the Sunset Strip legendary musicians passing through Los Angeles would gather and attempt to out-drink one another. They were known as the Hollywood Vampires. The purpose of this side project is to tell the stories associated with the social club and pay tribute to the deceased members. Alice explained to the audience that he was the last surviving member. He also pointed out that hospitalized member Joe Perry would be joining them later in the tour and that although he wasn't there physically he was "there in spirit".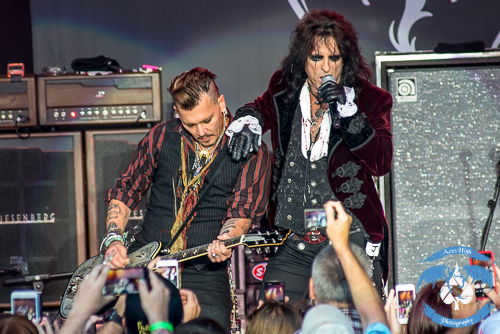 The HOLLYWOOD VAMPIRES were rounded out by touring musicians Tommy Henriksen (ALICE COOPER) on guitar/backing vocals, Robert DeLeo (STONE TEMPLE PILOTS) on bass and Bruce Witkin who has worked in the studio with the likes of MARILYN MANSON and LA GUNS, on keyboards/guitar/vocals. Even with the absence of Joe Perry between Tommy, Johnny and Bruce, the set didn't have any apparent voids or missing pieces. Johnny Depp seemed to make a special effort to play to the crowd. He was extremely animated and it garnered shrieks from the ladies in the audience all night long. Alice was typical Alice; waiving around his cane and telling fascinating stories about the Rainbow in the 70s.
The setlist featured a handful of original songs, but the meat of it was covers of bands with deceased members from that era. Alice Cooper did a fantastic rendition of Jim Morrison during "Five To One/Break On Through To The Other Side". The audience reacted really well to their cover of LED ZEPPELIN's "Whole Lotta Love", which featured Bruce Witkin on vocals. One large screen behind Matt Sorum's drum kit would feature images of the dead rock stars as their songs were featured in the set. It was a delightful mix of what I would refer to as classic rock. Highlights included MOTORHEAD's "Ace Of Spades" and a couple of T-REX covers that were done really well. I will also make mention that Johnny Depp surprised the hell out of me as a player. He played leads, backing vocals and had plenty of stage presence.
Hopefully Joe Perry continues to recover and will eventually rejoin the band on tour. All of the members wore name tags with "JP" written on them and fans everywhere held signs with supportive messages such as "Prayers for Joe". Some of the songs performed are considered timeless classics and the HOLLYWOOD VAMPIRES did a fantastic job of not only performing them, but bringing to light some of the stories behind the artists. Do yourself a favor and catch a date on this tour. Where else can you hear some of this material being performed by legendary musicians and get a history lesson from Professor Alice Cooper at the same time?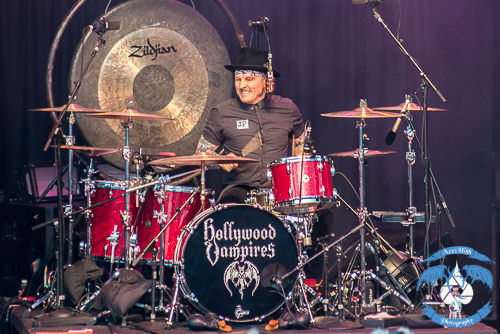 Setlist:
The Last Vampire (Intro)
"Raise The Dead"
"I Got A Line On You" (SPIRIT Cover)
"Rebel Rebel" (David Bowie Cover)
"Suffragette City" (David Bowie Cover)
"Manic Depression" (THE JIMI HENDRIX EXPERIENCE Cover)
"Five To One"/"Break On Through To The Other Side" (THE DOORS Cover)
"As Bad As I Am"
"20th Century Boy" (T-REX Cover)
"Bang A Gong (Get It On)" (T-REX Cover)
"Come Together" (BEATLES Cover)
"7 And 7 Is" (LOVE Cover)
"Whole Lotta Love" (LED ZEPPELIN Cover)
"My Dead Drunk Friends"
"Pinball Wizard" (THE WHO Cover)
"My Generation" (THE WHO Cover)
"Ace Of Spades" (MOTORHEAD Cover)
"I'm Eighteen" (Alice Cooper Cover)
"Sweet Emotion" (AEROSMITH Cover)
Encore:
"Train Kept A-Rollin'" (Tiny Bradshaw Cover)
"School's Out" (Alice Cooper Cover)
Check out some more photos from the show!
All Photos By Geoff Ketler/Aces High Photography

Please log in to view RANTS


ROBIN MCAULEY Alive

CRADLE OF FILTH, DEVILDRIVER In Santa Ana With Photos!

KAMELOT The Awakening

ALTER BRIDGE, MAMMOTH WVH In Houston, TX With Photos!

ACID KING Beyond Vision

STEEL PANTHER On The Prowl

NIGHT DEMON Outsider

YNGWIE MALMSTEEN In Ottawa, Canada

THEORY OF A DEADMAN, SKILLET, SAINT ASONIA In Houston, TX With Photos!

OFFICER X Hell Is Coming

PERIPHERY Periphery V: Djent Is Not A Genre

INSOMNIUM Anno 1696

STEEL PANTHER, CROBOT, TRAGEDY In Houston, TX With Photos!

BABYLON A.D. Live Lightning

ROTTING CHRIST, CARACH ANGREN, UADA, GAEREA In Houston, TX With Photos!

MOTÖRHEAD Bad Magic: Seriously Bad Magic

TRAGEDY I Am Woman

ROXANNE Stereo Typical