The Return Of The Diamond One: David Lee Roth Speaks Exclusively To KNAC.COM

By Frank Meyer, Contributing Editor
Wednesday, June 4, 2003 @ 4:56 PM

| | | |
| --- | --- | --- |
| | | The King Of Thug Pop, Mr. Diam |
David Lee Roth.... The man who quarterbacked Van Halen into the Super Bowl of Rock. The man who penned the lyrics to "Runnin With the Devil," "Ain't Talkin' Bout Love," "Panama," and a million other classics. The man who drank whiskey, snorted Cuba, fucked supermodels ten at a time, and hung with midgets before Kid Rock and the Jackass crew made it MTV friendly to do so. The kinda man who when he needed to take a break from the hedonism of rock stardom formed the Jungle Studs, an elite fighting squad of world travelers hell-bent on glory, and scoured the deepest, darkest rain forests of the world. The man who put the "stud" in studded lather pants. David Lee Roth. That's Diamond Dave to you.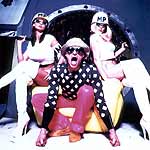 Anyone who has clicked on KNAC.COM to listen to headbangin' Pure Rock need not be told who Dave is. We all know his work, we grew up with it. It's the music we fucked to, fought to, stole to, danced to, stormed the castle with, and so on. From his tenure with the mighty Van Halen (arguably the greatest decade-long collaboration in hard rock history) to his fantastic 1986 solo debut Eat 'Em and Smile, to his last studio effort, 1998's criminally underrated DLR Band, to his co-headlining tour of American last year with fellow former VH crooner Sammy Hagar, Diamond Dave has proven himself to be a consummate entertainer whose superhero-like physical feats are only matched by his hilarious and bizarre sense of humor. Yes, the world needs a superhero and pistol-packin' Diamond Dave is here to save the day.
...And speaking of packin' heat, Mr. Roth has graced with us with another album, a rare occurrence these days. Diamond Dave is a 14-song blast of hard rock, smoky blues and some modern day cyber-wallop thrown in for good measure. Comprised of mostly cover tunes, Diamond Dave plays like the soundtrack to Dave's youth, from Beatles to Hendrix to Savoy Brown. It's a summertime record through and through, and is custom designed to start yer ass shakin', your head a-bangin', and get ya reaching for that fifth shot o' Jack. It's party music by the life of the party, know what I'm sayin'?
KNAC.COM recently had a chance to chat with the Diamond One about his new album, due out on July 8th through Magna Carta, days before he hits the road for his latest summer tour extravaganza. As always, he was is fine form and terrific spirits, laughing, shucking and jiving like we were old pals. So ease the seat back, reach down between your legs and take a bonghit, and let Dave do the drivin'.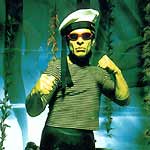 KNAC.COM: So tell me about your new album Diamond Dave? What makes it tick?
DAVE: It's almost all cover tunes, the stuff that I grew up shoplifting in the '60s. It's familiar bands but not the familiar tunes. Most of what you get on Top 40 is really low fat, high sugar. I'm an American. I like high fat, high sugar.

KNAC.COM: Yeah, I noticed that while you cover songs by a lot of big bands, you didn't necessarily do their obvious hits.
DAVE: What really attracts us to all these bands is not really the material that's the most familiar but the ambitious stuff, maybe even sometimes that they failed at. The reason that we like the Beatles was all kinds of left of center risk taking like when they went Maharishi mish mash and psychedelia Haight Ashbury.

KNAC.COM: You even do a Beatles song, right?
DAVE: Yeah, I did…um... hell, I don't even know what the title is. I call it "That Beatles Song." (It's "Tomorrow Never Knows" - Ed.)

KNAC.COM: And a Jimi Hendrix cut too…
DAVE: Everybody knows Jimi doing "Foxy Lady" but that was the easy bar mitzvah band song out of all of the ones he did. The one that scared people was "If 6 Was 9." That was a little bit dark and brooding. If you wanted to get in touch with your black rage, and I maintain that that's what I have, this was one you imitated as a singer.

KNAC.COM: So you purposely avoided the obvious songs by these bands?


DAVE: Yeah. We did a Doors song but it's not "Light My Fire." I never really liked that song and now I know why, because Jim Morrison didn't write it. It wasn't his personality or his lyric and it wasn't his maneuver musically. "Soul Kitchen" has way more dirt under its fingernails. "Soul Kitchen" is a theme song for the part of town where the bus doesn't go after dark. Plus, the middle of it sounds like a dance scene from Austin Powers, that kind of an attitude.

KNAC.COM: Why do three Savoy Brown songs?
DAVE: ZZ Top was just a fixation in the imagination of another little kid on the playground when I was a kid. In the '60s if you wanted to boogie down, you did Savoy Brown. To this day I'm not sure what Savoy Brown really means, but it sounds great doesn't it?

KNAC.COM: Yet despite being mostly cover tunes, it really sounds and feels like a David Lee Roth album.
DAVE: All of this stuff adds up to Diamond Dave. The music is as familiar as your own convictions, whether they're religious or prior. Also, this stuff is all from the '60s but it's not flower power, not at all Grateful Dead. It is the element of '60s that I grew up with.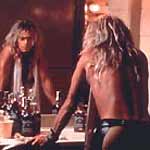 KNAC.COM: So how do you make an album of '60s covers that doesn't sound dated?
DAVE: This stuff is tough from the inside out and when you add on all of the Pro-Tools and the loops and samples and turntabling that we did you get something new. My production staff is all under 24 years old, they're all fresh out of the Berklee School of Music and they are the future. There's a lot of blue hair and tongue bolts in that room. But you do have a real band too. I use only drums sets from the 1960s and only amp rigs and gear from the early '70s and when you combine that with visions of a digital future you find something that's familiar with your communidad no matter where you're from.
KNAC.COM: There are some originals on the record though, "Medicine Man, "Thug Pop," and "Act One." Tell me about those.
DAVE: They were designed to end up the album, to maybe show a little development… though refinement is my enemy as an artist.
KNAC.COM: There's also two bonus tracks, a lounge re-working of "Ice Cream Man" and "Bad Habits," both left over from your mid-'90s Las Vegas era (one of my favorite Dave eras by the way, so screw you America!). Why include those?
DAVE: We're got a lot more space so why not? The only reason we did nine or ten songs back in Van Halen was because you couldn't put more songs on a vinyl record without ruining the bass. If you put more than 35 minutes on a vinyl record you start losing all those low-end frequencies. Now you don't have worry about that at all. These are tunes that would have never have seen the light of day but because of CDs and the way technology is now you can. When I say bonus track what I mean is, here you have a complete vision of what the record was to be, which obviously was Dave in junior high school, but once we complete that vision you don't have to have any symmetry at all. A bonus track is something that fits the mood and doesn't necessarily have to arrive as part of the project. Now you don't have to wait around to hear Bob Dylan's basement tapes on an underground radio station anymore you can actually make it available…and then steal it on the Internet! I have all kinds of basement tapes. And my basement tapes are fully produced songs!
KNAC.COM: So where does Diamond Dave, the album, fit into the Nu World Order of today?
DAVE: This music goes with salt water beautifully. This music goes with lake water or river water. If you're stuck with somebody, friends or loved ones, and there's a hurricane raging outside and it's time to break out the tequila early, this music goes beautifully with that. That's what I've always represented. I've called myself the Toastmaster General but I've kind of updated that now. Now I'm the Patron Saint of Larceny.
KNAC.COM: Geez, Dave. How the hell do you do it? You just never stop!
DAVE: Most musicians slow down. It's very wearying what we do. That's no news. It's just like pro-sports or politics. We take a worse beating than J-Lo's forth vertebrae. All the good stuff in life shouldn't wear you down. It demands calories and time. And I got both to burn, baby!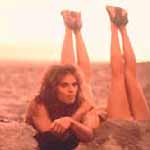 KNAC.COM: And your fan-base eats it up every time…
DAVE: The devout and Debauch-a-palooza Dave bunch is kind of international now. And I represent the Van Halen contingent too. It's no longer music, it's our own genre. We are one of the three main courses at classic rock radio.

KNAC.COM: So what's your secret?
DAVE: What's the fools disease? Thinking too much. Don't overwork it!

* * * * * *

Check some clips of Dave from his No Hold's Bar-B-Que video at www.davidleeroth.com. Check out samples of Diamond Dave at www.magnacarta.net and pick it up on July 8th. Catch Dave on tour at these fine locations:

06/06/03 Atlanta, GA Chastain Park Amphitheatre
06/07/03 Pelham, AL Oak Mountain Amph.
06/10/03 Alpine, CA Viejas Concerts In The Park
06/11/03 Anaheim, CA House Of Blues
06/13/03 Stockton, CA San Joaquin County Fair
06/14/03 Las Vegas, NV Hard Rock Hotel - The Joint
06/17/03 Portland, OR Roseland Theater
06/19/03 Kamloops, BC Sport Mart Place
06/21/03 Prince George, BC Prince George Multiplex
06/22/03 Edmonton, AB The Joint
06/24/03 Calgary, AB Outlaws
06/27/03 Vancouver, BC Orpheum Theatre
06/28/03 Tacoma, WA Emerald Queen Casino
07/05/03 Milwaukee, WI Summerfest
07/06/03 Sterling Heights, MI Freedom Hill Amphitheater
07/09/03 Chicago, IL House Of Blues
07/11/03 Lansing, MI ComGround Festival
07/12/03 Fort Wayne, IN Three River Festival
07/14/03 Grand Rapids, MI Orbit Room
07/16/03 Saint Louis, MO The Pageant
07/18/03 Robinsonville, MS Sam's Town
07/19/03 Gulfport, MS Grand Casino Gulfport
07/21/03 Houston, TX Verizon Wireless Theater
07/23/03 Austin, TX Stubb's Barbeque
07/24/03 Grand Prairie, TX Next Stage At Grand Prairie
07/26/03 Winter Park, CO Hawgfest
07/29/03 Tucson, AZ Anselmo Valencia Amphitheatre
08/06/03 Sturgis, SD Legendary Buffalo Chip
08/08/03 Kansas City, MO Beaumont Club
08/10/03 Hinckley, MN Grand Casino Hinckley
08/22/03 Universal City, CA Universal Amphitheatre
08/28/03 Green Bay, WI Oneida Casino
08/29/03 Chicago, IL House Of Blues
08/31/03 Detroit, MI Michigan State Fair
09/03/03 Columbus, OH Ohio Theatre
09/05/03 Cincinnati, OH Annie's
09/06/03 Cleveland, OH Scene Pavilion
09/09/03 Poughkeepsie, NY Mid-Hudson Civic Center
09/10/03 Hampton Beach, NH Hampton Beach Casino Ballroom
09/13/03 New York, NY Beacon Theatre
09/15/03 Worcester, MA The Palladium
09/17/03 Glenside, PA Keswick Theatre
09/19/03 Norfolk, VA The NorVa