HELIX In Ottawa, Canada


By Andrew Depedro, Ottawa Corespondent
Tuesday, July 26, 2016 @ 3:39 PM


| | | |
| --- | --- | --- |
| | | At The Brass Monkey, Ottawa, Canada, June 30, 2016 |
"Gimme a 1! 4! 9! Whatcha got? Canada Day festivities!"

My last experience in having caught the legendary heavy metal party band had been on a cold December evening in Saskatoon some 15 years ago at a place called Earthquake Annie's. The show was briefly affected by a 15-minute long power outage but otherwise we were treated to a decent setlist and a couple of Tom Jones and HUMBLE PIE covers thrown in for good measure. And I treated a couple of the band members to some flaming sambucas. They helped temper frontman Brian Vollmer's frustration that evening as he lamented why his band was getting limited airplay in most of Canada that night.

The day before Canada Day this year, Brian Vollmer would have a lot more to celebrate this time around. His birthday is actually on the same day as Canada's and to mark the occasion he brought his family along for the show, including his two adult daughters and sons-in-law. Their appearance was so low-key that they even politely stayed and watched the entire set of opening local band BIRD KING, who, despite being your standard covers band at first glance, had a repertoire that was thankfully a couple of notches above the setlist of your standard covers band. Some decent STYX, JOURNEY, PINK FLOYD and VAN HALEN covers aside, they did a stunning rendition of CHICAGO's "25 Or 6 To 4" which was the cherry of their whole set. Guess their mantra of playing rock songs that everybody knows but no one in Ottawa dares to play does hold meaning after all.

https://www.facebook.com/birdkingband

With BIRD KING leaving the nest, it's time for headliners HELIX to take the stage. Give 'em an R! O! C! K! Whatcha got? Errr....."Long Way To Heaven" to open the set. It's all good with the setlist change since they've released some three-four albums of new material in between the last time I saw them in 2001. Plus with a 40th anniversary of showing their heavy metal love taking place this year, shouldn't HELIX be making this show all about them?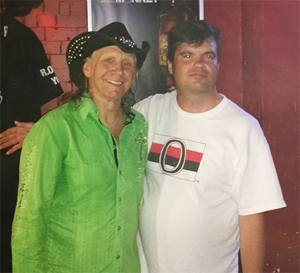 The first couple of songs in the show are mostly lesser-known and underrated classics such as "Wild In The Streets" and "The Kids Are All Shakin'" - the latter, according to Brian Vollmer, having been inspired by a letter that a Polish fan had sent to him in 1983 about life in the West. And while the HELIX lineup's gone through major changes since then, the current lineup of Vollmer, bassist Daryl Gray, guitarists Kaleb Duck and Brent Doerner and drummer Fritz Hinz not only play the classics to near perfection, but they also improvise on them and take them to new heights. Daryl Gray was so into his TOOL-inspired bass riffs that he could've happily played the rest of "Forty Six And 2" if Brian Vollmer hadn't started singing the first verse of "The Storm"Kaleb Duck and Brent Doerner did their earnest to out-solo each other during "Gimme Gimme Good Lovin'" and "Animal House".
And even the newer HELIX tracks were met with as good of a reception as the classics, as the band tore through songs such as "Even Jesus Wasn't Loved (In His Hometown)" and "Six Strings, Nine Lives". Brian Vollmer still had his powerful gritty baritone voice and the swagger to accompany the music thanks to his years of regaining its tone through the Bel Canto vocal technique which he was able to pass down onto other singers as a vocal coach himself (one of his more famous students of this technique included KITTIE's vocalist Mercedes Lander). And, yes, he can still get the audience to repeat the chanted chorus of "R! O! C! K!" by the night's end at his command. A couple of die-hard fans went a step further and wished the legend a happy birthday in between songs, presenting him with a birthday poster and getting some photos with him after the performance.
All in all, HELIX kept the kids shakin' that night. Even if Ottawa isn't their hometown.
Props to Dion, Skotti and the Brass Monkey for making this show happen.
Setlist:
"Long Way To Heaven"
"Wild In The Streets"
"The Kids Are All Shakin'"
"Get Up"
"Even Jesus Wasn't Loved (In His Hometown)"
Bass solo
"Danger Zone"
"When The Hammer Falls"
"Heavy Metal Cowboys"
"Six Strings, Nine Lives"
"The Storm"
"I'm A Live Frankenstein" (Brian Vollmer solo track)
"Gimme Gimme Good Lovin'"
"Animal House"
"Make Me Do Anything You Want"
"Deep Cuts The Knife"
"Heavy Metal Love"
"Dirty Dog"
"Rock You"
"Runnin' Wild In The 21st Century"
"Good To The Last Drop"
http://www.planethelix.com/
https://www.facebook.com/Helix-222226811307397/

Please log in to view RANTS


ALTER BRIDGE, MAMMOTH WVH In Houston, TX With Photos!

ACID KING Beyond Vision

STEEL PANTHER On The Prowl

NIGHT DEMON Outsider

YNGWIE MALMSTEEN In Ottawa, Canada

THEORY OF A DEADMAN, SKILLET, SAINT ASONIA In Houston, TX With Photos!

OFFICER X Hell Is Coming

PERIPHERY Periphery V: Djent Is Not A Genre

INSOMNIUM Anno 1696

STEEL PANTHER, CROBOT, TRAGEDY In Houston, TX With Photos!

BABYLON A.D. Live Lightning

ROTTING CHRIST, CARACH ANGREN, UADA, GAEREA In Houston, TX With Photos!

MOTÖRHEAD Bad Magic: Seriously Bad Magic

TRAGEDY I Am Woman

ROXANNE Stereo Typical

ANTHRAX, BLACK LABEL SOCIETY, EXODUS In Houston, TX With Photos!