LAST IN LINE
Heavy Crown
Frontiers Music Srl




Review By Robbie Kramer

It is never easy to lose someone close to you. There is no one way to grieve. Some people choose to do it in silence; others would rather be surrounded by family and friends. As for musicians, you tend to do the only thing that has ever made sense. You play. That is exactly what the boys in LAST IN LINE chose to do.

After losing Ronnie James Dio in 2010, the surviving members from the 1984 album and tour of the same name got together to play some tribute shows in honor of their fallen brother. Being in a band is so much like being in a family. You spend countless hours, day in and day out, good and bad, with the same people. Touring the world has its obvious upside, but also its own set of negatives. Even on your days off, you still aren't anywhere close to home. The guys in the band and crew are the closest thing to your family as you get for months on end. You tend to see them at their best and unfortunately at their worst sometimes. But as families do, you are there with them every step, good or bad. Through the years the members of DIO went their separate ways. Careers always evolve, but the bonds created forever remain. The LAST IN LINE lineup, consisting of guitarist Vivian Campbell, drummer Vinnie Appice, bassist Jimmie Bain, and keyboardist Claude Schnell assembled once again to play a few shows in honor of DIO. The job of filling the ironically huge shoes of Ronnie James Dio would fall to vocalist Andrew Freeman.

After a hand full of performances the idea came about for a full fledged recording project. This idea did not include Schnell for the fact of wanting a more guitar driven sound. However, the old magic was back. Music has a way of taking you back to a specific time and place in your life. For Campbell, Appice and Bain that time and place was 1984. Music has a way of making you feel young again. Vivian Campbell has been extremely busy since then with his work in DEF LEPPARD, WHITESNAKE and THIN LIZZY. Vinnie Appice was also keeping busy with his musical endeavors with bands like FLESH & BLOOD, BLACK SABBATH, KILL DEVIL HILL, as well as several recording gigs along the way. Jimmy Bain kept himself going with songwriting and playing stints with the HOLLYWOOD ALLSTARZ and 3 LEGGED DOGG. There is something about the magic of putting a group of guys in a room that have an unmistakable bond, turning up the amps and letting them loose. All three have had their own personal battles along the way but for that moment, in that room, none of that mattered. The result is a gift to the soul of each involved and a gift to us in the form of an amazing album.

With the release of Heavy Crown in the first part of 2016, the tribute had come full circle. I found myself driving down the road with the windows down, just as I did in when I was younger, with the music as loud as I could get it. The guitar tone was unmistakably Vivian Campbell and like the guys in LAST IN LINE, I too was taken back to my 1984 self.

It was so refreshing to hear songs that rocked from beginning to end that incorporated stellar guitar solos that were just as much a part of the song as the melody and lyrics. Andrew Freeman's vocals were the perfect fit to round out the sound. Several times I found myself almost hearing Ronnie James Dio himself singing the tunes. That is not to say that Andrew was trying to emulate or sound like Ronnie in any way. The highest compliment that I could give Andrew and his performance would be that he held his own in a spot once held by a rock icon. Coming from a time where the majority of the bands were remembered most by their hit ballad, Heavy Crown rocks from start to finish.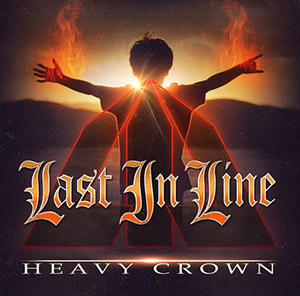 This project was created as a tribute and a healing process to a family member gone way too soon. In my opinion this album could and should stand on its own merits as a considerable force in hard rock music. There are several times throughout the album where I hear certain things that remind me of the music I love. The opening track, "Devil In Me", brings to mind the slow swampy grooves reminiscent of older BLACK SABBATH or BADLANDS. This record is full of slow grooves put down by Bain and Appice. It doesn't get any better than that. Both seem to "play in the pocket" so well it leaves tons of room for Vivian Campbell to bring the chunky guitar riffs you would expect from this lineup.
There are times when I hear a hint of DOKKEN influences in there, such as the title track "Heavy Crown", which only stands to reason given the record was produced by DOKKEN bassist Jeff Pilson. His production and mixing are exceptional. The sound is raw, aggressive and full of energy. It's a good thing I'm not my 1984 self because this CD would lead me to a few more speeding tickets. It's a little more difficult to speed in the adult car I have now but this album definitely leads me in that direction. Other stand out tunes include "I Am Revolution" and the closing track "The Sickness".
Unfortunately, reason to grieve once again hit this band in January of this year. While on the DEF LEPPARD Hysteria On The High Seas cruise, Jimmy Bain passed away in his cabin. It was January 23, 2016, and the band was set to perform the next day. He had been battling pneumonia for a short time. It is fitting that Jimmy died doing what he loved, what he was meant to do. I am not sure what the future holds for this band.
Personally I would love to see another disc from these guys. They had a handful of commitments after Jimmy's death and longtime bassist Phil Soussan was called to fill in. There is no word yet as to the future of this lineup. They need time to grieve the loss of yet another brother in arms. As a music fan I personally thank them for sharing part of that bond with you and I in the form of their music. If they never play collectively again I will be content with the music provided. If they choose to play anywhere near me in the future, I will be the first in line.
5.0 Out Of 5.0
Pick up your copy of Heavy Crown in the KNAC.COM More Store right HERE.