VICIOUS RUMORS Concussion Protocol


By Alex Yarborough, Orlando Contributor
Thursday, July 28, 2016 @ 1:24 PM


| | | |
| --- | --- | --- |
| | | |
VICIOUS RUMORS
Concussion Protocol
2016 SPV/Steamhammer




Legendary bay area metal band VICIOUS RUMORS have returned with their 12th studio album, Concussion Protocol, the band's fifth release for SPV/Steamhammer. Dutch vocalist Nick Holleman and Slovenian bassist Tilen Hudrap join Geoff Thorpe (guitar), Larry Howe (drums) and Thaen Rasmussen (guitar) for one of the band's strongest albums.

VICIOUS RUMORS are a band that seem to tread that fine line between power metal and thrash, which I love. Concussion Protocol finds the band revitalizing themselves with new members and increasing their aggression slightly over the last two studio albums, Razorback Killers (2011) and Electric Punishment (2013), which were both very solid slabs of metal. The opening salvo of the title track, along with "Chemical Slaves", "Victims of A Digital World" and "Chasing The Priest" occasionally call to mind the Soldiers Of The Night and Digital Dictator albums in style, which is a good thing. "Chasing The Priest" has a huge solo section and is a pretty heavy track. Some nice guitar work here and double bass drumming from Larry Howe. "Victims" has a digital wave effect during the chorus and a crushing groove. It also has the "man vs. machine" theme that VICIOUS RUMORS are famous for visiting from time to time. "Delete/replace, what's left of human thought…"

"Last Of Our Kind" is a standout song for me, and the band makes an emphatic statement with this track. The bass work by Hudrap and rhythm guitar are fantastic. "We are who we are so nevermind. I don't need your approval". "1000 Years" is probably the heaviest track on the album, and definitely treads in the thrash realm. Holleman's skills are on full display here; this guy can sing his ass off.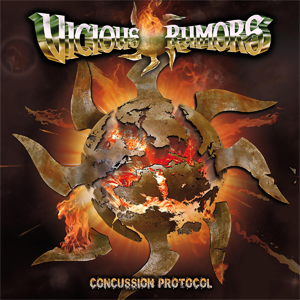 "Circle Of Secrets" slows things down and allows the band to show you a different side of their repertoire. Holleman in particular shines again on this song. "Take It Or Leave It" is an exceptional power metal track, featuring tons of harmony guitars and shout-along gang vocals. A solid track, with the ending being one of the coolest moments on the album. The band released an excellent performance video for this song; check it out on KNAC.COM right HERE. "Bastards", is a stomping track and a heavy slap across the face. Things return to speed and thrash metal on "Every Blessing Is A Curse", another of the better tracks on the album. The album ends with "Life For A Life", an up-tempo song that finds Holleman singing in a sort of breathy, clandestine manner. There are 11 tracks in total that clock in around 51 minutes.
I find new vocalist Nick Holleman to be a very good fit for the band, with a similar range as previous vocalist Brian Allen. His aggressive vocals, combined with the high notes here and there, are right on the money. Hudrap's bass playing compliments the songs and his work can be well heard throughout the album. Thorpe and Rasmussen play some ferocious rhythm and lead guitar parts on this album. There are also guest solos from Steve Smyth and Brad Gillis as well. Larry Howe continues to lay the hammer down like he always does with another killer drum performance. The production is solid also and this album erupts from the speakers. As a long-time fan of this band, I unequivocally give the thumbs up. There is plenty here for fans to enjoy, because VICIOUS RUMORS have not veered too far from their formula. Concussion Protocol is well worth your money and attention! The album will be available worldwide on August 26.
4.5 Out Of 5.0
Pre-order your copy of Concussion Protocol in the KNAC.COM More Store right HERE.

Please log in to view RANTS