KORN, ROB ZOMBIE In Phoenix, AZ With Photos!


By CrpnDeth, Staff Photographer/Writer
Thursday, August 11, 2016 @ 11:07 AM


| | | |
| --- | --- | --- |
| | | Welcome To The Sweat As The Return Of The Dreads Tour Lands In Arizona |
All Photos By CrpnDeth Photography LLC
@crpndeth / instagram.com/crpndeth Half the time a good idea is not actually really thought through. KORN/ROB ZOMBIE/IN THIS MOMENT? Oh hells yeah. I'm there. Then reality has a vicious way of sneaking up on you; on this summer night in Phoenix, it was roughly 110 degrees out, in an amphitheater. This place is going to be the death of me yet.

But if it is, then I will go out grinning. Shows like these are spectacular. Not many times can you get a triple bill such as this where the bands actually mesh musically and visually. And visualization was the name of the game tonight.

Shortly before IN THIS MOMENT was set to hit the stage, one of the extras jumped off the stage, called over security and had a quick discussion. They had just authorized the photographers to shoot the entire performance. While no one was complaining, I had to wonder why? Go through the photos, Maria changed outfits before every song. She had a little tent set up as part of the visual performance, and changed outfits in privacy. And what better publicity than to let the photographers take photos of every outfit? Maybe more bands should take note of this, and remember writers and photographers make you look good.
I have been a fan since I reviewed their debut disc back in 2007, and they have steadily progressed. Unfortunately, their relatively short but blistering set was reduced to just Blood and Black Widow tunes ("Beautiful Tragedy" is what got me hooked on the band, still hoping they bring it back in to the live set). The band does well to interweave a theme throughout the six songs performed, and between song interaction with the crowd. Maria's vocals are solid as hell, and the twin riffing of Chris Howorth and Randy Weitzel can get ferocious. As if it wasn't hot and sweaty enough, IN THIS MOMENT got the crowd riled up even more. The band began the momentum that continued on throughout the night, the best metal cabaret ever.
Setlist:
"Sick Like Me"
"Black Widow"
"Sex Metal Barbie"
"Burn"
"Whore"
"Blood"
ROB ZOMBIE upped the ante with the visual effects, from vintage old school strippers to a walking Devil during "Superbeast". The stage had props everywhere, and a gigantic retro boombox as they opened with "Dead City Radio" which played video behind them of an astronaut with a boombox, break dancing skeletons, etc. (if you've seen the video, picture it being acted out live). How Rob did it in a leather fringed out jacket is beyond me - almost gave you heatstroke just watching him. But he and the band never missed a beat and kept the crowd in a frenzy.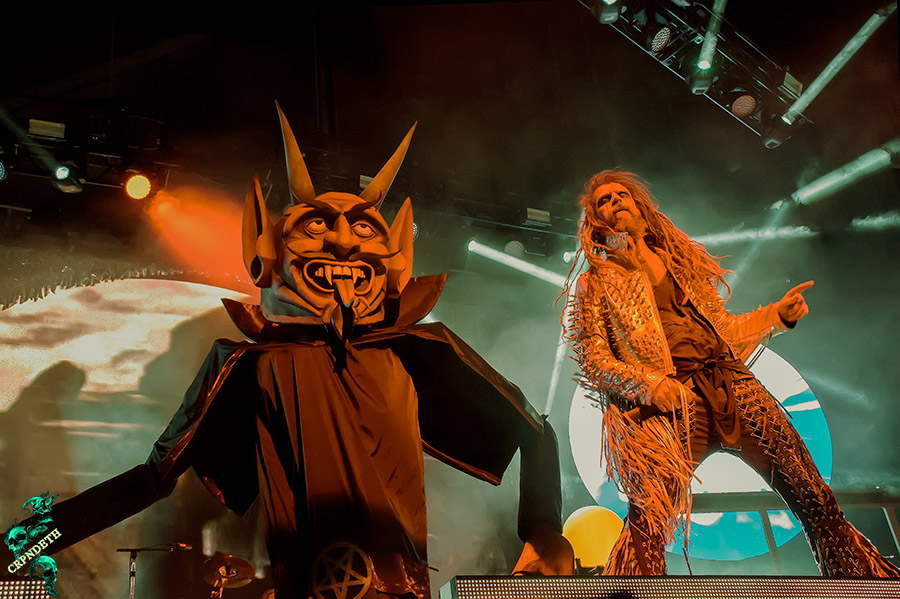 It was an attention getter when Rob announced, "Just so you know, I'm starting to lose my voice. So if I start getting quieter, you've gotta get fucking louder to make up for it." Honestly, I was expecting it to be heat related, but his voice never wavered. The band was fun and firing on all cylinders, in between acknowledging the heat of the night. They were having fun.
Setlist:
"Dead City Radio and the New Gods of Supertown"
"Superbeast"
"In the Age of the Consecrated Vampire We All Get High"
"Wild Thing" (TONE ‐LOC cover)
"Living Dead Girl"
"Well, Everybody's Fucking in a U.F.O."
"More Human Than Human"
"Never Gonna Stop (The Red, Red Kroovy)"
"The Hideous Exhibitions of a Dedicated Gore Whore"
"House of 1000 Corpses"
"Thunder Kiss '65"
The Star-Spangled Banner (JOHN STAFFORD SMITH cover)
"We're an American Band" (GRAND FUNK RAILROAD cover)
"Dragula"
KORN unleashed on a packed Ak-Chin Pavilion with all their hits during a 14 song set that did well to represent their entire catalog. While the crowd was at attention all night, you could tell that the heat was having its effect.

So by now you know all three bands added enormous and set enhancing visual effects to their performances, the other main vein throughout the night was you could see the fun every musician was having. The fans tonight fed off this, and gave it back tenfold.

"Right Now" was followed by "Here To Stay", and Jonathan went on to talk about how the band felt about Phoenix.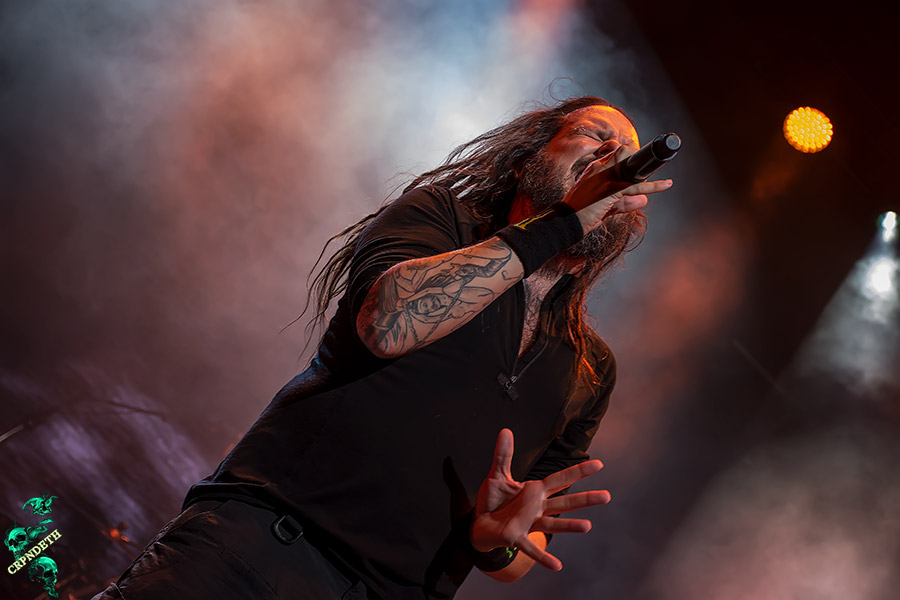 "We've got a long history with this wonderful fucking town. We wrote and recorded a little bit of one of our albums here ya'll. So tonight we want to play y'all a new song tonight." yelled KORN's Jonathan Davis before tearing into the brand new track "Rotting In Vain", a seemingly nod to their own brand of roots, and a promise of what's to come.
The show was a total blast from start to finish.
"Right Now"
"Here to Stay"
"Rotting in Vain"
"Somebody Someone"
"Narcissistic Cannibal"
"Coming Undone"
"Y'All Want a Single"
"Make Me Bad"
"Shoots and Ladders"
"Blind"
Twist
"Got the Life"
"Falling Away From Me"
"Freak on a Leash"
If you get a chance to hit this tour, DO IT. Seriously

Check out a few photos from the show!
All Photos By CrpnDeth Photography LLC

Please log in to view RANTS


THE WINERY DOGS, BLACK HEART SAINTS In Houston, TX With Photos!

ROBIN MCAULEY Alive

CRADLE OF FILTH, DEVILDRIVER In Santa Ana With Photos!

KAMELOT The Awakening

ALTER BRIDGE, MAMMOTH WVH In Houston, TX With Photos!

ACID KING Beyond Vision

STEEL PANTHER On The Prowl

NIGHT DEMON Outsider

YNGWIE MALMSTEEN In Ottawa, Canada

THEORY OF A DEADMAN, SKILLET, SAINT ASONIA In Houston, TX With Photos!

OFFICER X Hell Is Coming

PERIPHERY Periphery V: Djent Is Not A Genre

INSOMNIUM Anno 1696

STEEL PANTHER, CROBOT, TRAGEDY In Houston, TX With Photos!

BABYLON A.D. Live Lightning

ROTTING CHRIST, CARACH ANGREN, UADA, GAEREA In Houston, TX With Photos!

MOTÖRHEAD Bad Magic: Seriously Bad Magic

TRAGEDY I Am Woman