JACKYL ROWYCO


By Alex Yarborough, Orlando Contributor
Thursday, August 18, 2016 @ 1:44 PM


| | | |
| --- | --- | --- |
| | | |
JACKYL
ROWYCO
2016 Mighty Loud




JACKYL's eighth studio album (released August 5th) coincided with the reopening of the Full Throttle Saloon in Sturgis, South Dakota. That's the biker bar where the band filmed the reality series of the same name for the past several years. ROWYCO (one look at the cover to figure out what that stands for) is a kick in the ass, and a quality return for a rock band that has gone four years since their last studio album.

The band says this is their fattest sounding recording, and I would have to agree. It sounds great, and has a thick bottom end. This album will rattle your bones. Main mouthpiece and songwriter Jesse James Dupree has never sounded better. Leading song "Disasterpiece" is a decent track; however, I would have placed "Blast Off" at the start of the album, as it seems to fit better as an opener with its countdown (shouted out by Jesse) and lyrics that say "This is rock and roll, let's get it started!"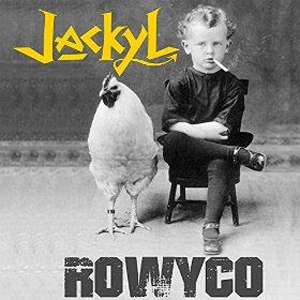 Jesse's lyrics on "Just Because I'm Drunk (Don't Mean You're Right)" are hilarious and this track should easily be a concert staple. I'm digging the first single "Rally" a lot. It has an infectious groove and the catchiest chorus since "Open Invitation". It also has a nice solo from Jeff Worley. This is one of the best tracks on the album. "All Night Rodeo", written by bassist Roman Glick and Jesse, is another choice cut. Glick lays down a slick bassline. "Ahead Of My Time" is one of the more hard-driving songs on the album, and features some fancy drumming from Chris Worley. The cover of HOT CHOCOLATE's "Every 1's A Winner" works well and is a smart song to cover. "Crazy" is a trip inside Jesse's head and has some interesting lyrics: "I'm crazy, I'm an asshole, not good company" and "It's clear the things I've done, the devil made me do it once, but then I did it again for fun".
ROWYCO is somehow the perfect title for a JACKYL album. (I can't believe they haven't already used it). But I'm actually disappointed there isn't a title track for this album; I can almost hear Jesse screaming it! ROWYCO has a total of 10 tracks at around 42 minutes. There isn't really a bad song on this album. If you're a fan of kick ass rock and roll, you are probably already a JACKYL fan. You either get this band, or you don't.
This album was welcome to my ears. Hopefully JACKYL will tour extensively for this release, as they are one of the best live hard rock bands around.
4.5 Out Of 5.0
Grab your copy of ROWYCO in the KNAC.COM More Store right HERE.

Please log in to view RANTS