DELAIN Moonbathers


By Peter Atkinson, Contributor
Friday, August 26, 2016 @ 12:58 AM


| | | |
| --- | --- | --- |
| | | |
DELAIN
Moonbathers
Napalm Records




Female-fronted symphonic metal bands are a dime a dozen these days – and actually have been for a while. But there was always something about Holland's DELAIN that made it stand apart from the crowd. Whether it was the grittier, more ragged edges of the music on 2014's The Human Contradiction or the pointed topicality of the lyrics of 2012's We Are The Others, DELAIN's seemingly simple, accessible fare proved deeper and darker than its pleasant veneer let on.

The band's fifth and latest album, though, doesn't appear to have such inclinations. Moonbathers is all about hooks, catchiness and listener-friendliness, aiming the band squarely at a more mainstream audience that cohorts like NIGHTWISH and WITHIN TEMPTATION – DELAIN founding keyboardist Martijn Westerholt's old band – have found considerable success in attracting. Thus the quintet serves up an instantly likable, if somewhat contrived, effort teeming with ear-worm choruses, buoyant riffs, symphonic grandeur and Charlotte Wessels' glorious, impeccable vocals that could either connect with a bigger fan base or find the band being dismissed as sellouts. Guess time will tell.

Moonbathers actually gets off to a rather ballsy start, but grows lighter and less aggressive as it moves along, ultimately concluding in a wash of radio-ready fare – including a cover of QUEEN's "Scandal" - and movie score-like pomp that makes for a rather tame finale. In between is a mix of anthemic, orchestrated metal, middling hard rock and occasional power balladry, ensuring DELAIN covers pretty much all the bases.

"Hands Of Gold" opens Moonbathers with a blustery flourish of crunching guitars and sweeping synths/strings that build to a rousing chorus. A bit of intrusive, and frankly unnecessary, "bad cop" growling from ARCH ENEMY's Alissa White-Gluz offsets Wessels' soaring cleans, but that sort of thing is thankfully kept to a minimum here, with just one other brief instance on "Pendulum". "The Glory And The Scum" slows the tempo somewhat, but still delivers bombast and classical extravagance in abundance as it leads into to the album's signature anthem "Suckerpunch". With its fist-pumping, money-shot chorus and "woah, oh, oh, oh" singalong backing vocals, "Suckerpunch" could well become DELAIN's "Wish I Had An Angel".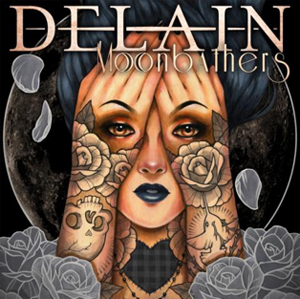 The moody power ballad "Hurricane" and even more sparse, piano/string-laden "Chrysalis – The Last Breath", however, signal a dramatic shift in intensity that carries through much of the rest of Moonbathers. Only the feisty "Fire With Fire" and the aforementioned "Pendulum" match the opening trio's spunk or muscle. And they come back to back before the band settle into rock radio mode with "Dance Macabre", "Scandal" – which seems destined to be a call-and-response concert staple – and the more delicate "Turn The Lights Out".
All highlight Wessels' sumptuous vocals and its natural, effortless delivery. You won't find any operatic warbling or overstated yowling here – nor will you miss it. But I did find myself missing some of the sock DELAIN delivered early on as Moonbathers winds down - and instead of going out with a bang, the band wrap the album with the mostly instrument "The Monarch" that seems a mix of Ennio Morricone and Disney movie soundtrack. Very strange.
In the end, Moonbathers is a rather safe, easy to digest album that takes DELAIN's sound from the relative symphonic metal fringe to its already crowded dead center. It sure seems a calculated move and were so much of the material not so damn infectious – and Wessels' vocals so magnificent – it would smack of a more brazen grab for attention. So glass half full, if barely.
3.0 Out Of 5.0
Grab your copy of Moonbathers in the KNAC.COM More Store right HERE.

Please log in to view RANTS