The Massachusetts stop on BLACK SABBATH's "The End" tour rolled in Mansfield on Thursday night (August 25th) and both the XFinity Center (or as it was originally known, The Great Woods Center For The Performing Arts) and the assembled hordes were a vocally enthusiastic mob for this chapter of the band's retirement tour.

But before "The End", at least for me, there was a beginning.

While their profile and popularity have been exploding in recent years, I've kind of missed out on SABBATH's opening act, RIVAL SONS. After witnessing their set, I am now keenly aware of what I've been missing. They were phenomenal!

Taking the stage to a theme intro that harkened back to one of those epic Western movies John Ford might've made, RIVAL SONS made the crowd take notice right from the start.

Singer Jay Buchanan was a captivating performer as the band rocketed through the first three songs ("Electric Man", "Secret", "Pressure & Time") in the 8 song set. I was mesmerized by how he just owned every inch of the stage. His bluesy vocals and top notch howl became an earworm for me. Guitarist Scott Holiday projected an air of unaffected coolness with his stage presence but was a silent assassin with that six string. Whether a full on rock out fretboard run or a sublime restrained rhythmic vibe, he was well worth hearing live.

Meanwhile, their set list had at least 1 song from every release they've done and it was a hearty mix of rockers with a quick slow down with the song "Fade Out" before closing out with a song that could describe the band themselves, "Keep On Swinging".

Jay Buchanan summed up the band from the stage by saying "We're RIVAL SONS. We Play Rock and Roll Music."I couldn't have said it better myself and now that I KNOW that, I'm going to have to do a deep dive into the band's music. Suffice to say, RIVAL SONS delivered one of the best opening acts that I've ever witnessed.

RIVAL SONS Set List:
"Electric Man"
"Secret"
"Pressure & Time"
"Tied Up"
"Torture"
"Fade Out"
"Open My Eyes"
"Keep On Swinging"
After a surprisingly short intermission, the lights went down and the various video screens went live as Ozzy Osbourne, Tony Iommi, Geezer Butler and Tommy Clufetos took to the stage for what will likely go down as the loudest retirement party on record.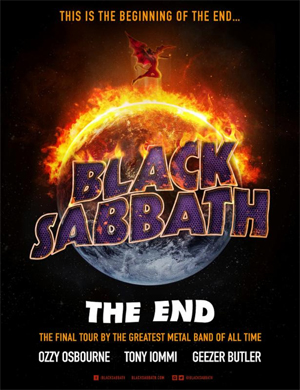 Now, I had seen SABBATH three years ago and while I was mostly pleased with the show, Ozzy's vocals being what can only be described as off key were a problem for me. That was the only worry I had this time around as well.But I can happily say that it wasn't an issue. Ozzy's vocals were actually fantastic throughout the entire show making the overall concert that much more enjoyable.
Starting at where it all began for them, they opened with "Black Sabbath". It makes sense realistically, but this is where I had a nitpick. The opening of the song is just so slow that it really doesn't work in a concert sense. I've always felt a band taking the stage wants to come out fast and hard before taking things down a notch. But what the hell do I know really? I'm not the one with a 40 plus year music career.
Ozzy took almost fanatical care to announce every song the band was about to play and after a strong performance of "Fairies Wear Boots", I got to experience something with their music I didn't think was possible.
I've always been a bigger fan of the Ronnie James Dio version of SABBATH. Just a huge fan of Ronnie's vocals. I've liked the original version of the band but I wasn't as devoted. So when Ozzy announced they were doing "After Forever", I have to say that I was kind of unfamiliar with the track. Well, call me crazy but that song is AWESOME! I loved it and Ozzy's performance in particular really elevated the song for me. In case you are wondering, I am kicking myself for not appreciating this song all these years.
The band brought out songs I've never had the chance to see them do live before. They wisely chose to drop songs from 13 from the set (though there are a couple of tracks from that album I would've loved to hear live) so they could focus on the classic tracks. Songs like "Snowblind" and "Hand Of Doom" drove the crowd nuts. One guy standing next to me practically had an orgasm when "Snowblind" was announced.
The second half of the show is where the songs I have enjoyed the most got their moment to shine. I've always loved "War Pigs" and the crowd getting to sing some of the lines in the opening verse is always a great time that even I, the cranky bastard that I am, participate in. "N.I.B." still gives me chills and the way Ozzy delivered the vocals made the performance on this night particularly noteworthy.
The opening line to "Iron Man" always brings me back to the first time I ever heard the song and how blown away I was by it. It's just a simple effect but it is also quite effective.
Each member of the band got a chance to shine. Butler's "Bassically" and Clufetos doing a drum solo that should exhaust himself and yet leaves the audience tired instead. While the "Guitar God" status of Tony Iommi is well established and each song is a master class in guitar playing, he had a particular high point with me. The song "Dirty Women" saw him unleash a guitar attack that had everyone in the crowd glued to the performance. On the video screen, there was live shots of him during the song and the filters they used on the images actually made it look to me like the guitar was smoking from all the work he was doing on the strings. I've seen Iommi play live three times now and I always come away with a renewed sense of just how amazing he is.
The concert closed out with "Children Of The Grave" and the encore of "Paranoid", leaving the crowd both electrified and craving even more.
I don't give raves to a band based on sentimentality so when I say that BLACK SABBATH delivered a fantastic concert, it is based on their actual performance and not the fact that they have announced "The End". And that is exactly what happened in Mansfield on August 25th. BLACK SABBATH put on a show for the ages leaving the masses with a indelible memory of a band firing on all cylinders that was less a celebration of their leavetaking and more a reminder of the fact that they are, indeed, the Godfathers of Metal.
BLACK SABBATH Set List:
"Black Sabbath"
"Fairies Wear Boots"
"After Forever"
"Into The Void"
"Snowblind"
"War Pigs"
"Behind The Wall Of Sleep"
"N.I.B."
"Hand Of Doom"
"Rat Salad"
"Iron Man
"Dirty Women"
"Children Of The Grave"
"Paranoid"