THE DEVIN TOWNSEND PROJECT Transcendence


By Peter Atkinson, Contributor
Thursday, September 8, 2016 @ 1:38 PM


| | | |
| --- | --- | --- |
| | | |
THE DEVIN TOWNSEND PROJECT
Transcendence
Inside Out Music




Let's take inventory here for a moment and appreciate the enormity of the productivity of Canadian savant Devin Townsend since he put STRAPPING YOUNG LAD (SYL) to rest in 2007, took a mental health break and then got back in action in 2009.

By my count there have been six DEVIN TOWNSEND PROJECT (DTP) studio albums - running the gamut from the ambient and new agey Ki and Ghost to the cataclysmic Deconstruction - three live album/DVDs, the long-awaited Ziltoid The Omniscient sequel and the debut from CASUALTIES OF COOL, a superb jazz/country curiosity he formed with singer/guitarist Ché Aimee Dorval. And that's not to mention the wide variety of special performances he staged to record the live Retinal Circus, By A Thread and Ziltoid albums/DVDs, acoustic tours, CASUALTIES OF COOL shows, crowd-funding campaigns, a book-writing project, etc. All that's a career for most bands – including side projects. Townsend's done it over the course of roughly seven years – and after having one "career" already with SYL.

And it may finally be catching up with him just a bit, if Transcendence is any indication, which is perhaps understandable, especially after the demanding Z2 Dark Matters/Sky Blue two-album set in late 2014. The seventh DTP offering, Transcendence seems relaxed, and maybe a bit tired – even after a nearly year's break from recording, an eternity by Townsend's standards.

It's got the big, lush, majestic sound of Sky Blue and 2012's Epicloud, but not nearly the energy or "effervescence," to borrow from one of Epicloud's song titles. Instead, it's more laid back and drawn out - meditative and progressive instead of buoyant and chaotic. And with its rich lathering of synthesizers, orchestration and densely layered vocal harmonies, it makes up in symphonic grandeur what it might lack in spunk.

There are few genuinely rollicking moments – a la "Addicted", "Bend It Like Bender", "Lucky Animals" or "Liberation" – here, and nothing nearly as calamitous as, say, Deconstruction's frenzied "Juular" - though "Higher" does go careening off on a tech-metal jam midway through. "Offer Your Light" is the album's one really rousing, anthemic hard rocker. A faithful cover of WEEN's alt-rock gem "Transdermal Celebration" is rather light and spry as well, although it stretches the original's tidy 3:25 length to more than eight minutes by tacking on a drifting ambient haze of synths to close things out.

Also notable in their relative absence, or at least prominence, are the luxurious vocals of Anneke van Giersbergen, who has been a near constant presence - and in many cases co-lead vocalist - since 2009's Addicted. Her contributions here are more ethereal, mostly as part of the chorale that supplies the album's ample backing vocals, only occasionally directly sharing time with Townsend, as on "Offer Your Light" or chanting the "Hallelujahs" during the introductory opener "Truth", a remake from Townsend's 1998 solo album Infinity. That's perhaps a reasonable move on Townsend's part – who could have felt things were becoming predictable – but the two sound so great as a tag-team, so to speak, and bring such natural energy that a bit more here wouldn't have hurt.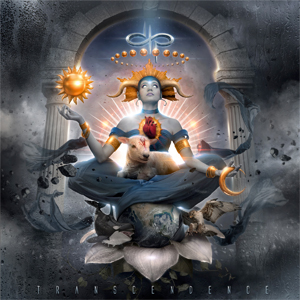 After "Truth", the album eases into gear with "Stormbending" and its swirl of "Tom Sawyer"-like keyboards, measured pace, wall-of-sound vocals and massive scale - and pretty much stays there. There are ebbs and flows and rises and falls, to be sure, especially as things start stretching out past the seven- and eight-minute mark on "Secret Sciences" or "From The Heart". But there is a very deliberate feel to Transcendence, which is something one has rarely been able to say about anything Townsend's been involved with.
Not that that's a bad thing, as most of the songs build and build, especially the aforementioned "Sciences" with its monumental chorus or the often hymn-like, nearly 10-minute "Higher", which starts out innocently enough with an acoustic guitar and Townsend's whispered vocals before things go sideways. But "Stars" or the title track, which show a little kick at the outset, soon settle into a languid groove and jog in place - although "Transendence" does deliver a big finish – and the ballad "From The Heart" concludes with four minutes of acoustic strumming and keyboard shimmer that, like the finish to "Transdermal Celebration", seems extraneous and unnecessary.
Townsend already has hinted that this may be the last DTP, well, project, so maybe he didn't want to leave any scraps behind. And if this is DTP's finale, that might also explain the restrained, even resigned air about Transcendence. If not, then perhaps Townsend is merely conserving some energy for next time out. Let's hope so, anyway.
3.5 Out Of 5.0
Pre-Order your copy of Transcendence in the KNAC.COM More Store right HERE.

Please log in to view RANTS