OPHIDIUS The Way Of The Voice


By Curt Miller, Editor at Large
Monday, October 17, 2016 @ 1:26 PM


| | | |
| --- | --- | --- |
| | | |
OPHIDIUS
The Way Of The Voice
Self-Released




Every now and then an album comes along that makes one stand up and take notice and this record certainly fits the bill. Fans of progressive music will love its long, complicated songs filled with odd time signatures and interchanging use of aggressive and melodic periods. Those who are looking for nothing more than a metal fix will be pleased, as well, with plenty of heavy riffs, a looming, dark mood and a brutally fast rhythm section that permeates throughout.

OPHIDIUS' sophomore release, The Way Of The Voice, is plugged directly into the listener's imagination from the opening chants of its first track, "Overture 4E 201", eliciting at once a sense of excitement, enchantment and a bit of dread. An instrumental, the EP creates a vivid mood while leaving the storyline open for interpretation.

Music from this New Jersey progressive, death metal four-piece provides a complex landscape comprised of dark, heavy guitar riffs, blast beats, keyboard breaks and syncopated rhythms, all interwoven with masterful guitar work. By the second track, "The Calling", listeners are cast deep into another dimension, a mythical place where epic battles are fought, kingdoms or perhaps worlds conquered, depending upon where their imaginations lean.

"Seven Thousand Steps" offers a terrific representation of the OPHIDIUS sound. Clocking in at just over 9 minutes, it starts with clean guitars over dark, moody keyboards before entering a heavily syncopated section. Blast beats follow and well-placed guitar work is layered overtop. The song progresses with darker, syncopated sections intertwined with brief passages of clean guitars. Finally, it closes with the calm of nothing more than the sound of storm winds crossing a barren landscape.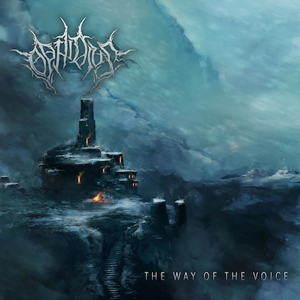 Though broken by brief periods of clean guitars, "Fo Sivaas" is a tour de force of blast beats and guitar work. It's made clear during this song that whatever battle began earlier in the record is now in full swing. "Sky Above, Voice Within" brings a shift in direction. Things slow down significantly with clean guitars over ethereal keyboards and it closes with a soft piano passage. This song really showcases the tremendous diversity and talent of the band.
The EP's last and title track is another that well represents the band as a whole. Opening with clean guitars over keyboards then leading into dark, heavy blast beats, syncopated riffs and blazing guitar solos, this is OPHIDIUS. Like the others on The Way Of The Voice, this song allows listeners to become the protagonist in their own mythical tale while taking in some truly exceptional music. The final track closes with light keyboards cut short leaving one to wonder what's to come next.
Though broken into six separate tracks, this EP flows like one continuous song. It's well thought out and equally well executed. Whether looking for the soundtrack for a bit of escapism into a fantastical world or just some great progressive metal music, The Way of the Voice is a very satisfying listen.
5.0 Out Of 5.0

Please log in to view RANTS