ALLEGAEON Proponent For Sentience


By Peter Atkinson, Contributor
Monday, October 24, 2016 @ 11:28 AM


| | | |
| --- | --- | --- |
| | | |
ALLEGAEON
Proponent For Sentience
Metal Blade Records




Firm believers that more is better, Colorado tech-metallers ALLEGAEON have really outdone themselves with album No. 4. Proponent For Sentience is overwrought, overblown, overindulgent and completely overwhelming on just about every level. And I don't mean all that in a purely negative sense – at least to a certain extent - this is tech-metal after all.

One thing for sure, though, at 73 minutes, the album is way overlong. While listening to it on my Sony VAIO Ultrabook, I thought it was wrapping up at track nine, "Cognitive Computations", only to have it keep going. After scrolling down, I discovered there were three more songs, and 18 more minutes, to go – curse this 13-inch Ultrabook screen.

At 55 uber-complex and rather tempestuous minutes, Sentience already was wearing out its welcome after those nine songs. The additional 18 was just piling on, and made it feel like an endurance test. By the time the album wrapped, with an intriguing and faithful but still rather harsh rendition of RUSH's "Subdivisions" - given new vocalist Riley McShane's wolverine growl - it hardly seemed worth the wait. Indeed, this is one case where more is just, well, more.

Sentience heads all over the map on its epic journey, hitting a host of metal sub-genres along the way – death metal, thrash, prog-metal and tech-metal in abundance, with bits of power metal, djent, metalcore and deathcore here and there and probably some others I can't recall. Add the DIMMU BORGIR-like black metal symphonics that introduce album opener "Proponent For Sentience I - The Conception" and the intrusive RODRIGO Y GABRIELA flamenco guitars and percussion of "Gray Matter Mechanics - Appassonata Ex Machinea", sound effects, voice-overs and a clean vocal guest appearance by SOILWORK's Bjorn "Speed" Strid on "Proponent For Sentience III – The Extermination" and ALLEGAEON certainly cover a lot of sonic ground here.

The band is actually at its most formidable when it keeps things comparatively tight and compact, as on the 3:24 bulldozer "All Hail Science" or the vicious, but more elaborate "From Nothing" with its anthemic chorus buoyed by the elegant guitar teamwork of Greg Burgess and Michael Stancel, which is superb throughout. The dramatic, FALLUJAH-like "Of Mind And Matrix" is tech-death at its finest, delivering finesse and fire in equal measure and not going overboard with either.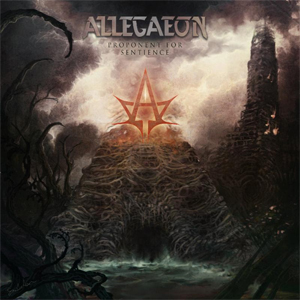 The longer and more involved the songs get, however, the more bloated and showy they seem. Sans the Spanish guitar twiddling, "Gray Matter Mechanics" could have been a lean and mean four-minute barnstormer. Instead, it stumbles out of the blocks and grinds to a halt near the end. "Proponent For Sentience II - The Algorithm" brings back the symphonic pomp of the opening track as part of the conceptual connective tissue that really isn't necessary.
Ditto the aforementioned vocal tradeoffs with Strid, which come off sounding like a calculated ploy since McShane never shows an inkling to sing clean anywhere else. And he does a fine enough job without it anyway, especially given the textbook's worth of lyrics he has to juggle with the album's high-minded conceptualizing, which apparently centers around artificial intelligence eradicating humanity or some such.
Proponent For Sentience ultimately staggers under the weight of ALLEGAEON's ambition and audacity. Though certainly ably executed, and occasionally quite spectacular, the band just doesn't know when to say when here, and turn what could have been triumphant into something laborious and tedious.
2.5 Out Of 5.0
Grab a copy of Proponent For Sentience In The KNAC.COM More Store right HERE.

Please log in to view RANTS