WHITESNAKE in Europe and JUDAS PRIEST in the States. When I spoke to Jack Russell Friday night prior to JACK RUSSELL'S GREAT WHITE taking the stage at the Cuban Club in Ybor City, we discussed the JUDAS PRIEST tour and he recounted how years prior to that tour, he met Rob Halford. Russell told Halford that one day GREAT WHITE would open for the mighty PRIEST. Call it foresight, cockiness, or just confidence in his and his band's ability, either way, Russell's vision became a reality.

If you are reading this article and are familiar with Jack Russell and GREAT WHITE, you probably already know most of the band's back story: their multiple breakups, reunions, and of course, The Station Nightclub fire.

But tonight wasn't about GREAT WHITE and their past, it was about the resiliency of a man who has fallen numerous times but continues to get up, no matter what the circumstances. From his addictions and his recovery, he's 1 year sober after falling into an alcohol induced coma, to burying his close friend, Jani Lane, Jack Russell is once again, getting off the mat.

On Friday night in Ybor City as Bobby Blotzer's version of RATT was finishing their extended set, Jack Russell walked with a considerable limp due to his back injuries. I expected these injuries to limit Russell's movements on stage but I was amazed as he spun around the stage during the opening moments of "On Your Knees", which led into the first surprise song of the evening, "All Over Now", off their breakout release, Once Bitten.
The crowd joined in early and often, as they had during RATT's set and Kip Winger's solo set of plugged in acoustic material. Kip brought a fan on stage (Krystyna Burczyk) to perform "Miles Away". It was a special moment for Krystyna and she beamed from ear to ear while on stage and after. It takes guts and talent to get up there in front of a huge crowd like that, but she nailed it.
Jack took a minute between songs to introduce the band, including a familiar face playing guitar, Tony Montana. The GREAT WHITE veteran looked at home as he handled Michael Lardie's keyboard duties.
But tonight The Cuban Club was turned into a large green room for the bands to hang out in. Little did they know that the Cuban Club is allegedly haunted and is ranked in the Top 10 of the Most Haunted Places by the Travel Channel.
As the band continued with "Mistabone", one of my pre-show questions were answered: Would Jack and the band have the onstage chemistry of the previous version of GREAT WHITE? The answer was a resounding….Yes. While watching guitarist Robby Lochner interact with Jack Russell, Robby seemed to bring out the fountain of youth in him. Russell's energy on stage and his excitement regarding the February release was palpable.
Lochner was also amazing on lead guitar: not only from a technical standpoint, but also from an entertainment perspective. Lochner and the rest of the band were perfect compliments to Russell, and after seeing Mark Kendall's version of GREAT WHITE, Kendall's version needs Jack Russell a hell of a lot more than Russell's needs them.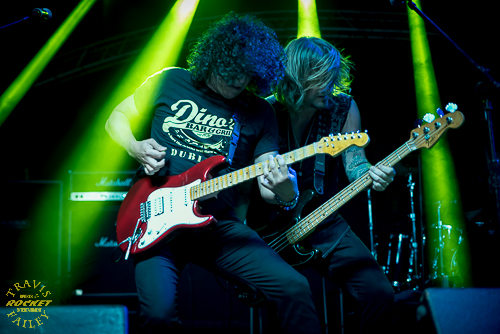 Russell crushed the high notes during tracks like "House Of Broken Love", "Rock Me" and especially on LED ZEPPELIN's "Immigrant Song". No one except maybe Ann Wilson of HEART does ZEPPELIN better than Russell, and his version of "Going To California" was unforgettable.
It was obvious that sobriety and Russell's renewed positive outlook on life has helped him continue to tour and to showcase his legendary vocal abilities.
Prior to the beginning of the anthem "Rock Me", Russell mentioned that they would be going out next year on a full tour, not only to promote their new album but also to celebrate the 30 year anniversary of the release of Once Bitten.
As the last chorus of "Once Bitten, Twice Shy" rang out, and as the crowd dissipated into the Ybor City streets, Jack Russell and his bandmates left the stage and made their way back up to the green room with smiles on their faces. One thing was evident; Jack Russell is back and he's a living example of "It's not how many times you get knocked down that count, it's how many times you get back up."
For upcoming tour dates :http://jackrussellsgreatwhite.com/
Check out some more photos from the show!
All Photos By Travis Failey/Rocket Sports & Entertainment